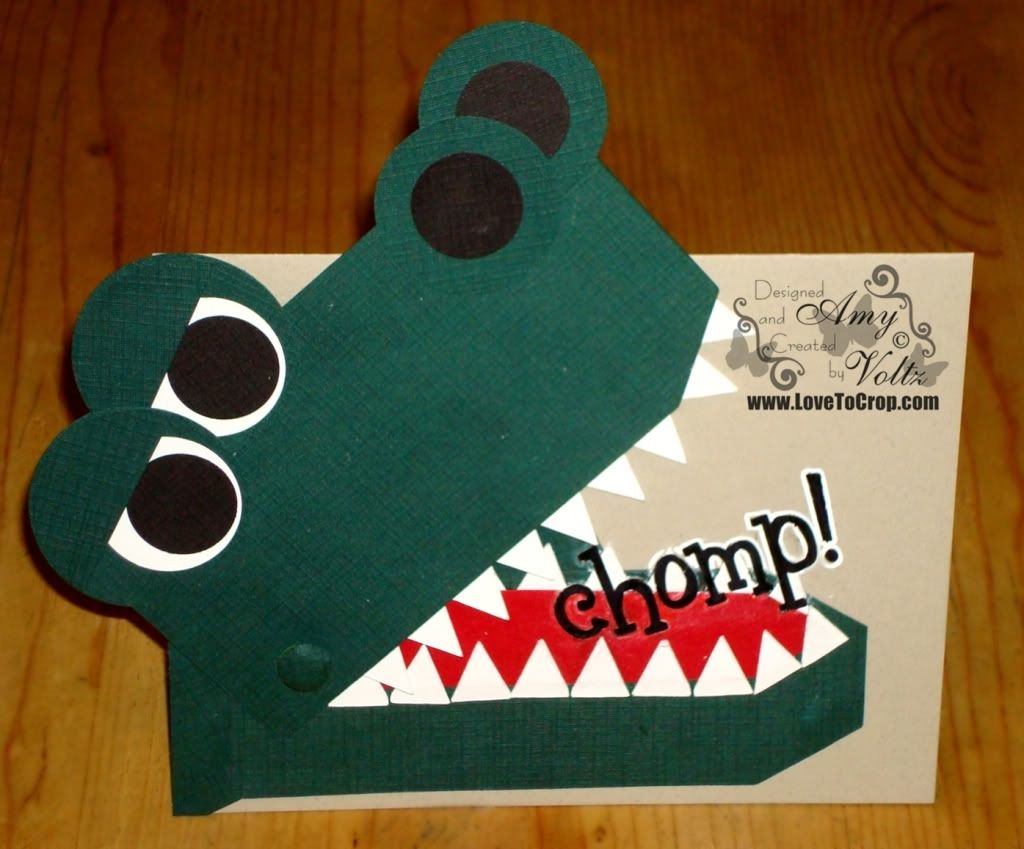 Is it Wednesday already??? Oh, so many challenges I've missed this week!! Ya know which one I did NOT miss???
M.A.G. Challenge by the Page
!! I had something all in mind for it, but it just didn't work out for me... Sooooooo... After lunch today, I decided to take a few moments for some Scrap-Therapy, I took a look at what I needed to do and use and create... And voila!! Imagine me doing the happy dance now... :) Need help with that? Looks a little like this... :)
Check out these challenges that I was able to enter my card into:
M.A.G. Challenge by the Page #18
-- Celebrations Cartridge page 130 ONLY
More Than Favors Wacky Wednesday
-- Manly Challenge
OWH Stars & Stamps
-- Cards 4 Kids
Creative Sisters Challenge #4
-- Anything with a Punch
I'm thinking there was another one, but I'll have to add it later if I think of it...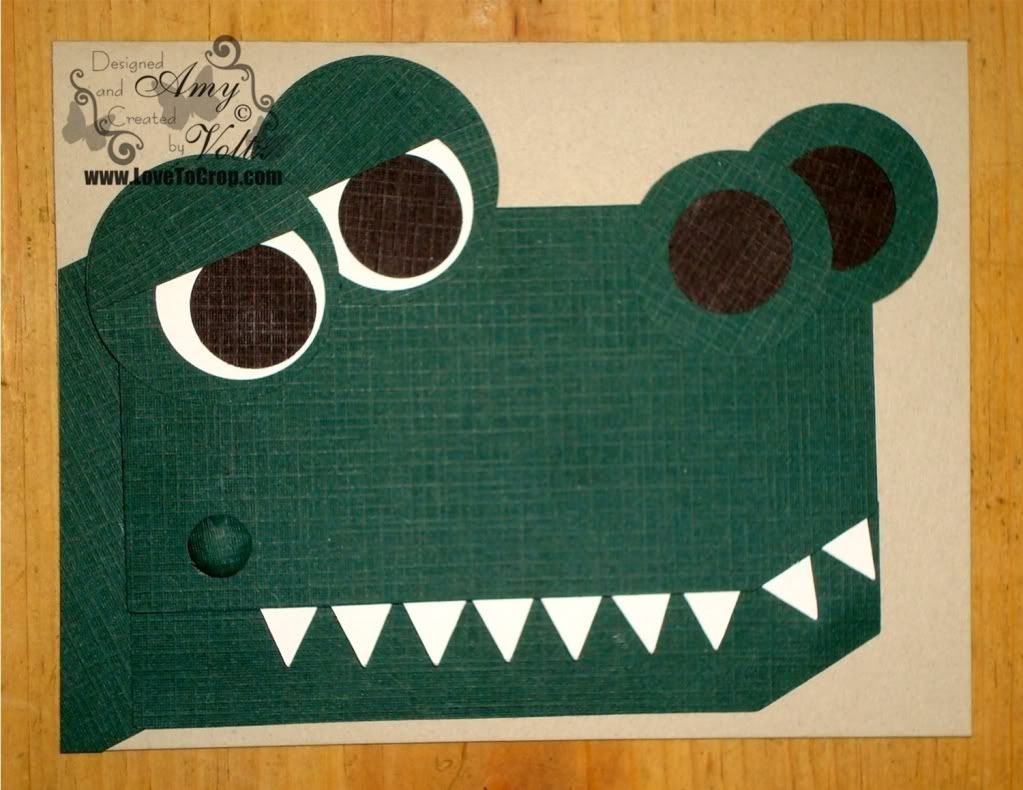 Anyhoo... I wanted to make another card that I can send in for
OWH
(Have ya checked them out yet? I love the benefits I get of doing something nice for someone else!!), and they requested cards that can be sent home to children... I'm really hoping there's a hero who would love to send this card to their son or daughter!!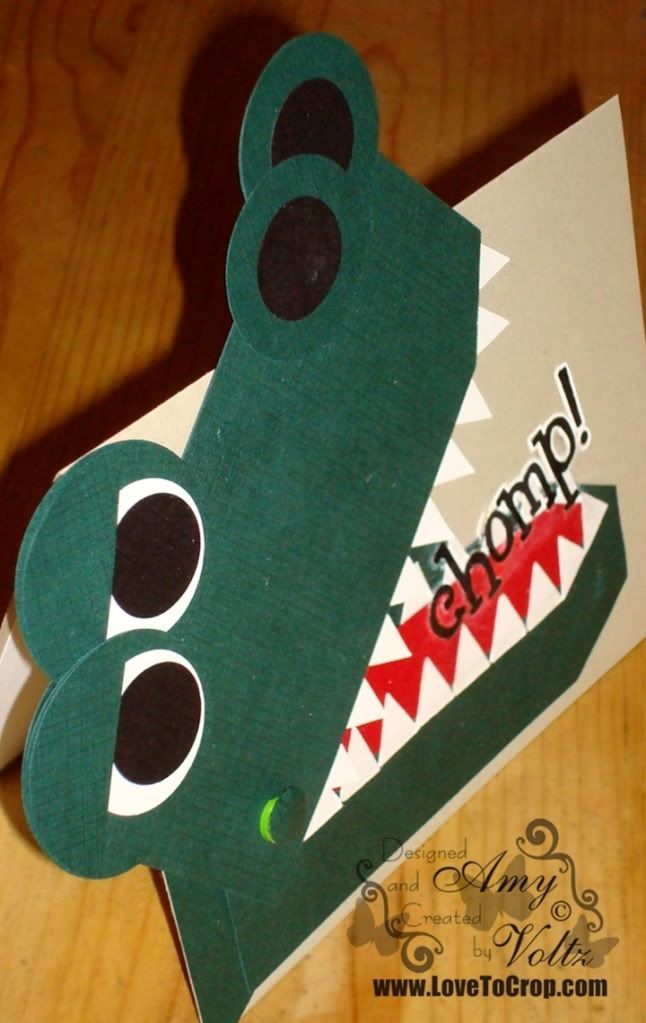 M.A.G. Challenge by the Page
... Those of you who have followed me for a while know that this is one of my FAVORITE challenge sites -- Why. you ask? Well, I love, love, LOVE my Cricut, but sometimes I think it's easy to fall into a pattern of letting the PC people out in Utah do all the imaginative and creative work (which is GREAT!)... And I start to miss not being able to 'see' something new... So M.A.G. does just that for me -- You only get to use your Cricut for the cuts on ONE specific page... The rest has to come from embellishments or other tools (like PUNCHES!!). :) So page 130 of Celebrations has only these cuts:
I cut three 4" tags using the blackout feature and 25 half-inch triangles also using the blackout feature... Those cuts would become the head and teeth of my, um, crocodile? Alligator? Dinosaur? Help, Peyton... Tell me what this is!! :) I then punched a whole bunch of punches with my circle makers and layered them to create the eyes and nose... I hand cut the tongue from red... Used my Crop-A-Dile to punch a hole for the 'jaw' joint (a light green brad covered with a circle punch from the 'right' green). I dug through my stash to find some ABC stickers to spell out 'chomp!'...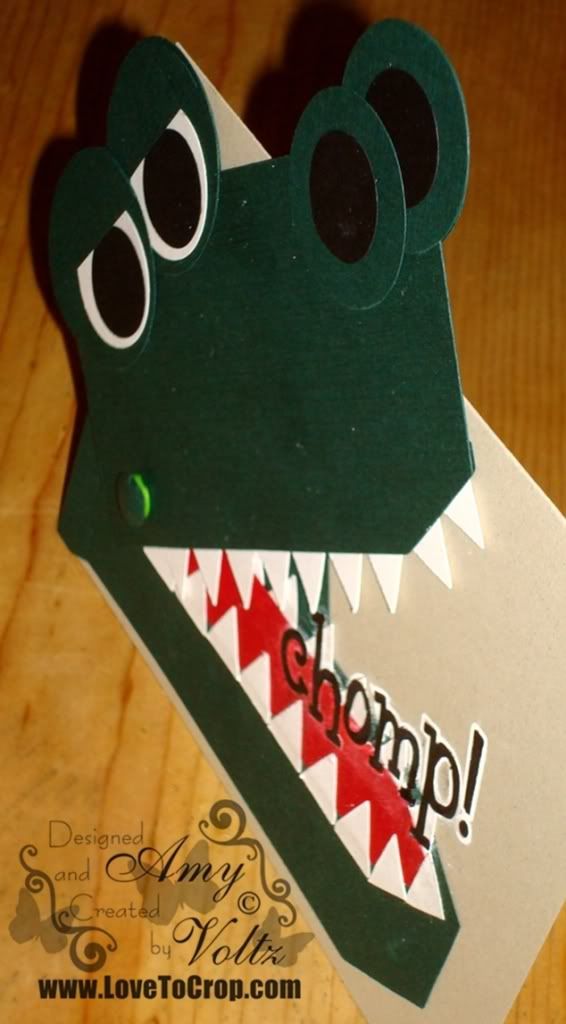 Since the
Wacky Wednesday Challenge at More Than Favors
was to make anything for a guy, I thought this was perfect for that too... I mean, it's for a 'little' guy, after all!! :) I left the inside blank (added a liner to each side since the front of the card had a few layers on it)...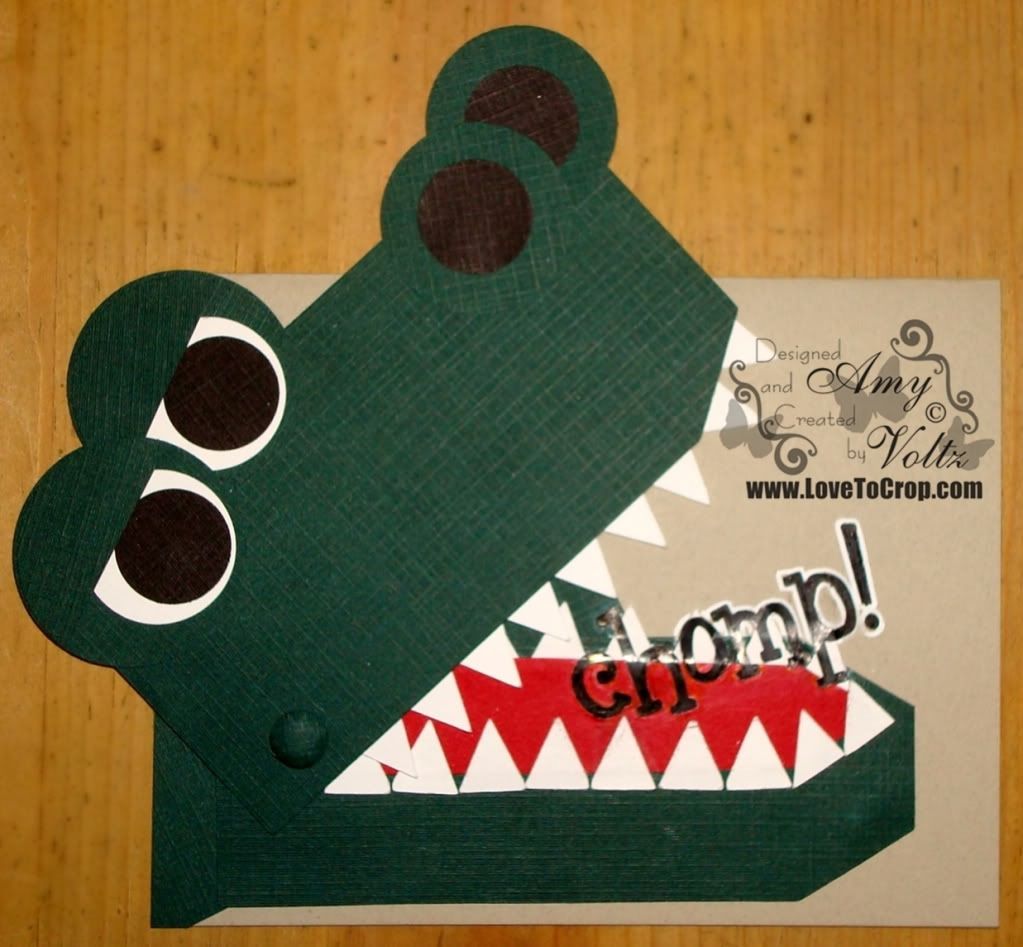 And, finally, I am the Guest Designer over at
Linda's Creativity
this week (for the
Creative Sister's Challenge #4
)... The challenge is to use a punch (or many punches) to create a card, layout, or project... If you haven't entered to WIN one of The-Girl-Child's Punch-Art Flowers, I'd love for you to do that by
CLICKING HERE
... You can get an extra chance in the drawing by entering your project over at
Linda's Creativity
too!!
Please check back again as I'll be posting another FUN punch project!! Your comments are always appreciated... I love reading what you have to say!! If you are a new follower, and you have a blog, please be sure to leave a link in the comments so I can come visit (and follow) you too!! :) Thanks again for visiting!!
Until next time, have a CHOMP-endous day!! :)