My Creative Memories Stork's Delivery Cricut Cartridge arrived a few days ago, and I've been having soooooo much fun playing with it!! Since it is a Baby-themed cartridge, I was super-excited to see that I could use it for LOTS of other things... As a matter of fact, I haven't made anything baby-related yet!! But don't worry... Those projects are coming too!! :) If you'd like to see the fun Spring-themed easel card I made with this cartridge, you can find it
HERE
... Now on to the layout!!
Over at
Cooking With Cricut they are having a 'Double Take' challenge
-- Participants need to use a minimum 2 pieces of cardstock (preferably different colors), 2 patterned papers (also preferably different patterns), and 2 embellishments... I'm pretty sure I've got all that (and more) covered!! :) If you have a minute, take a moment to stop over there and see all the other creations too!! :)
At
More Than Favors
this week, they are having a Zoo-themed challenge... You can make anything as long as it's zoo-themed... I'm thinking this covers that challenge too!! YAY!! I love it when things work out like that. :) Please head over to
More Than Favors
to see all the other entries too...
I started by cutting out all of my favorite zoo animals... The hippo (with his birdie friend), the lion, the elephant, the 'boy' monkey, the 'girl' monkey, and the zebra all at 4"... The giraffe (my personal favorite) was cut at 6.5".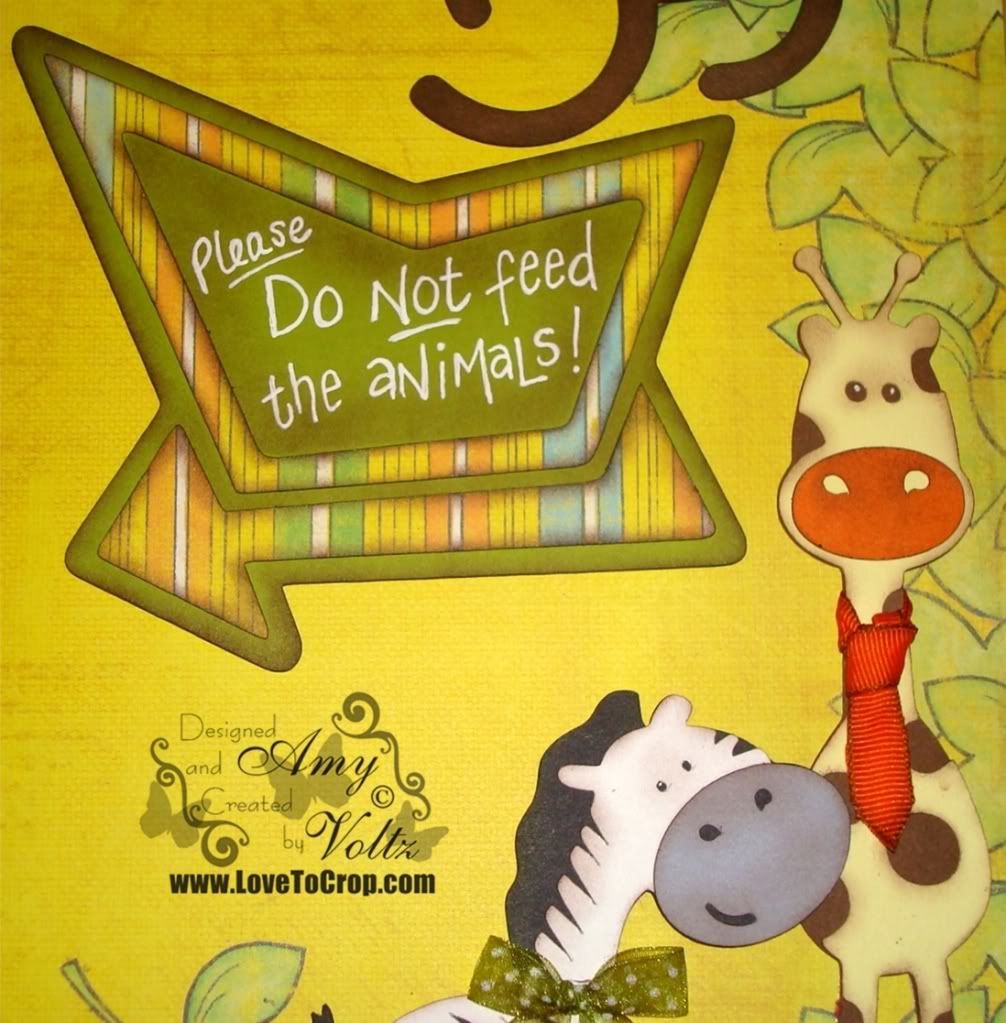 I found this cute sign board with the arrow hidden on the font feature... I can see using this LOTS!! But here, I thought it would be perfect to send a message of not feeding the animals -- And of course it'll point to a picture of the kiddos :)...
The title font is the Frogs & Snails Font (found on Stork's Delivery)... Even though I'm not usually a fan of fonts that don't have shadows, this one is already a favorite of mine!! It's a fun, fun font perfect for all those boy pages!!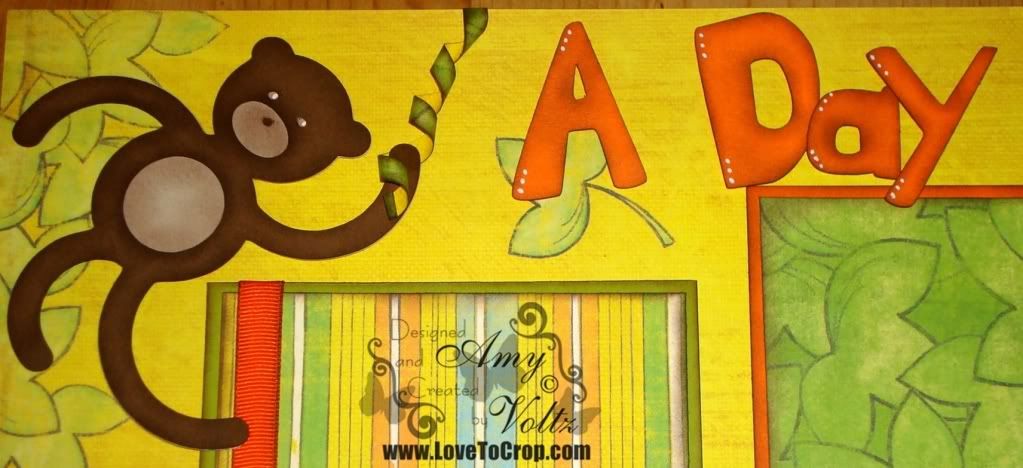 My monkeys are hanging on 'vines' I made by twisting/curling a 1/4" strip of paper... All of my paper is from the Creative Memories Primary Zoo Additions Kit...
All of my layers are distressed with chocolate ink... My BFF Christi just gave me this amazing little sponge dauber that I can stick on the tip of my finger to make inking so much easier -- Boy-oh-boy, do I L-O-V-E that thing!!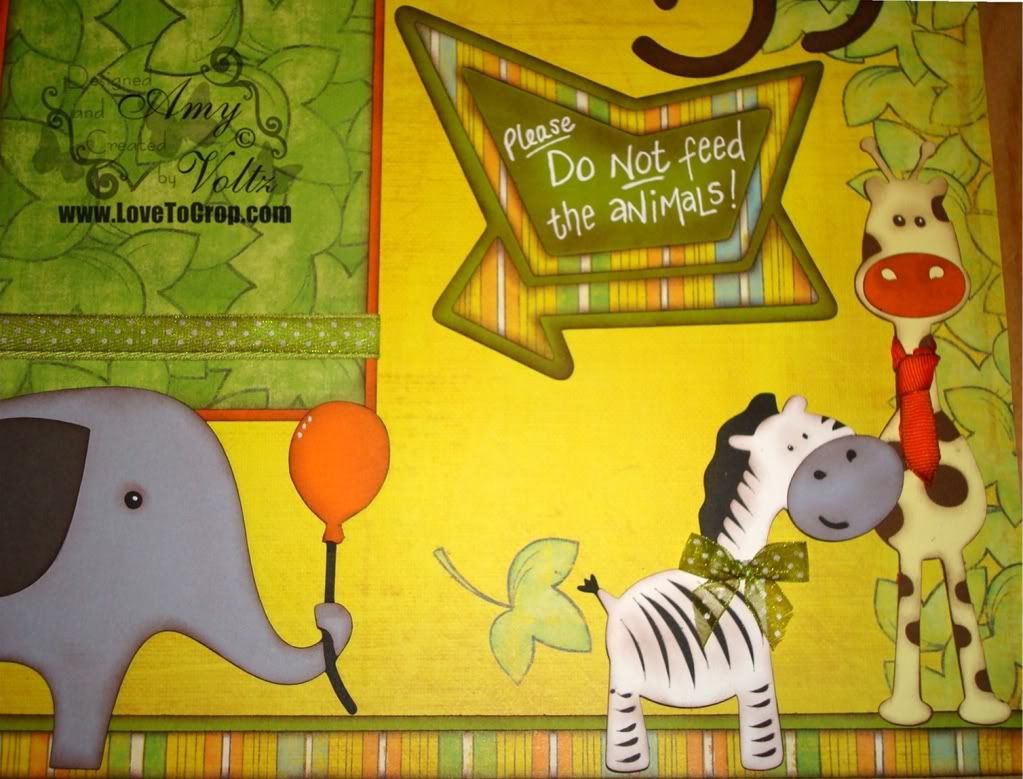 As this layout came together, I really wanted to make it look like the animals were visiting the zoo, so I added a tie to my giraffe (yes, I really tied it like a tie!!) and a bow to the zebra... The-Boy-Child is home for Spring Break right now and he's been (obsessively) playing the theme to Zelda on his guitar ('Hey, mom, listen to this! I figured it out by ear!')... So somewhere in my stupor of hearing that tune over and over, I decided to name the zebra Zelda... I did manage to avoid being in the room for the Dragon Ball-Z marathon, so the giraffe is still named George and the elephant is named Ellie... We also have a chicken nugget named Harry, but that's a story for another day... :)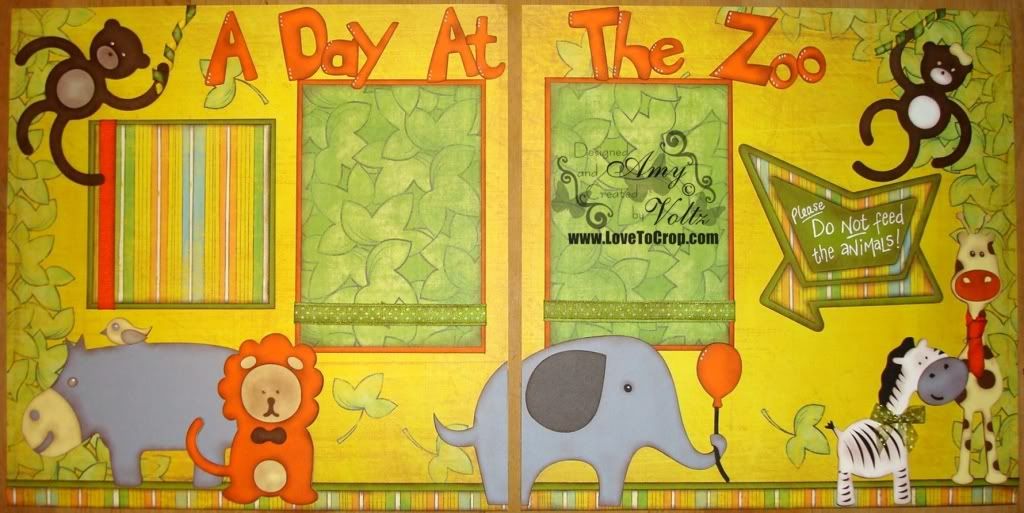 If you would like to name the lion, the monkeys, or the hippo (and his birdie), they all remain nameless for the moment... Your suggestions for names are appreciated in the 'comments' section below... I love to read your comments, so please be sure to leave one so that I know you were here -- If you also have a blog, please be sure to leave a link, so I can visit you too!!
Until next time,