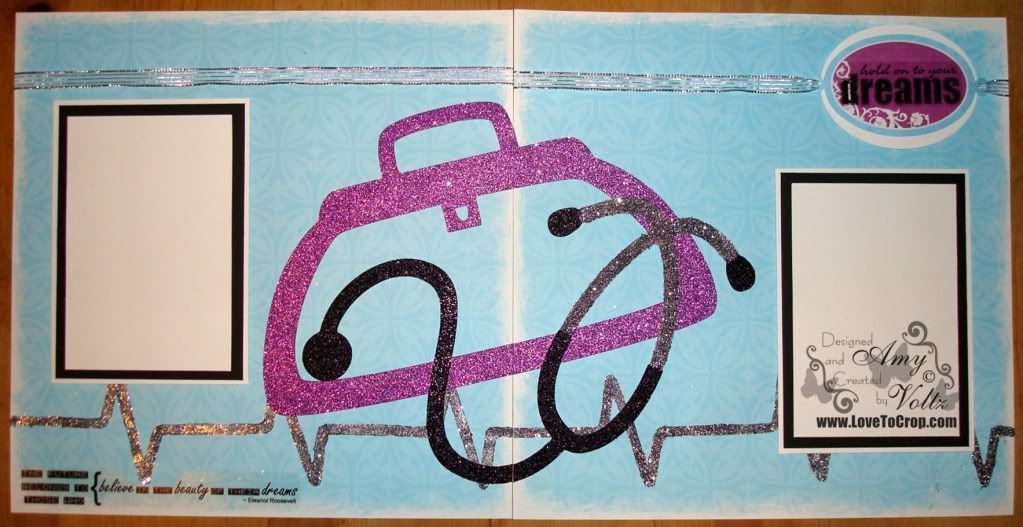 Mama said there'll be days like
this
, er, yesterday... Don't get me wrong, there were a lot of really great things about yesterday, but did ya ever have one of those long days that was just a little bit off and just stayed that way all. day. long.???
So, anyways... This past week,
M.A.G. Challenge By The Page
(one of my most favorite challenge sites, by the way) had a challenge to use
only
the images on page 65 of the Wild Card Cricut Cartridge...
Oh boy, was I excited about this challenge!! I saw that doctor bag and the stethoscope and the little 'v' and knew just what I was going to do!! You see, The-Girl-Child graduates high school this year (I'm not weeping yet, but don't worry... I WILL!)... And for as long as I can remember, she has always wanted to be a doctor (as well as a princess and a ballerina). When she was in 9th grade, she came home and informed me that she was certain that she wanted to go into Oncology so that she could find the cure for cancer... She had this idea about it, and she couldn't wait to finish college and see if she could do it (nothing like having an 11-year plan at the age of 14!!).
As we started to visit colleges and learn more about the Pre-Med programs different schools offered, The-Girl-Child announced another surprising revelation (which I learned at the same moment as the admissions counselor she announced it to!)... Her dream was to go into Pediatric Oncology... Wow. Imagine being the mother of that child (yes, now I'm weeping). I can claim no inspiration for her chosen direction... I am not in the medical field. I am a crafter, an artisan, a scrapbooker. She dreams BIG -- And she's driven. Her persistence causes me to marvel at how this child was a gift. to. me.
So that's the inspiration of this layout... And let me tell ya... The-Girl-Child L-O-V-E-S glitter... I now have glitter all over my craft room floor and table, in my Cricut (yikes!), and in my washing machine and dryer!! Even my Turtle-cat has glitter on her!! Oh well, now she has a sparkling personality. :) As the above quote from Eleanor Roosevelt says, "The future belongs to those who believe in the beauty of their dreams..."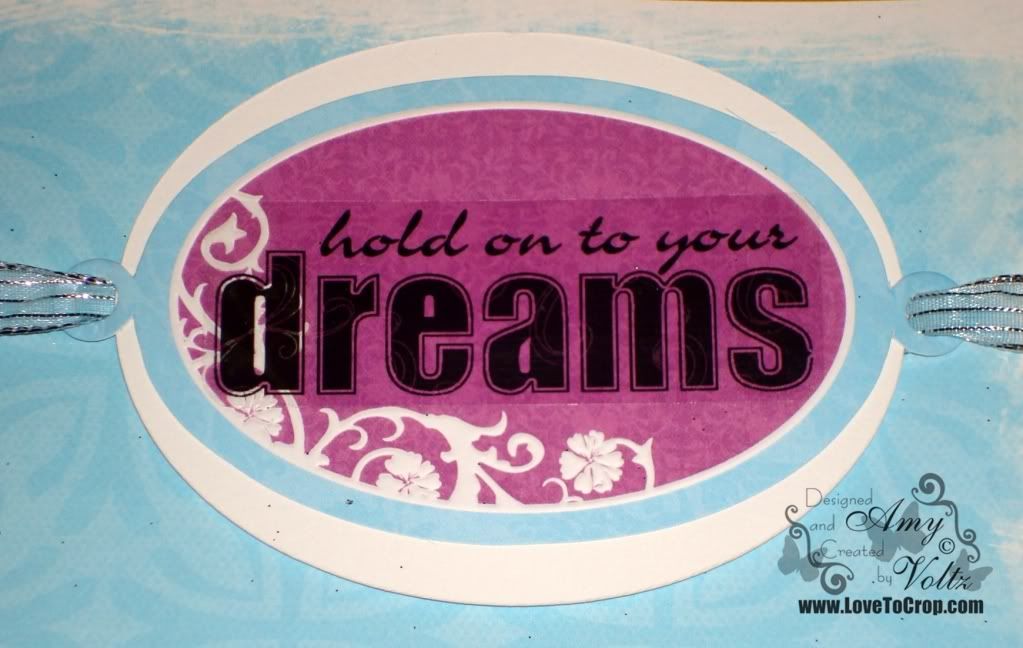 My background paper is from the
Simply Beautiful Designer Paper Pack from Creative Memories
. This paper tag is also from the Simply Beautiful Power Palette. The sticker is from my stash (from the Achievements Kit that is no longer available). I used pop dots behind the tag and threaded silver striped ribbon through the tag connectors...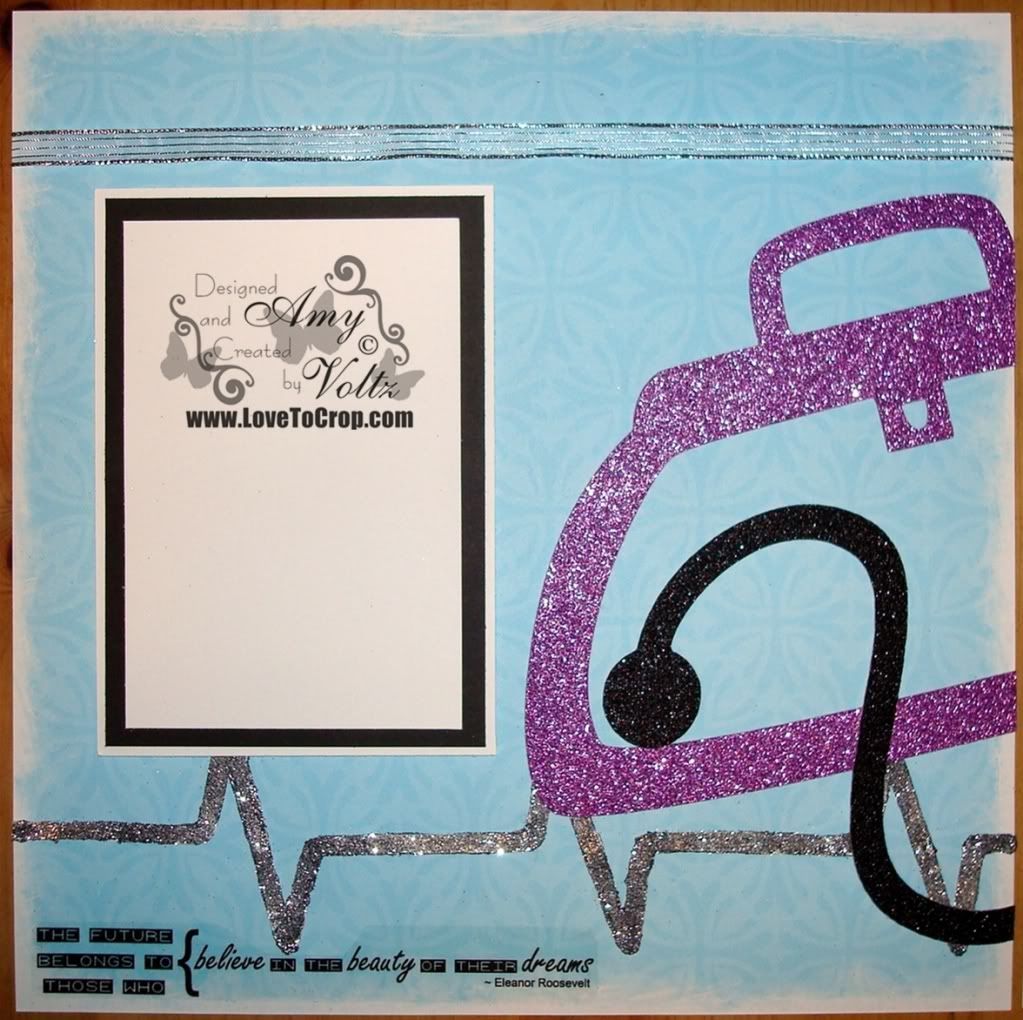 The doctor's bag is cut from AC Glitter Chipboard (blade setting 6, pressure 6, multi cut 2) at 14.5" (it's really only about 7ish" high, but it's in proportion to a 14.5" card).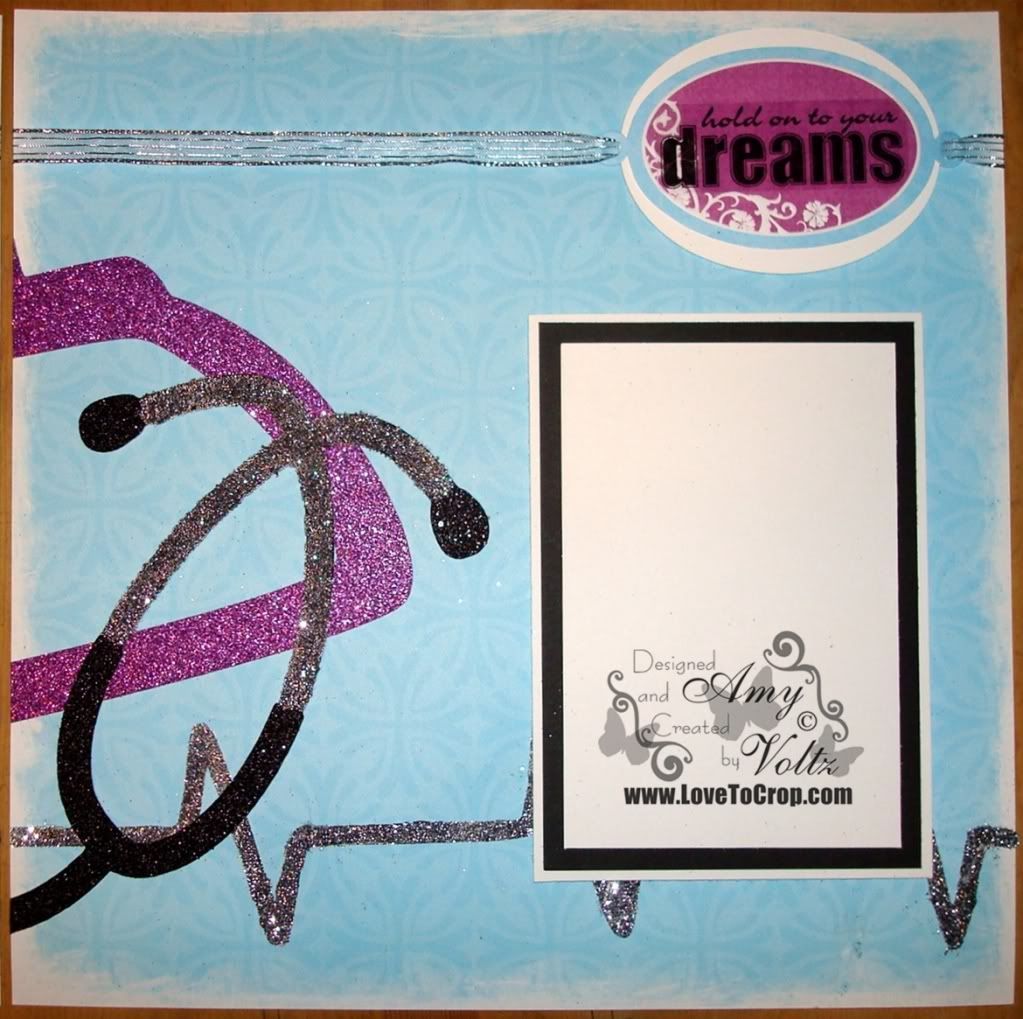 The stethoscope is also cut from AC Glitter Chipboard (at 18")... I added MS silver beads as well as silver glitter to give it a 'metal' effect... Boy, did THAT make a mess!! :)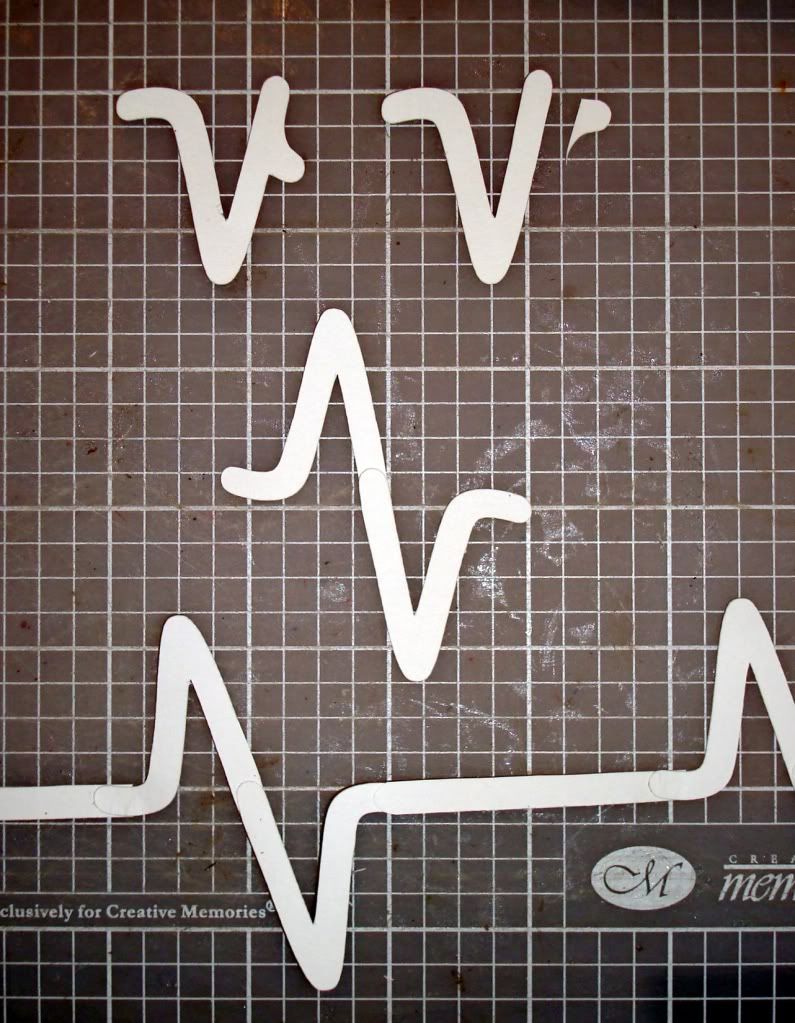 And then we have our heart rate status line... See the little 'v's on the handbook page? I trimmed them and flipped them and attached them to each other between thin strips of cardstock before tackling the task of covering them in glitter... So this would be why my craft room, the laundry room, and the cat sparkles!!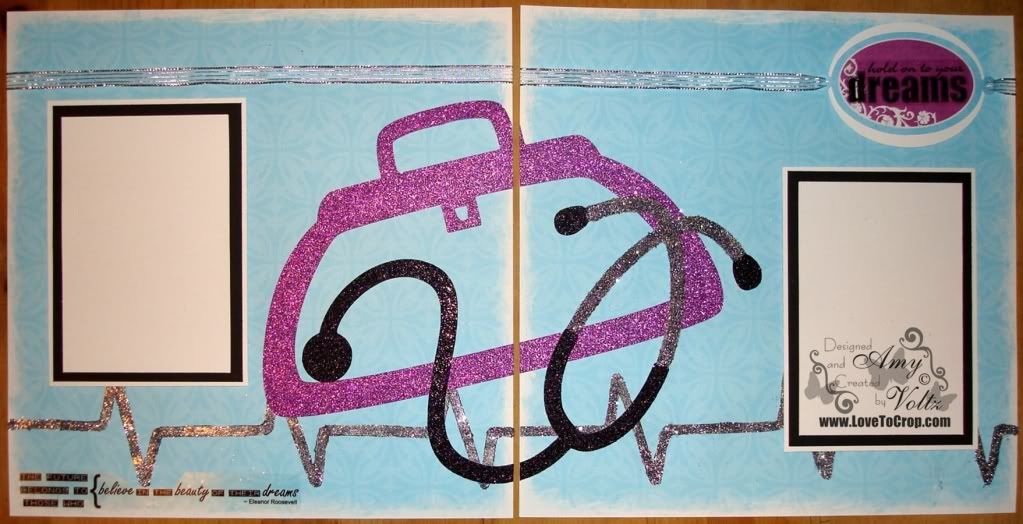 Since I do not scrapbook chronologically (gasp!!), but rather what inspires me for the day (they'll all end up in order eventually!), I really like to create full two-page layouts for most of my pages. Let's face it, I have a hard enough time deciding which of my 1400 pictures of fireworks from last 4th of July NOT to print (that is NOT an exaggeration, I am sorry to admit, but I am not sorry that I love fireworks that much!), so I am not at a loss for filling up two pages with pictures (even if it's only two pictures like on these pages!)... I had actually intended for the picture on the left page to be a 5x7, so the photo mat may need to be enlarged before this layout makes it into the scrapbook...
Once again, the ridiculous amount of glitter I used was all justified when The-Girl-Child bounced into my craft room and immediately lit up like a million stars and said, "oooooohhhhh, pretty!!" And then, "oooooohhhhh!! That's for MEeeeeeee!!! Look at the heart rate blips!!" followed by whatever word means 'cool' in teenage language these days...
Now. Remember when I said that Mama said there'll be days like
this
yesterday? Even though I didn't have a bad day like maybe that hamster in The Shirelles video above, well, I had camera issues and then uploading issues and didn't get to enter my page in the challenge over at
M.A.G. Challenge by the Page
in time... No worries though... Those fantastic ladies who make up the DT (
Melissa
,
Adrian
, and
Gloria
) always leave me plenty of wonderful comments and I'll just have to have my entry ready earlier next week!! Besides, Mama also saw TWO robins yesterday AND the sun is shining today, so Spring. Is. On. It's. Way!! :)
Once again, THANKS SO MUCH to all of my Fabulous Followers (new and not-so-new) for your continued support!! Remember, I am giving away a BRAND NEW Creative Memories Stork's Delivery Cricut Cartridge
HERE
... So
CLICK HERE
and enter to WIN!! :)
Until next time, may your dreams sparkle even without added glitter... :)