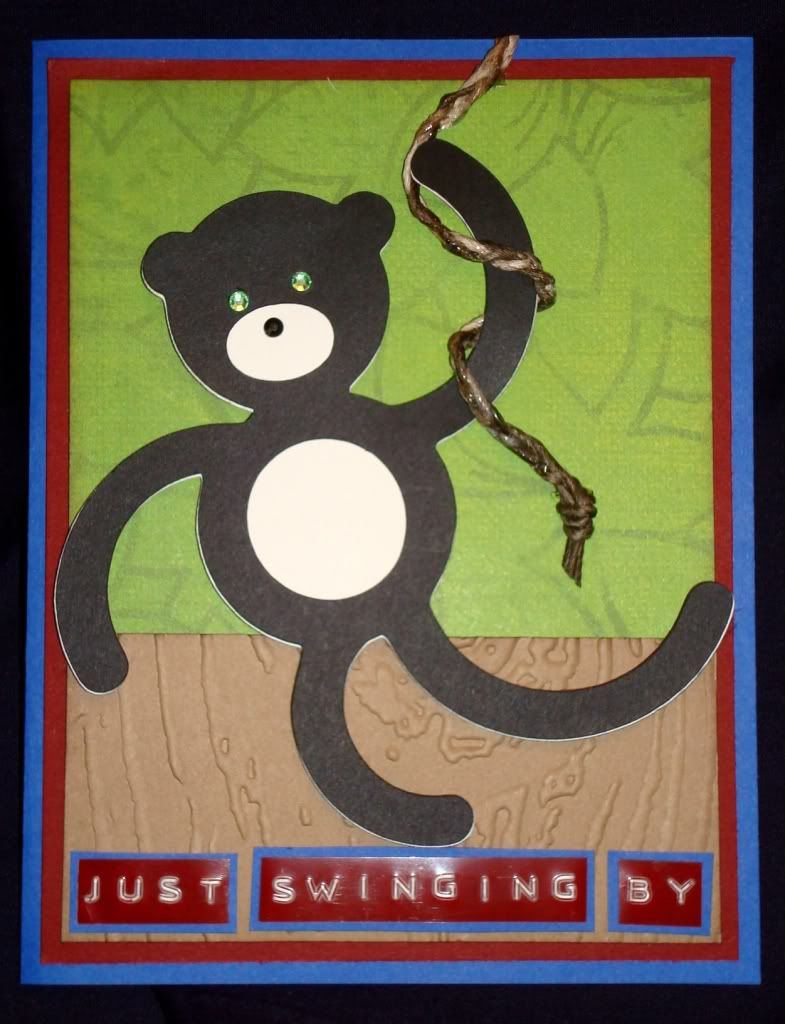 Hello, hello, hello to YOU, and Happy Birthday to
OWH's Ciara
!! Thanks so much for stopping by today during the "All Creatures Great & Small Blog Hop" presented by
Misty at DeLiteful Gifts
!! I'm so pleased to be a part of this hop, and I'm super-excited that YOU are here!! If you arrived here from
Getting Cricky
, you are in the RIGHT spot!! If you've just happened along, be sure to hop back to
Misty
and begin at the beginning!! :) When you're done here, you'll want to hop along to
TANYA
, who has a creative critter in store for you too -- But be sure to leave a comment here first to be eligible for the Blog Candy!!
Misty asked each participant of the hop to create a 'Kid-Friendly' card or project with a creature great or small... In an effort to promote and support
Operation Write Home
, I designed this fun MONKEY card!!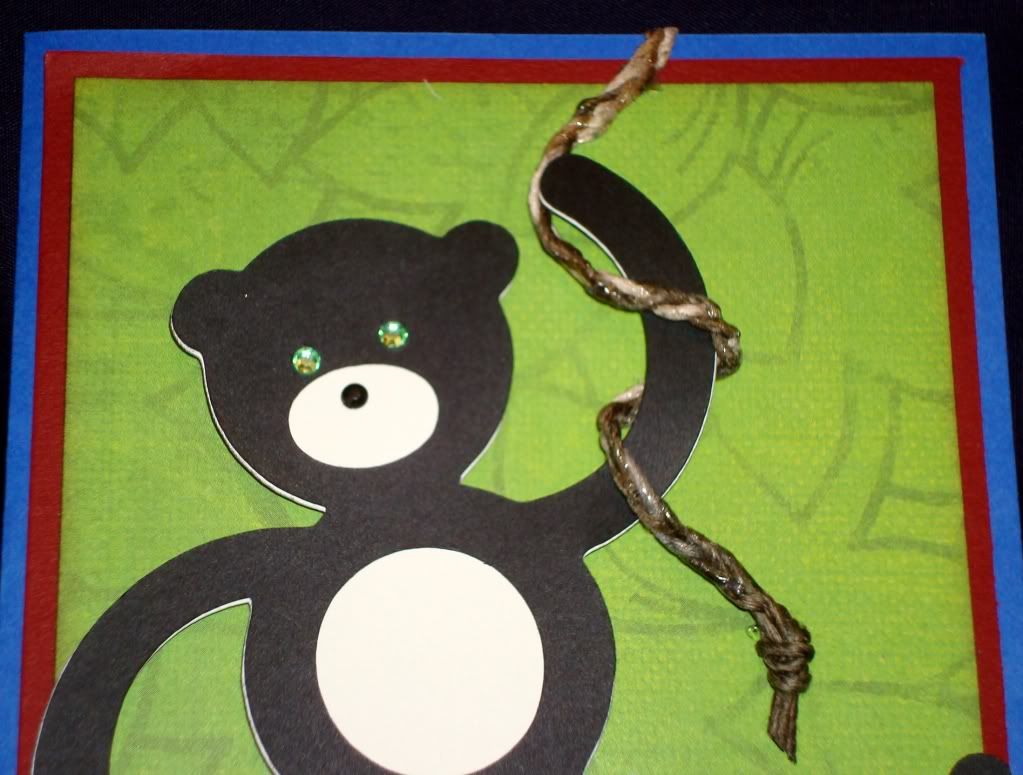 The monkey was cut from my
Creative Memories Stork's Delivery Cricut Cartridge (available HERE!)
... I love the easy layers on this cartridge, and it's NOT just for baby stuff (as demonstrated
here
,
here
,
here
, and HERE!!)...
I braided some twine and covered it with Glossy Accents for the vine... I really love how this turned out...

The tan cardstock is embossed with Tim Holtz's 'Woodgrain' embossing folder (from Sizzix) and the phrase "Just Swinging By" was made with my old-school DYMO label maker!! :)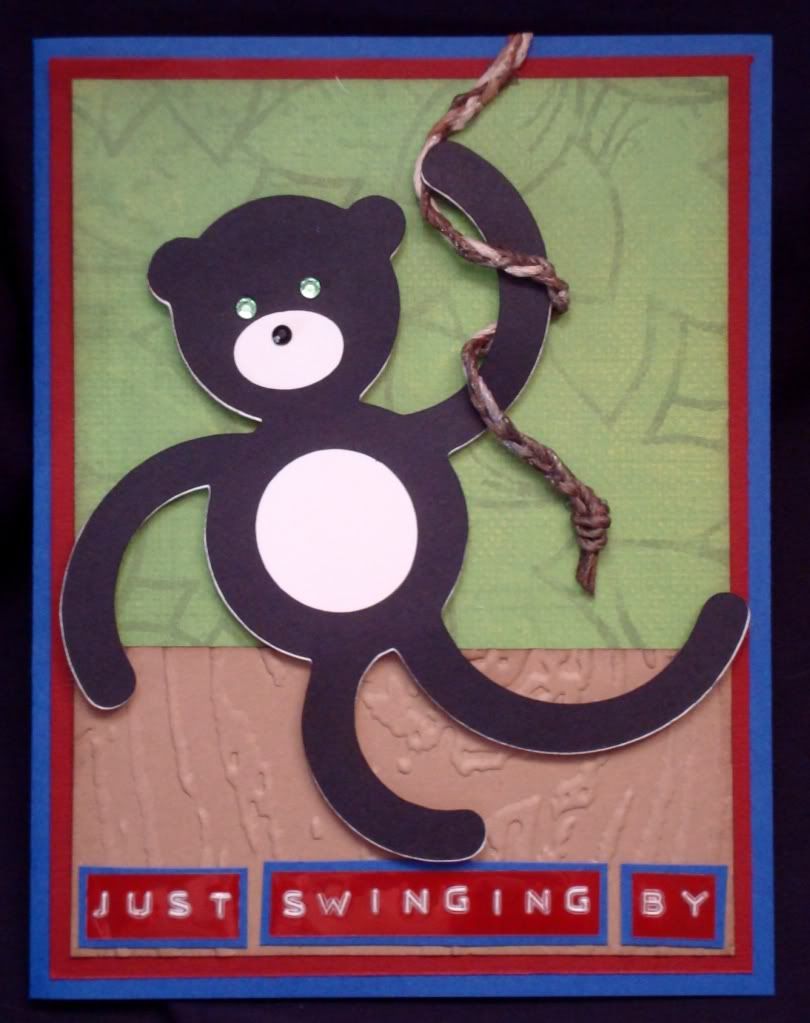 I hope you've enjoyed my card -- This one, along with many others, will be sent to our heroes stationed overseas so that they can send a card to a loved one at home!! :) If you'd like to join in on that fun, please visit the
OWH
site for more info...
What's a hop without candy??? Be sure to
leave a comment on this post
to be entered to WIN some FUN Critter Candy from me (and also to be eligible for Misty's candy)!! The winner of my Blog Candy will be announced on Monday, April 18th and will receive a selection of paper, die cuts, and other goodies to create some cards and projects!! :)
Thanks so much for joining me on the HOP!! I'm participating in another hop today (and tomorrow too), so I hope you'll stick around for a few moments to check that out too!! :)
If you get lost along the way, here's a list of all the talented bloggers participating in today's hop:
1. Misty…http://deliteful-gifts.blogspot.com/
2. KAndrews...http://www.gettingcricky.com/
3. Amy...http://www.lovetocrop.com/
You are Here!
4. Tanya…http://scrappinkymomma.blogspot.com/
<- Next Stop!
5. Darlene…
http://talesoftayandbay.blogspot.com/
6. Kathie…http://kathleessnippitsncricuts.blogspot.com/
7. Michelle D…http://upsydaisycreations.blogspot.com/
8. Sally… http://sallysbitz.blogspot.com/
9. Gill...http://creationsbygillm.blogspot.com/
10. Jen…http://www.memorieswithjen.blogspot.com/
11. Sher… http://www.patternsbysher.blogspot.com/
12. Rhonda…http://scraphappenswithrhonda.blogspot.com/
13.Tara..http://creativeprincess-homemadehappiness.blogspot.com/
14. Vicki…http://www.melovebonoandscrapbooking.blogspot.com/
15. Jen …http://www.jenscraftcorner.com/
16. Dawn…http://iowascrapper.blogspot.com/
17. Martha…http://pattisscrapingtime.blogspot.com/
18. Becky…http://beckscricards.blogspot.com/
19. Anita…http://anitaandbugs.blogspot.com/
20. Kara… http://karassweetcreations.blogspot.com/
21. CheriJ… http://cdjcape521.blogspot.com/
22. Carlene…http://misspinkcricut.blogspot.com/
23. Misty…http://deliteful-gifts.blogspot.com/

<-2nd chance post
**

What??? More small print??? :) -- To be eligible for my "All Creatures Great & Small" Blog Hop Candy you need to leave a comment on this post (if you don't know how to get to the comment box, CLICK HERE)... For a second chance to win, become a follower (if you are already a follower, that's okay too) and leave a SECOND comment that you are following... The winner will be selected and posted on April 18th (later in the day rather than sooner, cuz I'm never organized enough to do it first thing in the morning!)... Selected winner will have SEVEN (7) whole days to claim the prize (so be sure to CHECK BACK!!) or it will be re-gifted, possibly to the monkeys at the zoo, even though they will probably try to eat it or throw it at each other, but probably to another comment participant... This drawing is held in happy spirits with good intentions, so please enter with the same... Here ends the fine print. :)