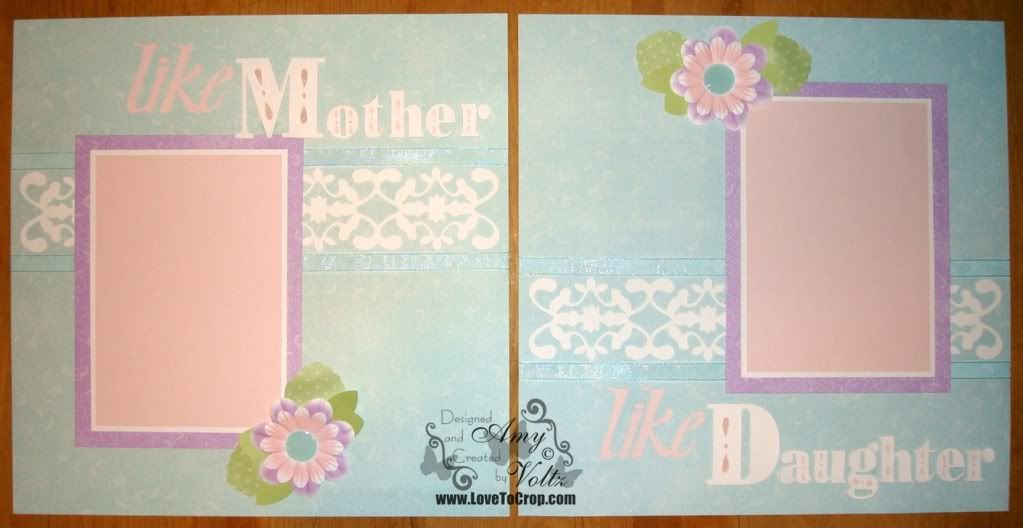 12x12x2 layout :) Background paper is CM's Delight Tone-on-Tone
Woot-woot!! One of my favorite things to celebrate is my most spectacular mother!! For those of you who know me personally or have followed me for a bit, you know that my mom is one of my most important people!! I feel extremely blessed to have a very close and very wonderful relationship with my mom... When I am having a bad day, I know that my mom is always there for me... And when I am having a wonderful day, I know that my mom probably has something to do with it... It's just who she is...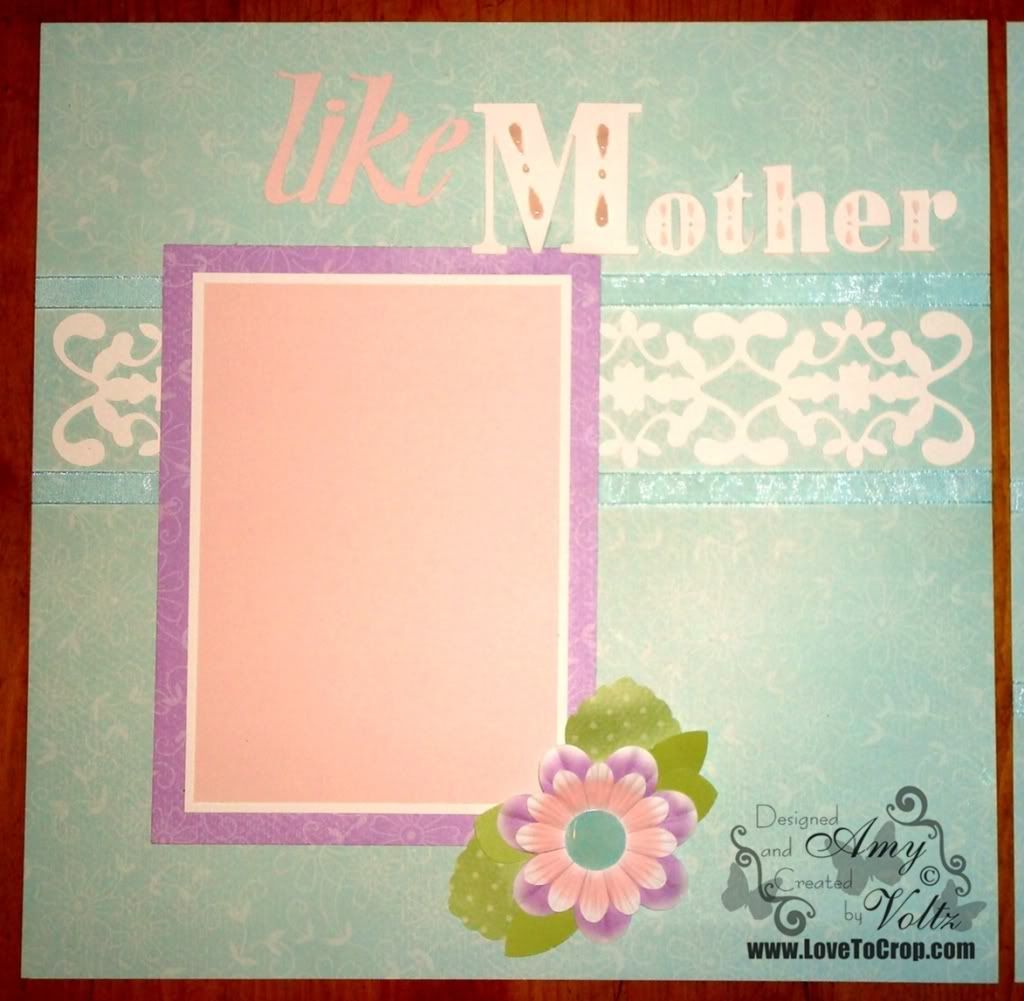 Fonts: 'like' from Calligraphy Collection, 'Mother' from Cindy Loo
So this week over at
Celebrate The Occasion
, the challenge is all about Mothers and that special day in May that's just for celebrating them!! As I thought about what I wanted to make, it's no surprise that my inspiration came directly from my mom... Sometimes when I'm in a creative rut, I talk to her about what I'm working on or need to finish... Many times, she'll throw out an idea, and I'll grab it and run with it!! :)
White 'lace' border cut from Cindy Loo
As I get older and my own children have grown and changed into 'little' adults, I've noticed how many things I have in common with my mom... On a recent scrapbooking weekend, I found myself tapping my foot and singing along to Doo-Wop music right along side my mom... On Easter Sunday, I found myself dancing in the aisles (literally) during Mamma Mia (the musical) right along side my mom... And don't tell her, but earlier today, I thought I might actually look forward to the next sunny day when I could pull out the lawn mower and work out in the yard (which is exactly what she did in her neck of the sunny neighborhood today -- while we had nothin' but rain!)... So you see, as this Mother's Day approaches, I realize that 'like Mother, like Daughter' really means so much to me... I'd love to be the kind of mom my own mom is... Dependable, courageous, and strong... I might even learn to enjoy making mud pies and playing in the dirt... But let's keep that our little secret for now, k?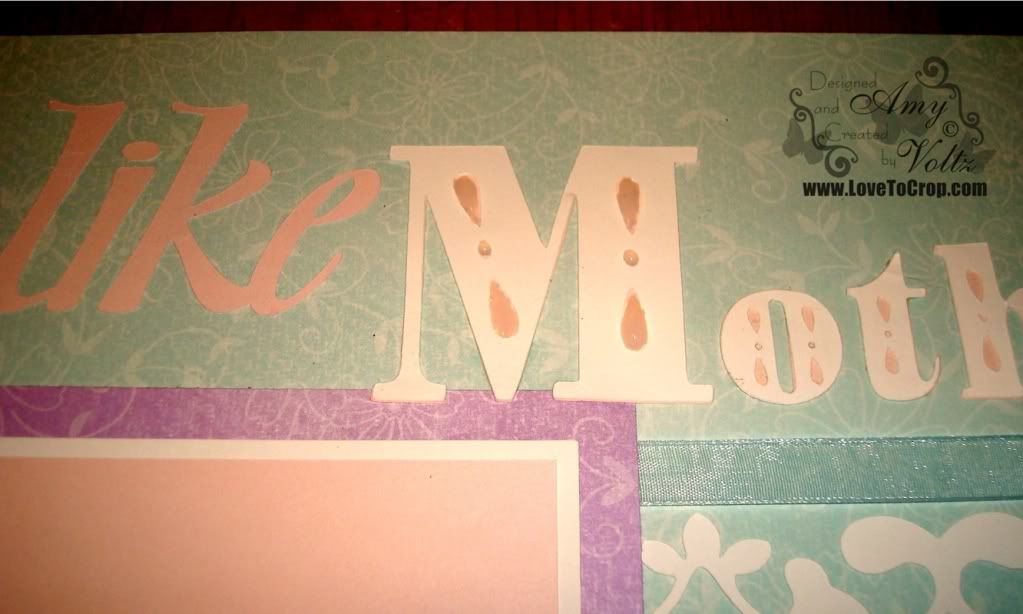 Glossy Accents add dimension and shine... Sheer blue ribbon creates the border for the 'lace' cut...
So whatever it means to you to celebrate Mother's Day, I hope you'll head over to
Celebrate The Occasion
and join in on the fun with a card, layout, or project... You have until Sunday, May 1st at 11:59pm to link up your project... If you're looking for even more fantastic inspiration, be sure to visit my very talented Design Team #1 sisters... You'll find their projects over at
CTO
... Or create your own blog hop and click on the links below to visit their blogs and leave them a little love (you'll be glad ya did!) ~~ Leave a comment
HERE
and on each of the DT#1 CTO projects
, and I'll pick a lucky winner for some surprise Blog Candy
(all entries due by Sunday, May 1st at 11:59pm)
!! YIPPEE!! (but I can promise you it won't be the
1152 jelly beans from my jelly bean jar
cuz The-Boy-Child was home for Easter...)
Flowers from CM's Delight Power Palette, leaves punched with SU!'s Build-a-blossom punch




What about that sketch I used??? Yup, my second sketch completed...
I'm also entering this layout in the
Lasting Memories Layout Challenges: Challenge #35
... I really enjoyed creating something with this sketch... I might just have to try another!! :) It's always fun to see what others come up with for the sketches... I still keep mine pretty close to exactly what the sketch is... But by changing the colors and papers used, I can see how versatile this sketch really can be!! To try out the sketch challenge yourself, be sure to pop over to
LMLC
...
Have you visited
Flaunt It Fridays
yet? This week's challenge (
challenge #20
) is an "Anything Goes" using the Cindy Loo Cartridge!! I used the beautiful font found on Cindy Loo for my layout... I also cut that wonderful lace border from Cindy Loo (I used my Gypsy to weld two of the borders together to make it 11.5" wide)... This is my first time using Cindy Loo, and I'm so thankful that my bloggie friend
Jennifer (Musings of a Crafty Mom)
introduced me to this font with one of her AMAZING party decoration posts (Hello Kitty on March 12)...
Yippee, skippy (as my friend, Ann, used to say)... I'm so excited to enter my layout into the
Fantabulous Cricut Challenge #57 "Mom's The Word"
!! They asked participants to create a special project for mom and include the word 'Mom' (or Mommy, Mother, Mum, etc.) on the finished item...
Over at the
Cricut Circle Blog
, the challenge is to create a scrapbook page about you and your mom (or you and one of your children) and must have at least 2 Cricut image cuts...
What??? One more challenge??? Yep, that's right!! For
challenge #88 at Paper Cutz Challenge
, make a card, layout, or project using pink, green, blue, purple, and white ONLY (you can use a small touch of black too if desired)...
Now get crackin'... It's time to let that creativity flow and join in on the FUN!! :) Until next time, I hope you'll find many moments to
Celebrate The Occasion
-- whatever the occasion may be...