~~All entries for Blog Candy for these two hops are due by 11:59pm EDT on Sunday, April 17th~~
Welcome, welcome, welcome back to Day 2 of the "It's a Basket Case" Blog Hop presented by the very-talented
Rhonda of Scrap Happens
!! I am so excited and honored to be a part of Rhonda's very first blog hop (thank you, Rhonda!)!! If you are hopping along with us today, and you've arrived from
Serenity Scrappers
, then you are in the right place!! If you've just happened upon my blog by chance, you'll definitely want to
START HERE
to hop along with us and see all of the amazingly creative projects my blogger buddies have designed for you both yesterday AND today (if you get lost along the way, you can find the whole Blog Hop list below)!! Be sure to leave a comment if you like what you see, as I have some Blog Candy for you to win (details below)!! Now onto my project...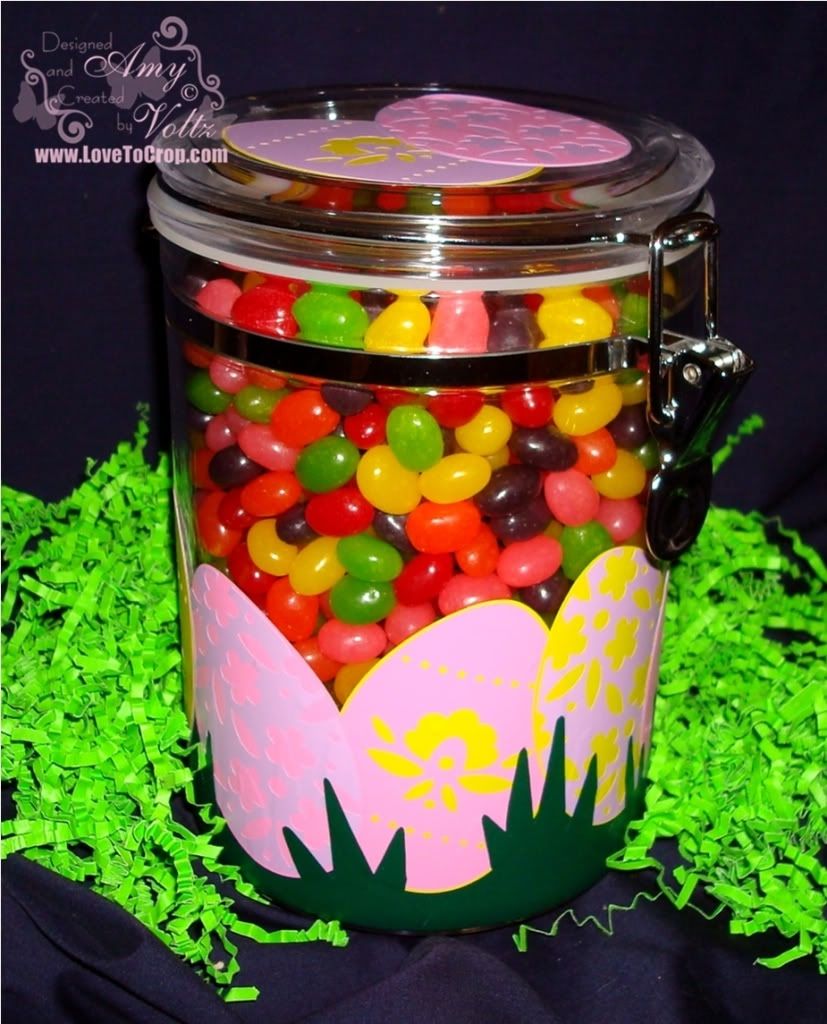 This hop is all about baskets and sweet treats, so I decided to create a useful and fun item for today's hop...
It's a Jellybean Jar!! Now isn't that incredibly useful??? There are at least enough jellybeans in that jar to last a week or so... Two weeks if I hide it from The-Girl-Child!! :) Does anybody else go a little nuts on jellybeans and chocolate at this time of the year??? I gotta tell ya -- I'm pretty crazy about Reese's Peanut Butter EGGS... I can live without the regular ole cups, but those eggs are irresistible (thus the reason I refuse to purchase them!)... Yum.
This plain glass-look-alike jar (it's this awesome shatterproof acrylic!!) can be found at Walmart for about $7... It doesn't photograph too well (I just couldn't seem to get the light right today, so I apologize if you have to squint to see the details), but it's wonderful for jellybeans!! :)
I used light pink, light purple, light yellow, and hunter green vinyl for my decals... If you haven't tried to cut vinyl on your Cricut yet, please know that it's extremely easy to work with!! I recommend doing something that doesn't require much layering or that doesn't 'have' to be perfect the first few times, as it does take some adjustment time to work with how thin the vinyl is... But give it a shot on a few projects (my first project consisted of about 30 yard signs, double sided, with five lines of text EACH!), and you'll be a pro in no time!!
At my Cricut classes, I give a very brief intro to vinyl... Everyone is always surprised at how fun and easy it is to work with... Everyone is also surprised to learn that my favorite 'transfer' material is actually 'Frog Tape' (it's painter's tape, it's green, it comes in its very own container, and you can find it in popular home improvement stores)... You can spend plenty of money on the 'official' transfer tape, or you can pick up some Frog Tape... Yeah, you can't see through it, but nothing beats the low-tack, no residue convenience of this stuff!! :) If you would like more info, please feel free to leave me a question with your email address, and I'll get back to you...
Anyway, back to my project... I used the Cricut Easter 2010 Seasonal Cartridge for all of my cuts... The eggs (both layers) and grass are all cut at 3"... Once you have cut your vinyl images (on my machine I cut vinyl with a blade depth of 3 and a blade pressure of 2/low to get a 'kiss' cut -- the machine cuts the vinyl but leaves the baking intact), weed the excess (the parts of the cuts that you will not use on your project), and leave the main image on the backing paper... Lay a strip of Frog Tape (or transfer tape, if you insist) over the top layer of the image... Remove that layer from the backing (attached to the tape) and then carefully line it up over the base image... Use your fingers, a credit card, or a bone folder to rub and seal the layers together... Once I have layered at least two pieces of vinyl, I find it much easier to place my decal on the project without using transfer tape (it's more stable)...
This project was super quick and easy -- And when Easter is over, I can easily remove the vinyl and decorate my jellybean jar with something else (flowers for Mother's Day, butterflies for summer, fireworks for 4th of July... You get the idea)... If you have any trouble removing your vinyl, simply use a hair dryer to gently warm the vinyl before peeling it away (so ya know -- it is pretty difficult to reuse your vinyl images once removed... Sure, I've seen it done, but I wouldn't -- If it's a single layer cut, you can count on simply throwing it away once removed)...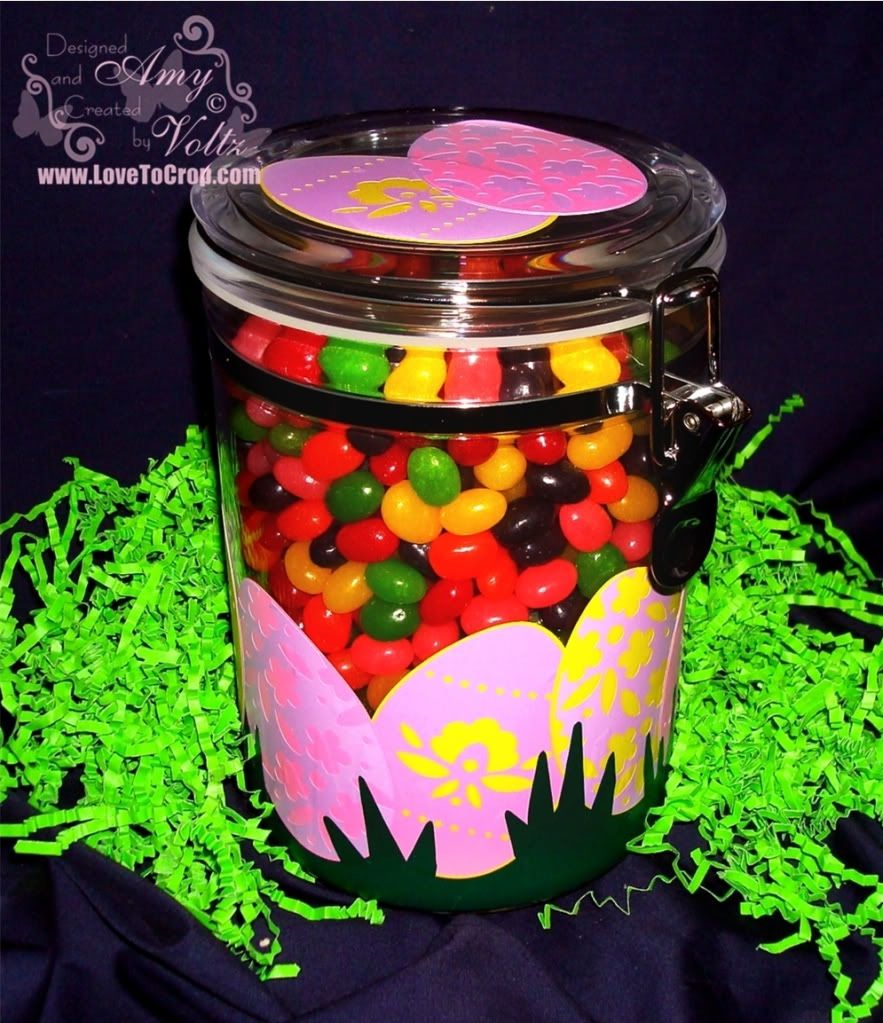 I hope you have enjoyed my project for the second (and final) day of Rhonda's Hop... Now... What's a Hop without some Blog Candy??? Well, I have some for ya!! The winner of my Day 2 Blog Hop candy will receive SIX 12x24 sheets of vinyl (pink, purple, yellow, white, black, and green -- enough to complete this project at least THREE times PLUS extra!!)!! You can enter to WIN my Blog Candy by leaving a comment below!! You can earn a second chance to WIN if you leave a second comment with a GUESS at HOW MANY JELLYBEANS are in my jar!! :) You do not have to have a blog to win, but please leave a link if you DO have one, as I'd love to stop over and see you too!! While I don't require you to be a follower to win my candy, I'd love for you to do so if you enjoy what you see here...
Remember to check out Day 1 of the "It's a Basket Case" Blog Hop if you haven't already... You'll even get another chance to WIN some Easter-themed blog candy!! :) ***I had planned on posting the tutorial for this explosion box today, but I thought it might be too much with all the Hop pictures too... So my plan is to have the tutorial posted on Monday... I apologize for the delay...
Next, you're off to the talented
LIZ at Tryin' to 2 Craft
(and believe me, she's not just tryin'... She's succeeding!!)... So hop, hop, HOP, and HAVE FUN!! Until next time, may your jellybeans be plenty!! :)
As a BONUS, I am entering my Jellybean Jar in the challenge over at
FCCB
!! Their
'Spring Fling' Challenge
is to create something with at least one Cricut cut using the colors PINK, GREEN, and YELLOW!! I think it's okay that there's some purple thrown in there too!! :)
In case you get lost along the way, here's a list of Rhonda's talented participants:
** Yup, more small print -- To be eligible for my "It's a Basket Case" Blog Hop Candy (Day 2) you need to leave a comment on this post
(if you don't know how to get to the comment box, CLICK HERE)
... For a second chance to win, please leave a second comment with a GUESS as to HOW MANY JELLYBEANS are in the jar in the photos above... The winner will be selected and posted on April 18th (later in the day rather than sooner, cuz I usually forget plenty first thing in the morning!)... Selected winner will have SEVEN (7) whole days to claim the prize or it will be re-gifted, possibly to the Tooth Fairy cuz the Easter Bunny has a shot at yesterday's, but probably to another comment participant... This drawing is held in happy spirits with good intentions, so please enter with the same... Here ends the fine print. :)