I would like to thank everyone who stopped by this weekend for BOTH of the Blog Hops I was participating in!! I would also like to thank both Rhonda and Misty for the opportunity to take part in such FUN Blog Hop events!! Now, on to the winners....
"
All Creatures Great & Small
" Blog Hop Winner:
Random.org selected #25...
Kathie from Kathlee's Snippets & Cricuts
will be receiving some fun 'Critter'-themed card-making candy!!
"
It's a Basket Case" Blog Hop Day #1
Winner:
Random.org selected #20...
Paper Panther from Purple Peeps Techniques
will be receiving some fun 'Easter'-themed card-making candy!!
"
It's a Basket Case" Blog Hop Day #2
Winner:
Random.org selected #15...
Judy Evors from Living Life and Loving It Every Day
will be receiving 6 sheets of 12x24 vinyl!! Looks like you're gonna get to try out a project with vinyl sooner than ya thought!! :)
And, FINALLY, The-Girl-Child was SUPER excited to learn that someone was ONLY 21 Jelly Beans away from the actual number in the jar... Before I tell ya who guessed so ridiculously close, lemme tell ya how the Jelly Bean guessing came about...
(insert dramatic music here for effect)...
There we were (The-Girl-Child and I) wandering the Easter Candy aisles of Walmart...
For those of you that don't know her personally, T-G-C really LOVES rainbows and peace signs (yeah, when asked her favorite color... she responds 'rainbow!')... So there, just at her eye level (and above mine), is a whole box of peace-sign gummy lollipops in rainbow colors...
"Oh, mom!! LOOK!! A rainbow-peace-sign-lollipop!! Oh, pleeeeeeeeeease, can I get this?" (keep in mind that we were nearing the END of our shopping trip, so she had already snuck PLENTY into the basket...)... And then I saw the Jelly Beans...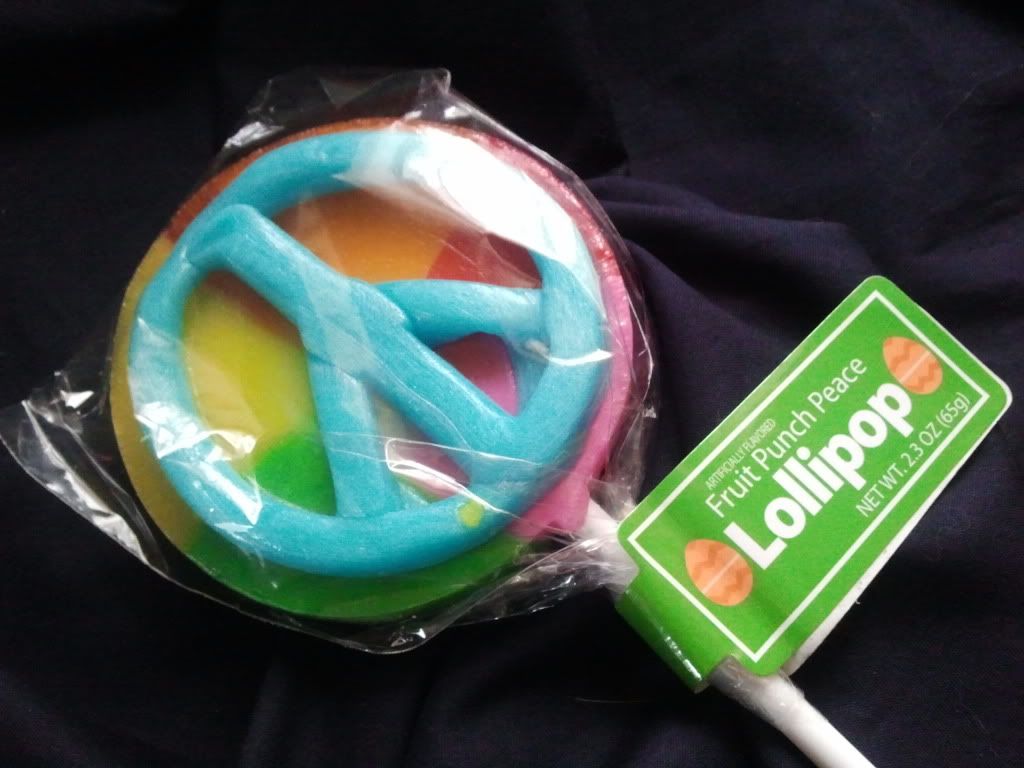 And I said... "You can get that lollipop (that you will probably never eat) if you count all the Jelly Beans that are going in that jar for the Blog Hop on Saturday." ... I thought she'd ponder it for at least a moment... I thought she'd think about how large the jar was and the fact that I was buying MANY bags of Jelly Beans... I thought she'd think I was crazy for the request... Nope. Not even a millisecond of a pause... "OK!! Yessssss!!"
And I've got to say... It was the best buck (yes, ONE single dollar!) that I've ever spent... Cuz I sure didn't want to count all those Jelly Beans!! :)
But anyway... Had The-Girl-Child only eaten 21 of those Jelly Beans,
KATE from Small Bits of Paper
would have been right on with her guess of 1131 (cuz there really are 1152 Jelly Beans in that jar -- FOUR whole bags of Jelly Bean goodness!)!! Congrats, Kate!! T-G-C wants to send you a very special gift for having the closest guess (sorry, I told her she couldn't send you the whole jar of Jelly Beans... it's, like, 40 bucks in postage to Canada, but she'll select something good, I'm sure!!)!!
Congrats to all the winners!! Please remember -- You have SEVEN (7) days to claim your prize or the monkeys at the zoo, the Easter Bunny, and the Tooth Fairy have a shot at your goodies!! :) Email your address to scrapbookingwithamy at gmail dot com...
Until next time, enjoy some Jelly Beans for me!! :)