I would like to thank everyone who stopped by during the Card Carnival Blog Hop this past weekend!! I really enjoyed all of your wonderful comments -- It means so much to me that you take the time to visit and encourage me!! Thank you!!
So there's a WINNER to announce now... Random.org selected comment #63... With my handy-dandy comment counter, it was quick and easy to see that my winner is:
thekolbes said...
I am already a follower. Thanks so much for the awesome chance to win, Trish
Congratulations, Trish!! :) Since you left me your email address, I will be emailing you soon!! :)
Thanks again to everyone for making the Card Carnival Blog Hop such a FUN event!! Be sure to mark your calendars for the NEXT Blog Hop I am participating in (this Saturday) where you'll have MORE chances to WIN some AWESOME Blog Candy (hint, hint... Want a head start on an extra chance? Create a Red, White, and Blue Thank You Card for one of our deployed heroes... I'll have a Linky List this Saturday for you to show off your card!! Hope to see ya then!!)...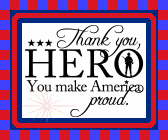 (clicking on the button will take you to the
Host of the Hop -- Misty
!!)
Info for the upcoming Hero Card Challenge:
The Linky List for my bonus Blog Hop challenge will be up on Saturday 5/21/11 at 9am EST and will run until Friday 5/27/11 at 11:59pm EST.

Blog Hop starts at 10am and will be in a separate post.

Feel free to link as many NEW Red, White, and Blue Hero Thank You Cards for the challenge as you like; HOWEVER, I do ask that you link your project back to my blog so that others can play along too!!

All eligible entries will receive a BONUS chance in the Blog Hop Candy drawing.

A separate drawing will also be held for entries only (so one entry is guaranteed to win a prize).

Have FUN!! I can't wait to see what you create!!
Until next time,