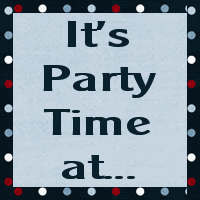 It's a BRAND NEW Challenge Blog!! Decorate To Celebrate is dedicated to showing off your decorations (and all things 'party' related) for every celebration!! The very FIRST two-week challenge begins June 1st (but the GIVEAWAY starts NOW!).
Details from
Decorate To Celebrate
:
"We want to see your table decorations, centerpieces, wall hangings, banners, favors, invitations, and more!! Each challenge will have a specific party theme (from baby to birthday to anniversary to holidays and everything in between!), and we want to see what YOU create using any method you desire -- paint it, cut it, mold it... use your Cricut, Sizzix, any other die cutting machine (or none!)... use paper, fabric, wood, glass, tile, florals... the options are endless -- Show us your creativity!!
While we will have prizes offered for challenges, we also hope to spotlight our talented participants with Guest Designer spots for EVERY challenge!! If you win a challenge, you will be invited as a Guest Designer for a following challenge -- allowing us to feature YOU... YOUR BLOG... and, best of all, YOUR CREATIVITY!!
For the next few weeks leading up to the announcement of our very first challenge (June 1st!), we are going to be kicking off the decorating and celebrating with inspirations, tips, ideas, tutorials, introductions, and... oh, yeah!! A GRAND ANNOUNCEMENT GIVEAWAY!! How about we get to the giveaway now??
It's a "YOUR CHOICE" prize package!!
One lucky winner can select either
a SURPRISE gift box full of goodies
a $50 Creative Memories Gift Certificate!!
So hop on over to
Decorate To Celebrate and enter to WIN the giveaway (you can get up to TEN chances TODAY!!)...
This Grand Announcement and Giveaway will remain open until 11:59pm (EST) on May 31st!!