Woot-Woot!! Happy Sunday, everyone!! Guess what Sunday means? It's time for a NEW challenge at
Getting Cricky with K Andrew
!! I sure hope you will pop on over there and enter the challenge (be sure to become a follower there and enjoy her super-motivating posts!)... This week the theme is 'Pennants and Banners' -- We'd love to see
your
project (card, layout, altered art, etc.) using a pennant, a banner, or both!! :) The challenge starts NOW and ends on Saturday, June 4th at midnight...
My project for this challenge is a 12x12 layout (I did create a second page for this layout, but I will post that later)... I'd like to take a few moments and share with you the inspiration behind my layout... Many of you know that I like to mull over the challenges to really get an idea of what I want to create -- Sometimes the picture in mind comes very quickly, while other times it takes a while for me to 'see' what I want to do... This week, I had a little help from my wonderful mom who suggested a patriotic-themed layout that could be used for a Memorial Day picnic (thanks, Mom!).
Memorial Day is an important holiday to me... Not only did my father serve in the Navy, but my cousin is career Army, and my son's best friend made us very proud when he joined the Marines... For many people, the idea of a three-day weekend is reason enough to celebrate, but for me I believe it's important to also remember the reason behind the holiday... I am so fortunate to have never experienced the pain of losing a loved one who has served in the military... My heart breaks for those who have, and it is for those military families that I dedicate today's layout. It isn't much here, but when the pictures are added from the memories shared on Memorial Day, I will only have those who so generously sacrificed to thank for my freedom... And they are my inspiration...
*If you cannot see the above video, or prefer to watch in on youtube, please CLICK HERE*
So tomorrow, as you meet with family and enjoy a burger on the grill, I ask that you would join me in remembering those who made this day possible...
The National Moment of Remembrance asks Americans to pause in an act of national unity for a duration of one minute at 3pm (local time). The National Moment of Remembrance does not replace traditional Memorial Day events, but rather is an act of national unity in which all Americans honor those heroes for the profound contribution they have made to securing our Nation's freedom.
Thank you for allowing me to share this with you... I hope that your Memorial Day is filled with wonderful moments shared with the ones you love.
A few more pictures and details about my layout...
The banner was created using the DonJuan, Accent Essentials, and Celebrations Cricut Cartridges. Those fun flowers are from Stampin Up!s new triple punches. The stars are also an SU! punch. My 'top note' was modified on my gypsy (sorry, I do not know the cartridge) to fit to page, then layered with the white strips (distressed and inked with SU! Creamy Caramel).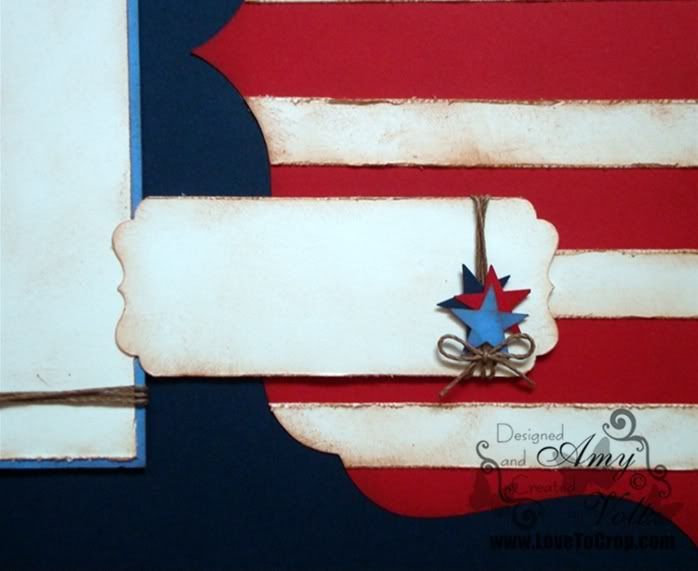 I created the journal bar with a 2" strip of white cardstock that I 'edge-punched' (tutorial to follow later).
I hope you have enjoyed my layout today... I can't wait to see what YOU create for the
Getting Cricky Simply Sunday Challenge: Pennants and Banners
!! :)
As always, your comments are welcomed and appreciated. Please be sure to leave me your blog address so that I can visit you too!! :)
Until next time,