YIPPEE-SKIPPY!! It's DAY THREE of the K Andrew Stamp Art Stamp Set RELEASE PREVIEW!! What's that you say? It's really day FOUR??? OH ME -- OH MY!! Well, then, I'd better fast-forward and give you TWO projects today!! Be sure to check back in a bit for a SECOND card today to celebrate PREVIEW WEEK!! :)
Did ya know that FRIDAY, June 17th is the wonderful, excellent, fabulous, magnificent, fantastic, extraordinary, outstanding, terrific, really GREAT
Getting Cricky Blog Hop
?!?!? :) YUP, it is!! My WONDERFUL Design Team Sisters will be featuring all of
K Andrew's BRAND NEW Stamp Art Stamp Sets
-- PLUS you'll be among the FIRST to see two more NEW RELEASES during the Getting Cricky Ustream Event!! Whatever your plans are for Friday... CANCEL THEM so you can join the Getting Cricky Crowd!! hee hee... :)
Now on to today's card featuring Getting Cricky's K Andrew's
"Freedom Isn't Free"
Stamp Set!! :)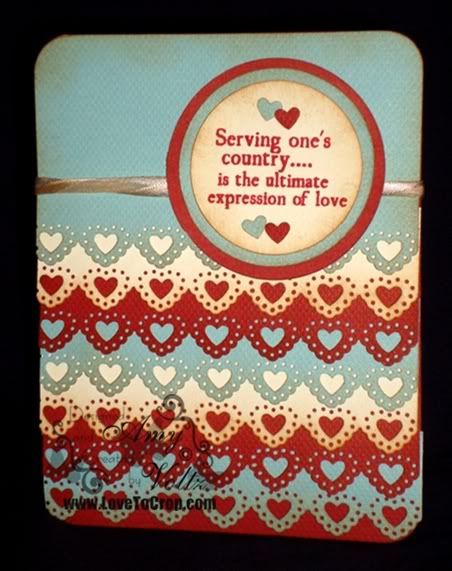 This super-fun-to-create ruffle card is one that is quick and easy to make!! I learned how to make ruffle cards like these from this awesome tutorial found
HERE
... I used my MS heart border punch for the ruffles, We R Memory Keepers cardstock, circles from the George Cricut Cartridge (2", 2.25", and 2.5"), twisted ribbon from my stash, caramel distressing ink, and, of course, the WONDERFUL "Serving one's country.... is the ultimate expression of love" from the
"Freedom Isn't Free"
K Andrews Stamp Art Set!! :)
This card will also be sent as a Hero Card for
Operation Write Home
. One of the most wonderful things about Kristal's "Freedom Isn't Free" Stamp Art Set is that the sentiments are PERFECT for these kinds of cards... I often struggle with what to stamp on a card that will really say what I'm feeling -- With this set, the guesswork is gone -- And when I'm not spending time having to think about the sentiment, I can get so many more cards finished!! And THAT'S good news!! :) By sending Hero Cards to
OWH
, I get the immense joy of knowing that I might be able to encourage a Hero who just might need some extra special thoughts and prayers that day!! If you'd like more info on OWH, I invite you to visit their site
HERE
...
For a look at all of the sentiments available on this stamp set, check out the preview...
Something EXTRA special about these stamp sets is that Kristal has selected a specific charity to benefit from the sale of each and every stamp set!! This isn't an intro promotion or something that will go away -- She will FOREVER donate at least $1 from the sale of EACH stamp set to the designated charity!! $1 from the sale of each "Freedom Isn't Free" stamp set is donated to Intrepid Fallen Heroes -- a non-profiit organization that provides rehabilitative services to US military members who are severely disfigured from combat.
To place your pre-order for ANY of Kristal's Stamp Sets, please click HERE
!! :)
I hope YOU have enjoyed my card today -- To see more creative previews of K Andrew's Stamp Art Stamp Sets, please visit Getting Cricky (
HERE
)... Remember, I'll be posting another card made with this FANTASTIC "Freedom Isn't Free" stamp set later today and also tomorrow!! I'd love for you to stop back and see them!! :)
***SECRET TIP (please don't share this with anyone except all of your friends or anyone who might want to WIN one of K Andrew's fabulous stamp sets!!): I will be offering BONUS chances to win a K Andrew Stamp Art stamp set of your choice for comments left on each of my Blog Hop Preview Post from this week!! You can get a head start by leaving a comment on the following posts:
Preview Day THREE Post -- YOU ARE HERE NOW!! :)
Preview Day FIVE Post -- {Coming Tomorrow morning}
Remember... You can click on the button below to 'Join the Crowd' and get alerts and reminders for all of the Getting Cricky Ustream events!! :)
Until next time,