Happy Sunday, everyone!! I'd like to take a quick moment to welcome my new followers!! Thank you all for your time and attention (and wonderful comments on my blog)!! You sure do know how to make my day!! :)
Well, it's time for another
Simply Sunday Challenge over at Getting Cricky
!! This week, the challenge is to use PENS!! You can use pens for drawing, coloring, journaling... You can use them on images, for backgrounds, to write a sentiment... Anything that uses PENS will work!! I recently received some of Amy Chomas's incredible glitter gel pens and her gel pen holder for my Cricut, so I decided to give those a whirl. :) If you're not familiar with
Chomas Creations
, please take a moment to pop over there, take a look around, and please let her know that I sent ya!! :) I have a looooong wish list of items I'd like to get from Amy, so I hope to be able to show you even more of her wonderful products in the future!! :)
I have TWO cards to share with you today (that means it's gonna be a long post with LOTS of pictures):
This is a standard A2 card... I used the Chomas Creations glitter gel pens and holder as well as my gypsy to create the background paper for this card. To make it easier for me, I used a double star found on the Stand and Salute Cricut Cartridge.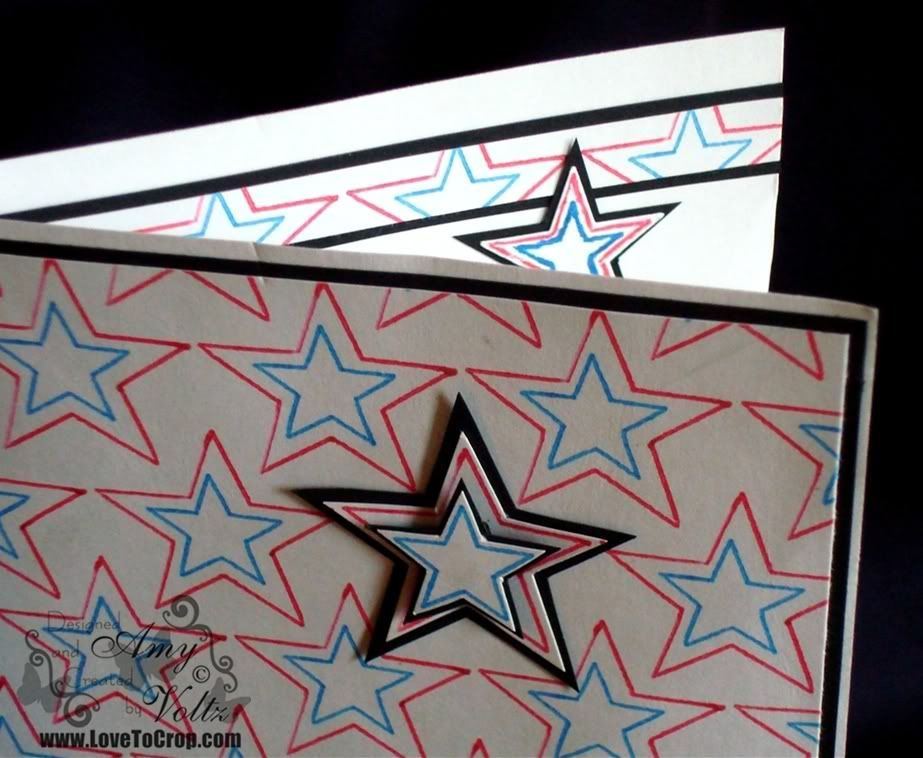 After placing the stars on the page where I wanted them, I copied the entire page to a new 'mat' in my Gypsy. I then lined it up so it matched exactly with mat #1. Once I was happy with the placement, I highlighted each star, selected the 'hide contour' button and hid the inside star on every star on mat#1 (red stars) and the outside star on every star on mat#2 (blue stars). This is what took me the longest, BUT I saved the file so I can remake this background paper anytime I want (in any colors I want).
Once I set up my mat, I switched the blade in my Cricut with the gel pen holder (loaded with the red pen). I selected 'CUT' just as I would have with the blade inserted (pressure set on "medium/3'). Instead of cutting, my Cricut drew a page full of red stars!! When it finished, I did NOT unload my mat, but selected 'return to design' instead. I then switched the view to mat#2, switched to the blue pen, and selected 'CUT' again. This kept everything lined up properly and drew the blue stars inside the red ones!!
Even though I was a little apprehensive about trying out this new tool, I ended up having a LOT of fun with it... This is definitely something I can see using for all kinds of nifty things!! :)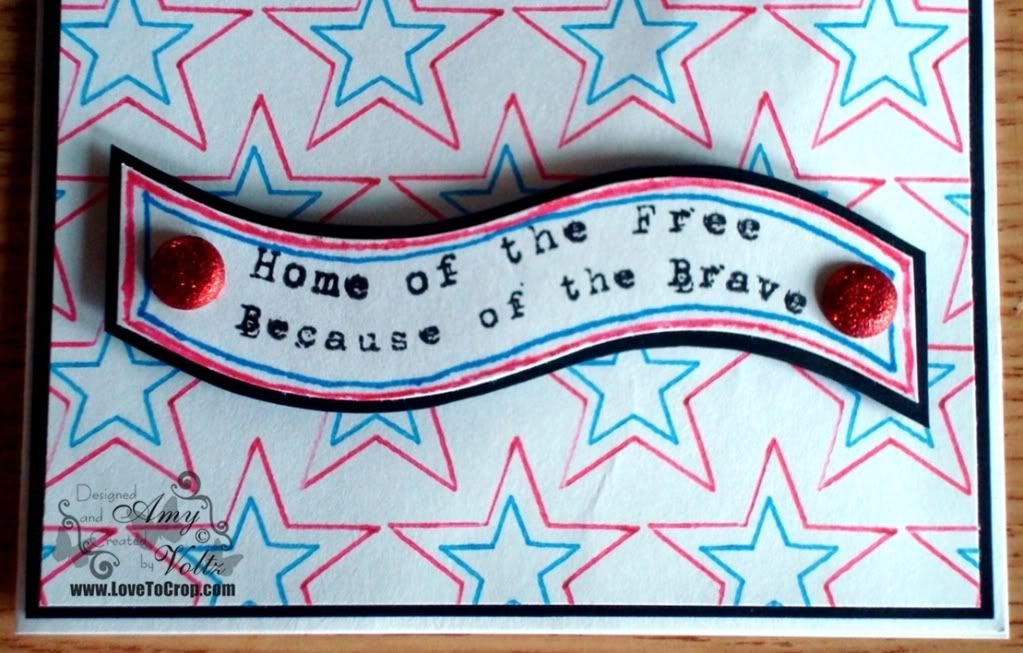 I finished off the card by adding a wavy banner with a sentiment from
K Andrew Designs "Freedom Isn't Free" Stamp Art Set
... "Home of the Free Because of the Brave" A portion of the proceeds from this set benefits the Fallen and Intrepid Heroes Charity. I really love all the sentiments in this set, and I love how this coordinated so well with my card. :) I hope you've enjoyed this one!!
Challenges linked for my "Star-Spangled" Card:
Cupcake Inspirations: Challenge #117 (photo inspiration)
**
Craft Us Crazy: Challenge #11 - Red, White, and Blue or Summer Theme
**
Stamp Something: 4th July/Celebration Somethings
**
Card Makin' Mamas: Challenge #23 - Red, White, and Blue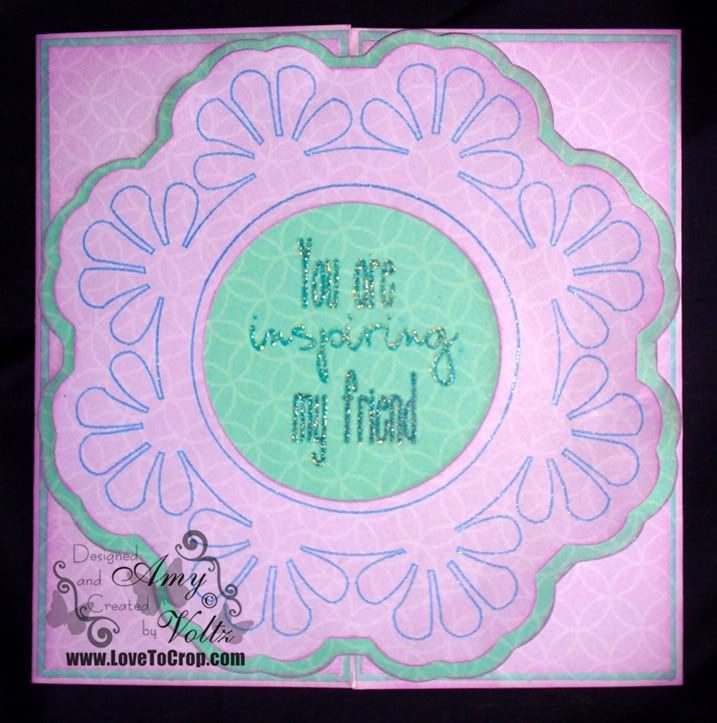 For my second card, I went simple!! :) This is a 5.5"x5.5" Gate-Fold Card. I used the Creative Memories Reminisce Accents Cricut Cartrige for the the frame image (frame feature, shift frame feature, and shadow frame feature). First I used my Chomas Creations glitter gel pen and holder to draw the frame at 5" (you can do this without a Gypsy by using the 'centerpoint' feature on your expression -- set your blade over the center of your paper before drawing or cutting and do NOT remove your mat after each step).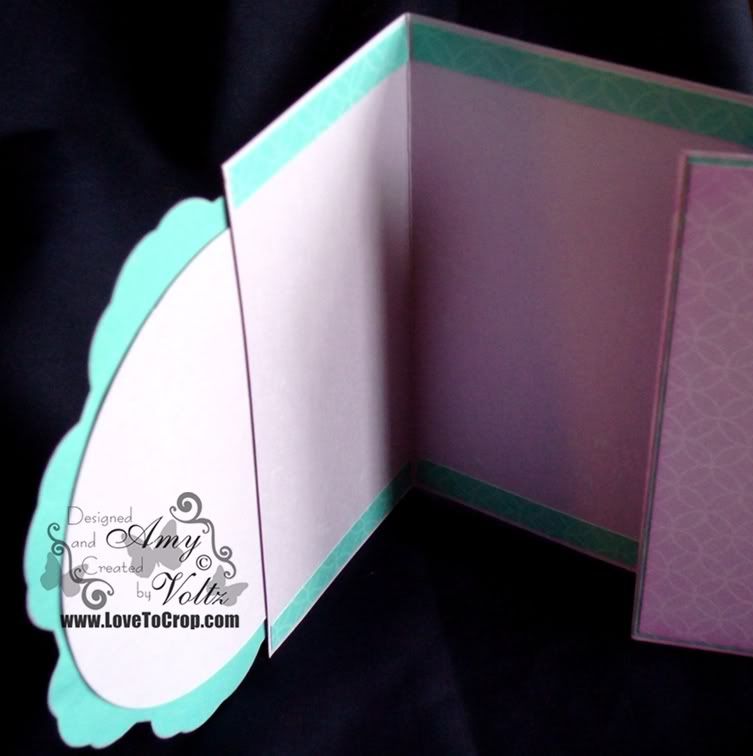 Once the frame was drawn, I very carefully removed the pen holder and replaced the blade housing. I then cut the frame out using the 'shift frame feature' (this is just selecting 'shift' PLUS the feature key PLUS the image key, then cut). By using 'centerpoint', the blade automatically adjusted to cut around the drawn image. I then used the shadow feature to cut the frame shadow from the teal paper.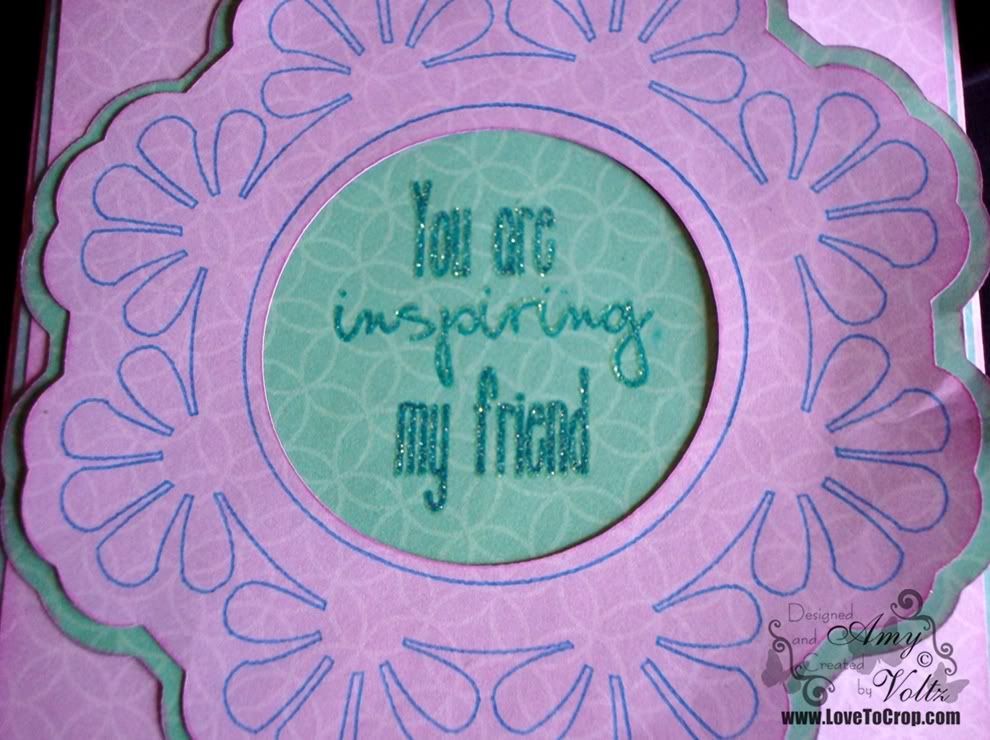 I used the
"Amazing You" Stamp Art Set from K Andrew Designs
for my sentiment. This stamp set benefits the Doorways for Women & Families Charity (an organization helping those escape and survive domestic violence). The set includes mix-and-match sentiments perfect for letting someone special know how amazing they really are!! You can even use the sentiments individually or in conjunction with other sets to create the perfect phrase.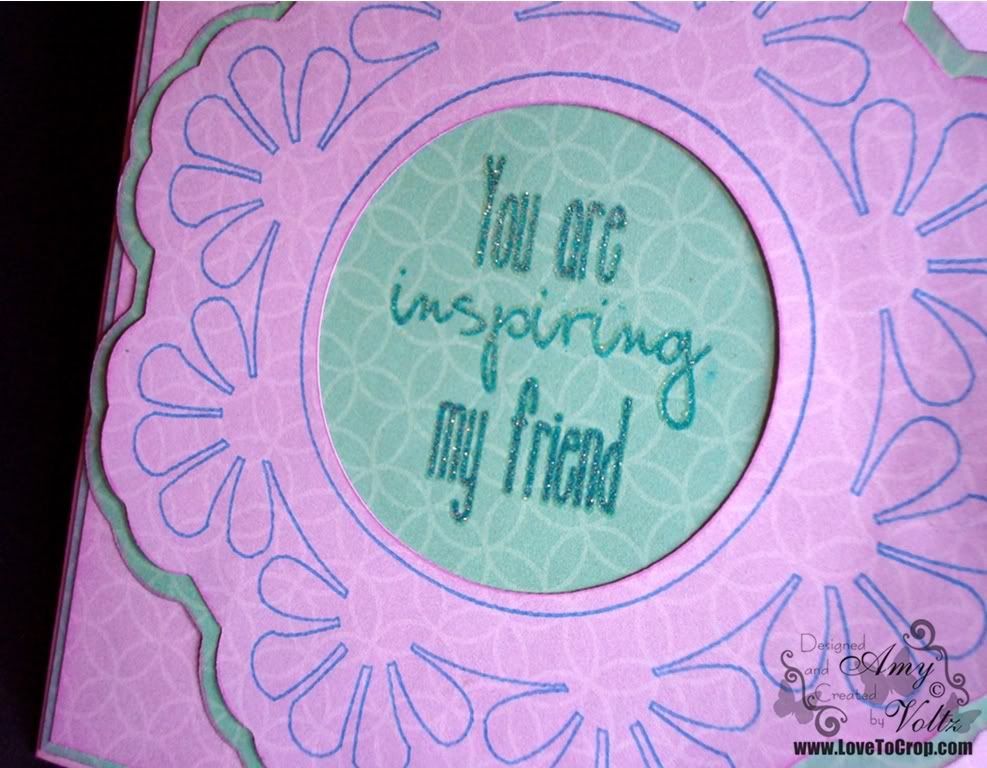 Since the glitter gel pens made such a sparkling image on my paper, I really wanted the sentiment to sparkle too -- So after stamping my image with blue ink, I re-stamped with my VersaMark pad (easy to do with these crystal-clear stamps!!) and sprinkled it with holographic embossing powder before heat embossing the sentiment. It's hard to see in the pictures, but the sparkle coordinates perfectly with the glitter gel pen!! :)
Challenges linked for my "You are Inspiring, My Friend" Card:
**
Getting Cricky Simply Sunday Challenge: Penned
**
Mark's Finest Papers: Challenge #61 -- Make it SPARKLE!
**
Secret Crafter Saturday Challenge #140 -- Embossing
I hope you have enjoyed my cards today!! I'd love to see what YOU create using PENS for the
Getting Cricky Simply Sunday Challenge
too!! Be sure to
CLICK HERE
to enter -- You could WIN a fabulous set of
Chomas Creations
glitter gel pens and pen holder (plus a Guest Designer spot at Getting Cricky) just by entering!!
I hope you have a WONDERFUL Sunday!! Be sure to check back tomorrow for more projects and a GIVEAWAY announcement!! :)
Until next time,