SOUND THE TRUMPETS!! Today is DAY FIVE of the K Andrew Stamp Art Stamp Set RELEASE PREVIEW!! Yee-Haw!! It's FINALLY here!! If you're just joining in this week, let me tell ya what that means...


TONIGHT -- FRIDAY, June 17th -- is the wonderful, excellent, fabulous, magnificent, fantastic, extraordinary, outstanding, terrific, really GREAT
"Getting Cricky with it" Blog Hop
!!! :) In just a few short hours (6pm PST), Kristal will kick things off with the
Getting Cricky Ustream Event
!! Then, my WONDERFUL Design Team Sisters will be featuring all of
K Andrew's BRAND NEW Stamp Art Stamp Sets
!! There will be Blog CANDY along the way, so you definitely won't want to miss this event!! :)
Now for Day 5's PREVIEW: a card featuring Getting Cricky's K Andrew's
"Freedom Isn't Free"
Stamp Set!! :)
This card is a variation of the card that I made for this week's
Simply Sunday Challenge at Getting Cricky
(btw, you still have more than a day to enter the 'Anything Goes' challenge over there!!). I wanted to show you how you could use the same image and the same sentiment, but still have a different looking card -- A few size changes, slight color variations, adding a ribbon... and ya have a very different looking card!! I used the same Cricut image (from the Inspired Heart Cricut Lite Cartridge) cut at 3" (instead of 5"). I also used the same Sizzix/Stampin' Up! embossing folder (on red instead of navy cardstock), then added some embossing to the oval behind the image (Swiss Dots Cuttlebug embossing folder), Offray brand ribbon, and caramel ink for distressing. Here's the original card...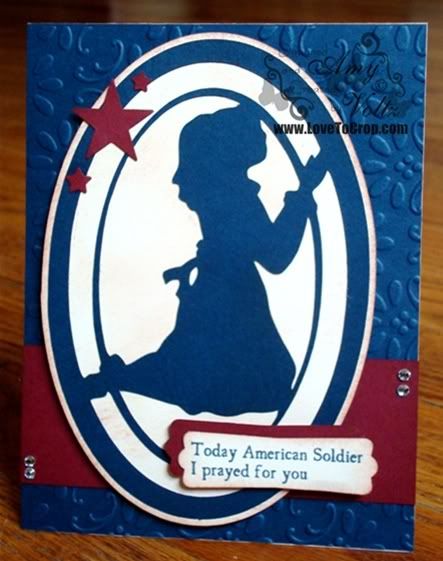 Isn't it fun to see how a few small changes can make such a difference??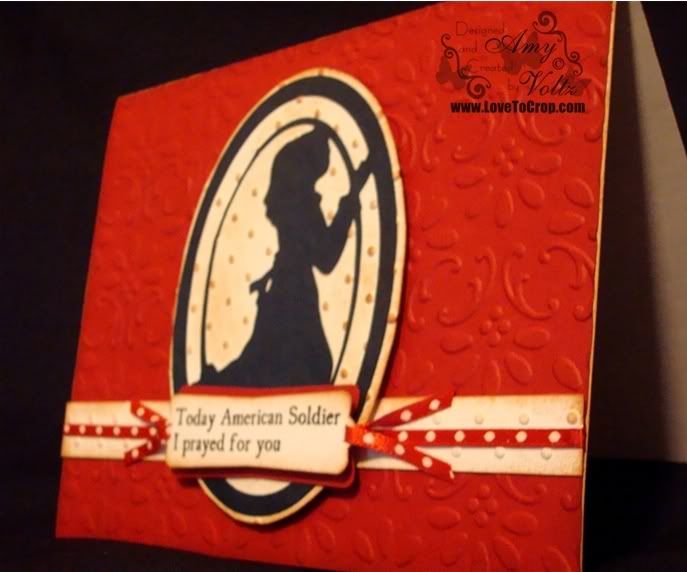 This card will again be added to the ones I am sending to
Operation Write Home
. In addition to sending handmade greeting cards for those serving with our nation's Armed Forces to write home to loved ones,
OWH
also likes to include something called "Hero Mail"... These can be cards, notes, coloring pages from children -- Anything that thanks or encourages those stationed overseas... I am tremendously grateful for those willing to serve so that I might enjoy everyday freedoms, so I'm also thankful that Kristal created a stamp set that makes it so easy for me to make these cards!! If you would like more information on "Hero Mail" or would like to send some yourself, you can find more information by clicking
HERE
...
I really love the versatility of Kristal's stamps and how they are sized perfectly for cards!! If you haven't had a chance to check out all of her stamps yet, I hope you'll visit
THIS LINK
to see them all!!
Well, that's it for now!! Be sure to stop back this evening for the Ustream event and Blog Hop!! I can't wait to see you there!! :)
***
SECRET TIP
(please don't share this with anyone except all of your friends or anyone who might want to WIN one of K Andrew's fabulous stamp sets!! hee hee) -- I will be offering
BONUS chances
to win a K Andrew Stamp Art stamp set of your choice for comments left on each of my Blog Hop Preview Post from this week!! You can get a head start by leaving a comment on the following posts:
Preview Day FIVE Post -- YOU ARE HERE NOW!! :)
* USTREAM & BLOG HOP TONIGHT! *
Tonight is the "Getting Cricky with It" Blog Hop, and to kick this hop off, we are having a USTREAM at Kristal's Channel: Getting Cricky. Ustream starts at 6pm(PST), 7pm(MST), 8pm(CST), and 9pm(EST). See you there and then back here for our blog hop! Click on the Ustream button below and "Join the Crowd"!!
Until next time,