Wooooo-doggy!! Today was a HOT one!! I'm pretty sure you could fry an egg on the sidewalk (especially if your electric griddle was set up on the sidewalk -- Not sure I'd want to eat the egg otherwise -- hee hee!!)... It sure wasn't a day that I had Christmas on the mind!! :) Although, I could be overheard telling my mom that a little bit of snow would be nice on a day like
today
-- no,
not
in January, Mom... So don't remind me that I was wishing for snow in July when there's already 3-feet of the cold stuff on the ground in January!! :)
Despite the hot, hot HEAT -- this week we have a SUPER FUN challenge at
Celebrate The Occasion -- Christmas In July (NO red!)
!! Create a card, layout, or project representing Christmas (but don't use any RED!!) and enter it into
Challenge #21 at CTO
... I can't wait to see what you create!! :)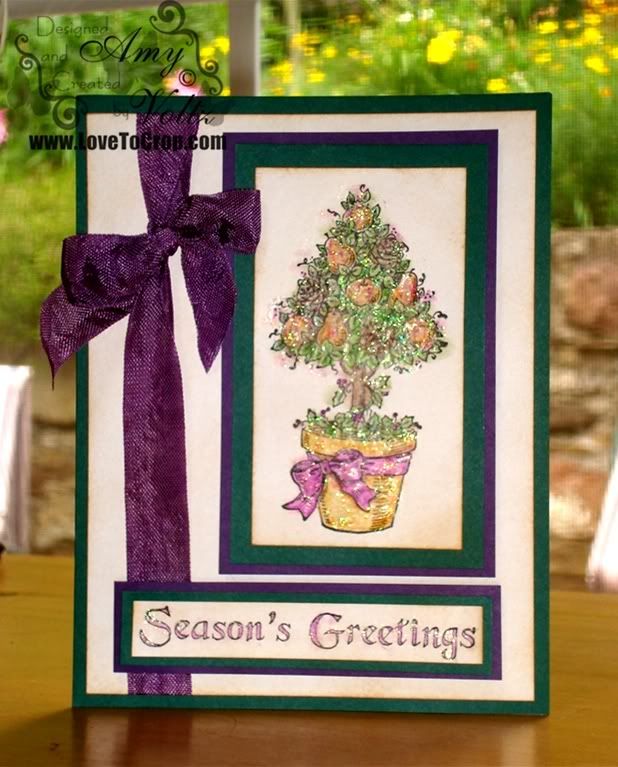 For my project I created a card with an oldie but goodie stamp set that I found hiding in my stash of stamps... If ya know the name of the set, be sure to let me know so that I can update my post (I know it's retired from SU!, but I don't have the name of the set)!! Judging from the cleanliness of the pear tree stamp, I'm thinking that I have never before used this stamp... (Um, why not???) I love how elegant the stamp is -- It goes with the crinkle ribbon from
My Craft Spot
so nicely too!!

The sentiment is from the same retired set... I colored it in with my watercolor pencils, inked the edges with caramel ink, and added some iridescent Stickles for some extra sparkle!! :)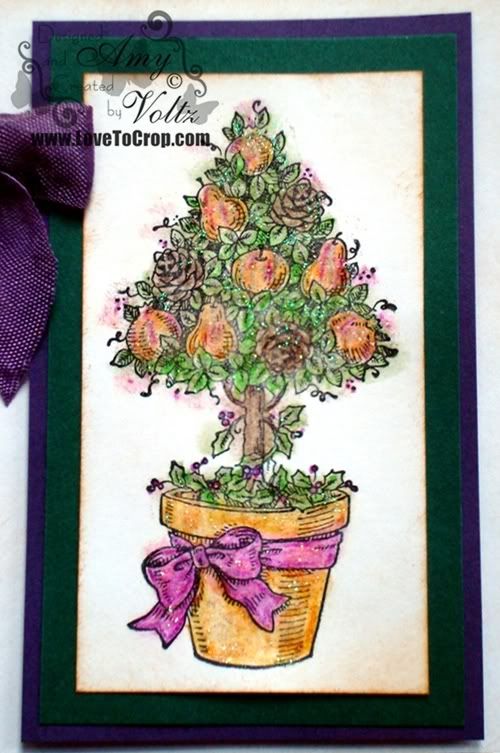 Here's a close-up of the image -- I really love how detailed this stamp is (I might have to actually use it for some Christmas cards this year!!)... I also love how easy it was to color (yeah, I color outside the lines from time to time!)... I tried to show the close-up without the Stickles (the Stickles are already added, I just tried to catch it in the right light so they wouldn't show as much)...
I hope you've enjoyed my card -- For even more inspiration, please be sure and visit
CTO
to see all of the WONDERFUL projects my DT sisters have created!! I hope you'll be inspired to create something to share in the Christmas In July challenge over at
Celebrate The Occasion
!!
*** It's also time for the DT Call over at
CTO
!! Be sure to hop on over there for all the details on how to apply for the next Design Team!! I absolutely LOVE working with everyone at
Celebrate The Occasion
... It's such a wonderful and inspiring group of gals -- So if you've been thinking about applying, why not give it a shot?
I love reading your comments and and answering your questions!! If you have a blog, please be sure to leave a link so that I may visit you too...
Until next time,