Happy Sensational Sunday, everyone!! I'd like to say a quick "THANK YOU" to all of my followers!! I am so grateful for your many visits and comments throughout the week... It is so encouraging to read your wonderful words!! Thank you!! :)
It's time for another
Simply Sunday Challenge over at Getting Cricky
!! This week, the challenge is all about Fashionistas!! Ahem... Those of you who know me personally... This is NOT the time to remind me that I am not qualified to speak on fashion!! LOL... Seriously, I am wonderful at coordinating my wardrobe -- If I only pick things that are black, red, or tan, then I'll always MATCH, right??? Yes, I know that most people
cannot
get away with wearing socks with flip flops, but my toes do get cold at my BFF's house!! :) And, okay, I may have frightened away the mailman with my "crafting hair-do", but how was I to know that he would come while I was using my messy bun as the holding spot for a marker (or three), my paper piercing tool, and possibly a stapler??? Besides, this challenge isn't about BEING a Fashionista, it's about creating something that's fashionable (with a touch of diva thrown in, right??)... So whatever your fashion sense may be, I can't wait to see what YOUR interpretation for this week's challenge is -- Just create something with a "Fashionista" theme and link it up at
Getting Cricky
!! :)
Ready for some inspiration to get started? My wonderful and lovely Design Team Sisters have each created something wonderful to inspire you also, so please be sure to take a hop on over to see them too!! Here's my card: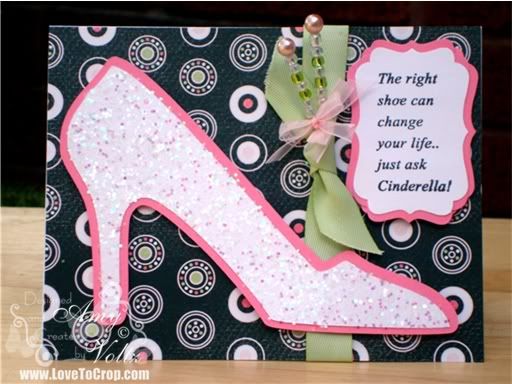 The shoe for my card was cut at 3.25" from the Gypsy Wanderings Cricut Cartridge... For those of you who have this cartridge (pre-loaded on your Gypsy), you will need to use the 'weld' feature and add an oval over the swirly cut out on the back of the shoe to make this a solid cut. For those of you who do not have this cartridge, you can find a sample of ALL the shoes available on any cartridge over at
MyCutSearch.com
... Shawn has done a WONDERFUL job of entering every imaginable image into her search engine (complete with handbook preview pages!) to make it easy to find ANY cut you're looking for... If you haven't visited
MyCutSearch
yet, please hop on over there and check it out -- you'll be SO glad you did!! This service is absolutely FREE (but I'd love it if you'd
buy Shawn a "cup of coffee"
while you're there!!)
Anywho... I ran the shoe through my BFF's Xyron sticker maker and then glitterfied the entire shoe with iridescent sequin glitter (it's not super-fine, and it sticks to everything -- too bad The-Turtle-Cat wasn't around for this fiasco!!)... Since she has a houseful of boys, I was HAPPY to leave some SPARKLE behind when I was finished with my card!! hee hee...
My background paper is from the
Creative Memories Delight Shopper Diva 12x12 Additions Kit (found HERE)
... I figured anything that had "Shopper" and "Diva" in the title would have to be PERFECT for this challenge!! :) The lime green ribbon is from Stampin' Up!, and the stick pins are handmade little goodies that I learned how to do
HERE
way back in March (please tell her I sent ya - that would make me SO HAPPY!!).
And how about that sentiment stamp??? Isn't that AWESOME??? hee hee... Talk about someone who went from non-fashion to FASHIONISTA!! That girl, Cinderella... She knew how to do it!! :) This wonderful sentiment can be found on the
"Fashionable Friends"
Stamp Art set from
K Andrew Designs
... Each of Kristal's Stamp Art sets benefit charity (this is NOT a limited time thing -- this is EVERY set, EVERY time, forEVER!!)...

Fashionable Friends to benefit Cancer Angels
"Cancer Angels is a non-profit organization that helps aid Level 4 cancer patients of ALL kinds. Many of these patients have such severe cancer and chemo that working or holding down a job is near impossible. Cancer angels gives them hope and monetary help while undergoing treatment in this stage. Imagine finding out you have cancer, and losing your job, home, and everything else because you can't work. Sometimes you just need an angel...and this is my way of becoming a silent angel (all of us together) to those who so desperately need some good news in the midst of such a storm." - K Andrew
If you would like to see all of Kristal's stamp sets and learn more about the charities she is supporting, please click on the blinkie below...
I hope you have enjoyed today's card... I had so much fun making this (and I know my BFF had quite a few laughs watching me -- especially with the glitter!)... If you happened to miss the "
Pinkalicious Blog Hop
" I was in yesterday, there is still time to hop through that for a chance at some AWESOME prizes!! Here's a sneak peek at my project (also using the "Fashionable Friends" Stamp Art set AND the Shopper Diva paper!!)... To see the post (and enter to WIN some PINK goodies, please click on the picture or
HERE
)...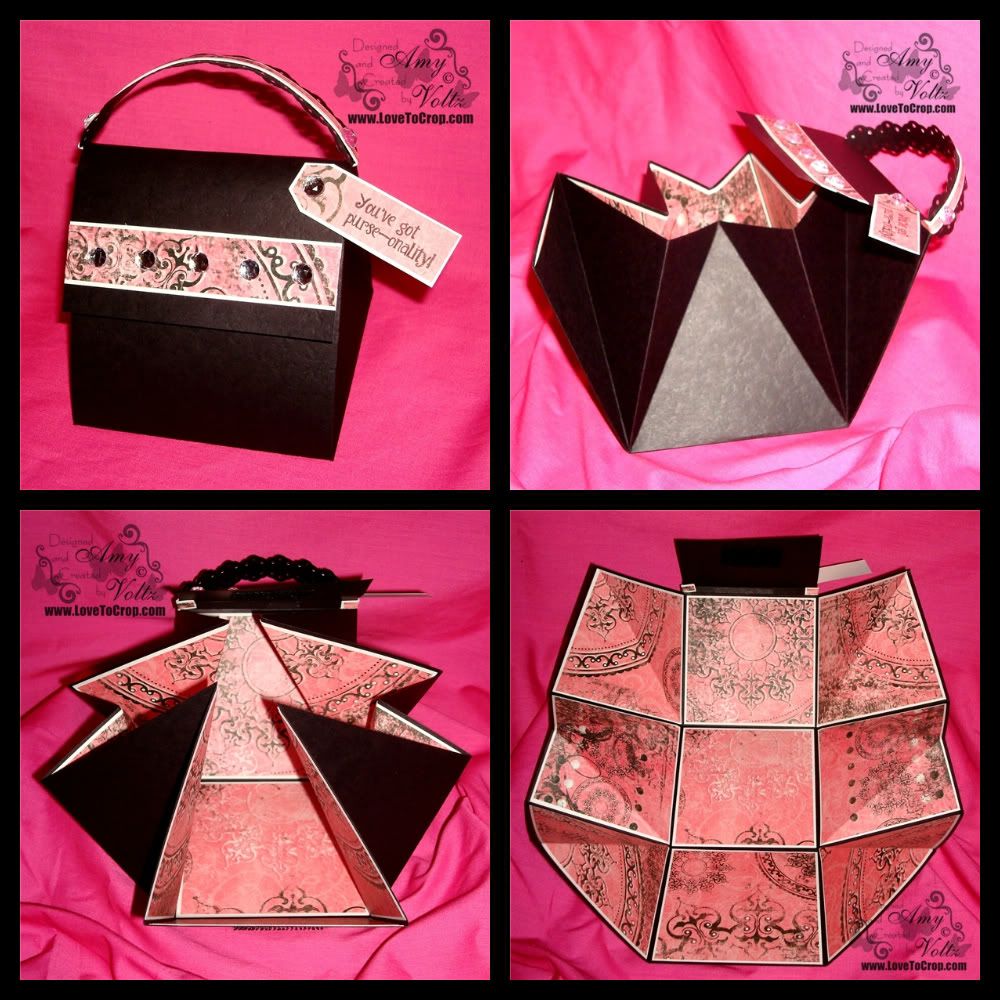 Until next time,