Happy Spectacular Sunday, friends!! Thank you, thank you, THANK YOU to all of my followers!! What a wonderful week of comments and visits -- It was a busy, busy week for me, and I really looked forward to each and every one of your sweet and encouraging words!! :)
It's time for another
Simply Sunday Challenge over at Getting Cricky
!! This week, the challenge is to create some Lunchtime FUN with some Lunchbox NOTES!! As "The-Mom" to two ultra-awesome kiddos, I have packed my fair share of lunches over the years... Now that both The-Boy-Child and The-Girl-Child have graduated high school, I have been missing that little something that I can do for them before school... Yes, I really did pack their lunches right up through their senior years of high school!! A few of my friends found it amusing that I did this (hey, I left the crusts on the sandwiches!), but there's something to be said about the "thanks, Mom!" hollered on the way out the door or texted during lunch (yes, The-Girl-Child was always better about remembering to do this, but The-Boy-Child will still tell me that sandwiches are always better when mom makes them!)...
This summer, The-Boy-Child is again working at the high school, so he still needs a lunch every day; however, in his new state of being a 'Grown-Up,' he likes to pack his own lunch now... My only responsibility is making sure the refrigerator is stocked with lunchmeat and fruit and that there's plenty of his favorite snacks to add (like jello cups and pudding!) He's been pretty good about waking up with enough time to make his lunch, so I thought maybe I'd use the
Getting Cricky
Challenge to give him a little break from his normal routine...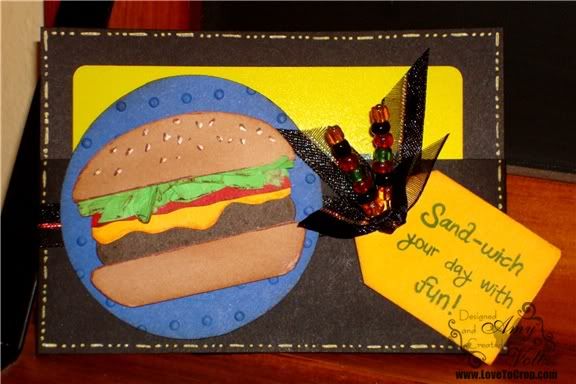 I made a gift card holder for a Subway card loaded with enough for a few subs... Sure, they still won't be as good as when mom makes them, but it's something different to look forward to :)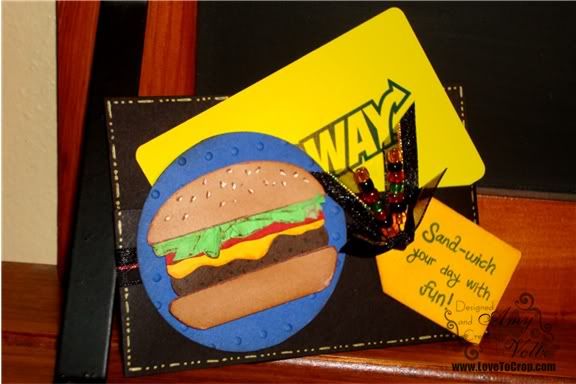 I don't have a regular 'recipe' for this... I really only used SCRAPS for everything!! :) Even MORE cool is the fact that ALL of the scraps were generously shared by my BFF, Christi!! Woot-woot!! I used Christi's SU! XL-Oval punch to create the 'bun' (cut the oval in half and trimmed it up so that it would look more like a bun)... I used her SU! Word Window punch for the burger, cheese, tomato, and lettuce (added dots to the burger, hand-trimmed the cheese and tomato, crumpled and trimmed the lettuce)... Christi's Large Tag punch made the perfect background for that super-cute sentiment from
K Andrew Designs
... "Sand-wich your day with fun!"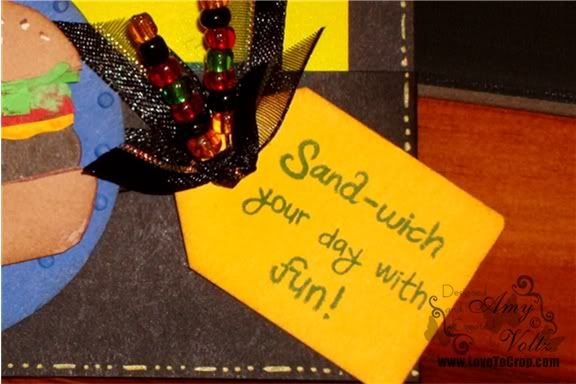 Two hand-made stick pins, black ribbon with a colorful stripe, and stitching made with my
metallic gold pen from Creative Memories
help to finish off the gift card holder...
I am having so much fun with ALL of my stamp sets from
K Andrew Designs
, but this my first time using the
"Food For Thought"
Stamp Art set... I am REALLY going to LOVE making some super cute notes to tuck into care packages for my WONDERFUL kiddos while they are away at college -- Just think of how special they will each feel to have a homemade note made with love and one of Kristal's stamps!! So, even if you have older kids, pack your hubby's lunch, or even want to tuck a sweet note in a friend's lunch, you're gonna L-O-V-E this stamp set!! Know what else there is to love about Kristal's stamps??? Each of Kristal's Stamp Art sets benefit charity (this is NOT a limited time thing -- this is EVERY set, EVERY time, forEVER!!)...
Food For Thought to benefit Storefont Shelter for Homeless Children
"Storefront Shelter is my signature charity in which homeless children are found, rescued, and reunited with their parents if possible. If not, they are found new homes and are given intervention so they do not return to the streets. There are youth and children living on the streets; it's been reported that parents will drop their child off downtown, to abandon them. The children have no idea where they are, and no idea how to return home. Children also flee from abusive environments, and live in the streets. Just thinking about if something happened to me, and my children were placed in an abusive children's home, and my children ran away..if they were living on the streets. I can't imagine what it would be like to be a young child on the streets, but I can imagine a way to help them, and this is my way." - K Andrew
If you would like to see all of Kristal's stamp sets and learn more about the charities she is supporting, please click on the blinkie below...
I hope you have enjoyed this gift card holder (anyone who has seen The-Boy-Child pack away the food will know that he will definitely love using this!!)... I really had fun making this, especially since I got to share the fun with my BFF!!...
If you happened to miss the "
"Let's Get Cricky" Blog Hop
" hosted by Kristal and featuring my awesome Design Team Sisters AND Amy Chomas, there is still time to hop through that for a chance at some AWESOME prizes!! Here's a sneak peek at my project (featuring the
"Freedom Isn't Free"
Stamp Art set)... To see the post (and enter to WIN some Card-Making goodies, please click on the picture or
HERE
)...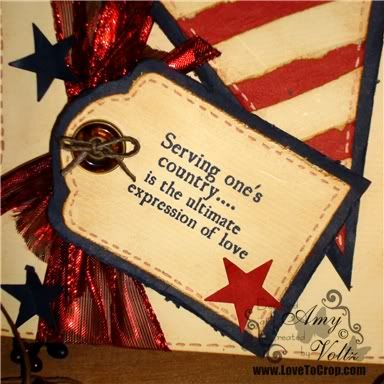 I hope to see your interpretation of this week's
Simply Sunday Challenge over at Getting Cricky
!! So show off your Lunchbox Lovin' by linking up with us!!
Until next time..