Welcome to "Jazzy's Christmas in July" Blog Hop hosted by
Jazzy
from
Jazzy's Cards
. If you are coming from
Jazzy's blog
, then you are in the right place, but if you are just checking on my blog and stumbled across this, please head back
HERE
to start at the beginning. This is Jazzy's first time hosting a hop, and I know she would appreciate the love. :)
The theme for this hop was something Christmas related that included the colors green and red. This is what I came up with....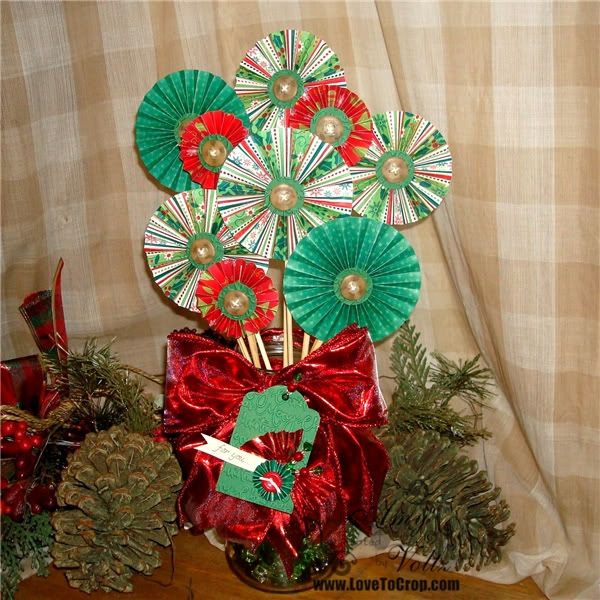 A Christmas bouquet... Perfect as a table decoration, and perfect as a gift!! :)
The rosettes were made with 12" strips of paper, scored and folded at 1/4" increments. Paper widths for each rosette were as follows: 1.5" for the red, 1.625" for the striped and 1.75" for the green. I punched a 3/4" circle of green embossed cardstock for the center (this covers the glue used at the center of the rosette). I stitched the criss-cross through the button holes, but attached the buttons with a glue dot.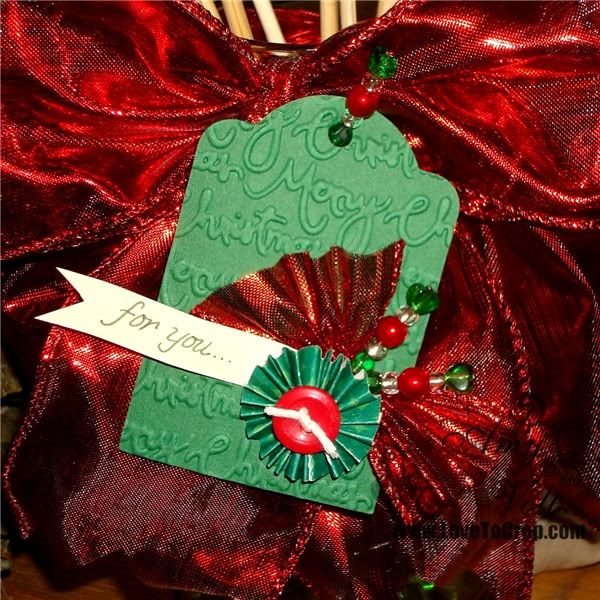 A smaller rosette (3/4"x12" strip of green paper) with a button center, two handmade stick pins, a snip of gathered ribbon, and a handwritten paper strip adorn the embossed gift tag...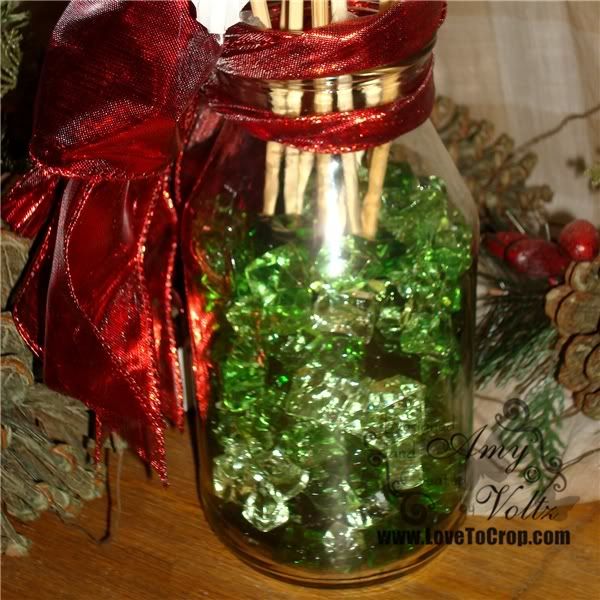 Green glass accents beads (found them on clearance at Wally-World, but I've seen similar in most craft stores and dollar stores) fill an up-cycled glass jar as the base of my bouquet.
Now... Before I send you off to your next stop on the hop... What's a hop without some
CANDY
??? I have a collection of Christmas Card-making supplies to send out to one fabulous
winner
!! :)
To be eligible for my blog candy:
Please

become a follower of my blog and leave me a comment answering the question: "

What's on YOUR Christmas Wish List this year

?"!!
If you leave your email address (please leave it in SAFE scrapbookingwithamy at gmail dot com form), I will be happy to contact you if you are the winner; otherwise, you will need to check back after Wednesday, July 27th to see if you are a winner. No captcha here, so commenting is quick and easy!! :)
Want even
MORE
chances to
WIN
??? I'm participating in another HOP this weekend for Christmas in July!! Be sure to comment on
EACH
day's post for maximum chance to win!! If you'd like to join in on the FUN, here are the links:
Thank you so much for checking out my project... now hop on over to
Gina's blog
and remember to wish everyone a
"Merry Christmas"
in order to be eligible for Jazzy's Cricut Cartridge Blog Candy!!
Here's the Hop line-up, in case you get lost or want to re-visit anyone:
Merry Christmas In July!!