Welcome to Becky's Birthday Blog Hop!
If you've hopped along from the FABULOUS Birthday Girl,
Becky,
then you are in the right place!! If you are just joining me from your dashboard, or reading this via email, please be sure to
CLICK HERE
to start at the beginning with
Becky's blog
(cuz starting at the TOP is always BEST!!)...
I'd like to thank Becky for including me in her Birthday Celebration!! She's gathered up a selection of creative friends to join her on the Birthday Adventure... And to celebrate her special day, Becky is offering one lucky WINNER the chance at her Grand Prize Blog Candy!! To be eligible, be sure to visit each blog and leave some bloggie-love... Keep alert though -- There's LOTS of stops along the way that will offer some Birthday Candy Goodness too... I know you won't want to miss the chance at ANY!! :)
For my project, I'd like to share a gift bag featuring a rosette and a "glammed up" jar of Cherry Vanilla fruit spread (homemade, but not by me!!)...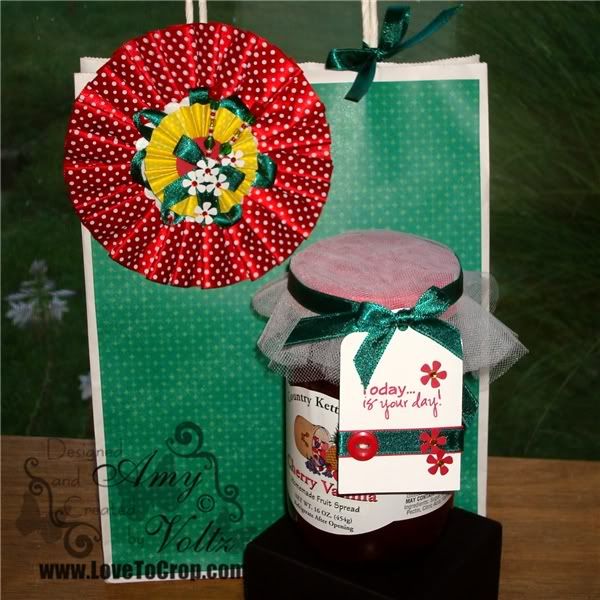 Becky loves polka dots and cherries, so I started with a red polka-dot ribbon rosette, added some green ribbon and a yellow paper rosette, and topped it off with two of my handmade stick pins... I have really enjoyed making these stick pins (if you'd like to try some, I learned how to make them from my bloggie-land friend,
Carri
, with her tutorial
HERE
), and I love putting them on just about everything!! :) I also added a few of my little flower embellishments...
I covered a plain white gift bag with a sheet of 7.5"x 10" decorative paper that coordinated with the green ribbon on the rosette -- This is a fun way to turn a plain gift bag into something much prettier!! :)
I made a quick gift tag to add to the jar of fruit spread (this happens to be one of my favorite flavors and is made by an Amish family not far from my home)... I covered the top of the jar with some red cardstock and white tulle, then wrapped the green ribbon around the edge. My "Today is your day!" (perfect for a birthday or other occasion) is from the "
Positive Thoughts
" Stamp Art Set from
K Andrew Designs
... And there you have it!! I hope you have enjoyed my project to celebrate Becky's Birthday FUN!! :)
Thank you SO much to all of my fabulous friends and followers who are helping to make this such a WONDERFUL hop!! I can't begin to tell you how much your visits mean to me!! Now.... Before I send you off to your next stop on the hop... What's a hop without some CANDY??? I have one of these red polka dot rosettes with stick pins and a sleeve of my favorite handmade flower embellishments (like the ones found on the rosette!) to send out to one fabulous winner!! :)
To be eligible for my blog candy:
Please

become a follower of my blog

and

leave me a comment

answering this

FUN

question:

"What's on your Birthday Wish List?"

Receive a BONUS chance when you "Like" the Love To Crop! Facebook Page!! -- CLICK HERE -- then leave me an extra comment for your bonus chance!)
If you leave your email address (please leave it in SAFE scrapbookingwithamy at gmail dot com form), I will be happy to contact you if you are the winner; otherwise, you will need to check back after Thursday, September 1st to see if you are a winner. No captcha here, so commenting is quick and easy!! :)
Now you can hop on over to your next stop: Kimmarie!!
I'll bet she has something WONDERFUL to share!!
Here's a list of the entire hop, in case you get lost along the way or want to revisit anyone:
*** Please note that the following links will take you directly to each participants post in case you're joining the hop later in the week!! ***
Until next time,