Welcome to DAY ONE of the "Bucket List" and August Birthdays Blog Hop!!
Michelle at Crafty Chelle
is celebrating her birthday today (YAY!), and she has asked a few friends to join her in celebrating by sharing some projects and ideas all about 'Bucket Lists'!! :) If you've hopped along from
Ashley
then you are in the right place!! If you are just joining me from your dashboard, or reading this via email, please be sure to
CLICK HERE
to start at the beginning with
our FIRST Birthday Girl -- Michelle's Blog
(to start your FUN at the start!!)...
As you hop along, please be sure to wish our friends with August Birthdays a "Happy Birthday!"... And be sure to keep an eye out for the Blog Candy you'll find sprinkled throughout the hop... Remember, this is a TWO DAY hop, so be sure to come back TOMORROW for even MORE Bucket List inspiration!! :)
So.... Do YOU have a Bucket List? As I thought about what I could do for my project, I realized that I don't have much on my list!! It's time to change that!! Life can become all about just getting through the day sometimes... We can get caught up in making it to the weekend instead of making it everything it could be. What kinds of things do people put on their Bucket Lists anyway??? If we want to come up with things we can accomplish on our lists, I thought we might need a creative way to focus on what we dream that we could do if anything were possible...
And so.... Here is my project: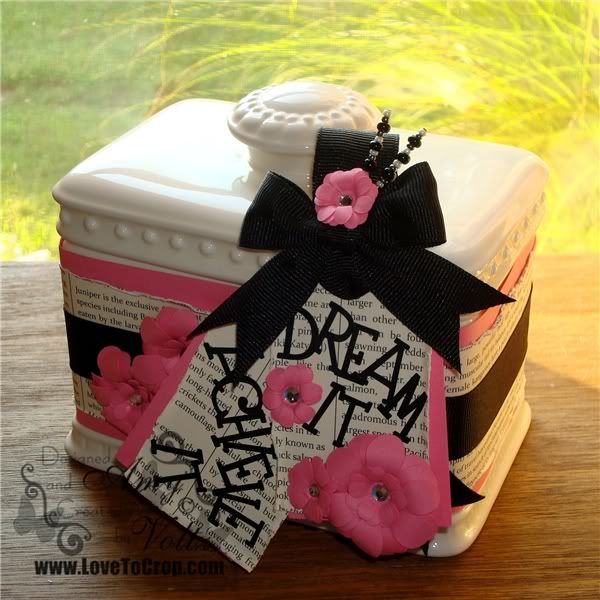 I remember a small picture that hung in the studio where I took dance as a teenager... As I waited for class to start, I would focus on what that picture said... "Dream it, Believe it, Achieve it..." It starts with a dream -- what's in your heart, what drives you, what inspires you... That is where my Bucket List starts... Dream It... Achieve It...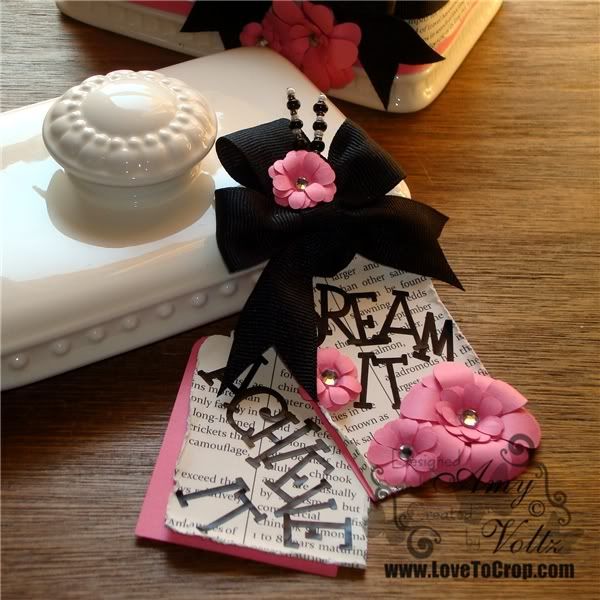 What I started with is actually called a "Journal Jar"... It's a ceramic 'box' designed to store your thoughts and memories. It was pretty, but plain... And so I added some cardstock, decorative paper, and ribbon... I also cut some flowers with the Accent Essentials Cricut Cartridge, and turned it into something that I could use to keep my dreams and inspirations...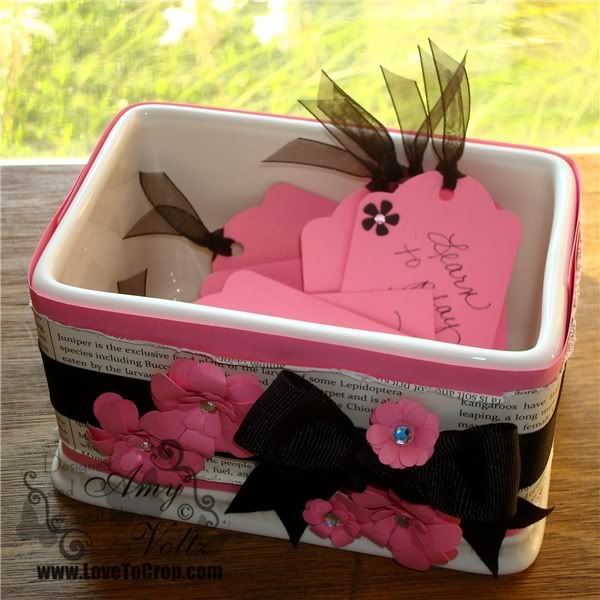 I punched some tags with my Creative Memories Tag Punch and wrote a few of my "Bucket List" dreams on these pretty pink tags...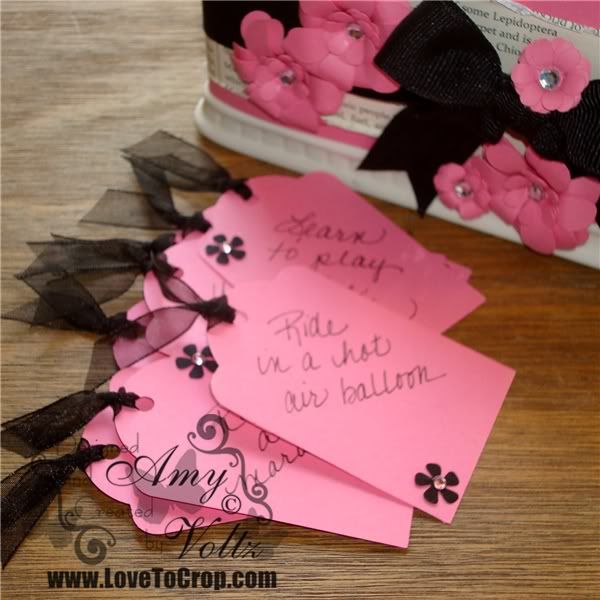 The little black flowers are made using my Creative Memories Meadow Maker Punch and a small pink adhesive gem (bling!)... I left some of the tags blank so that I can add new dreams for my Bucket List....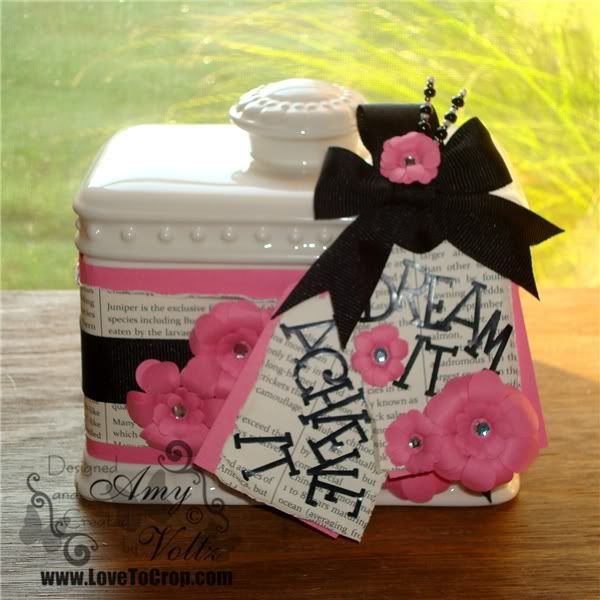 I hope you've enjoyed seeing how I'll keep my "Bucket List" inspiring...
I'd like to thank Michelle for including me in her "Bucket List" Birthday Celebration!! I'd also like to thank all of my wonderful friends and followers who are helping to make this such a FABULOUS hop!! Now.... Before I send you off to your next stop on the hop... What's a hop without some
CANDY
??? I have a *package of goodies* to send out to one fabulous
winner
!! :)
To be eligible for my blog candy:
Please

become a follower of my blog and leave me a comment answering this FUN question: "

What's one thing on YOUR Bucket List?

"!!
Receive a BONUS chance when you "Like" the Love To Crop! Facebook Page!! (Click HERE, then leave me an extra comment for your bonus chance!)
If you leave your email address (please leave it in SAFE scrapbookingwithamy at gmail dot com form), I will be happy to contact you if you are the winner; otherwise, you will need to check back after Wednesday, August 23rd to see if you are a winner. No captcha here, so commenting is quick and easy!! :)
Thank you so much for checking out my project... Now hop on over to
Maria's blog
and remember to visit all the stops, become a follower at each blog, and leave a comment at each stop along the way!!
Here's a list of all the participants in today's hop in case you get lost along the way or want to revisit anyone!!
*** Please note that the following links will take you directly to each participants post in case you're joining the hop later in the week!! ***
*** For QUICK LINKS to each post in DAY TWO of the "Bucket List" and August Birthdays Blog Hop, please
CLICK HERE
(this link will be updated on 8/19) ***
Until next time,