Welcome back for DAY TWO of the "Bucket List" and August Birthdays Blog Hop!!
Michelle at Crafty Chelle
celebrated her birthday yesterday, and she has asked a few friends to join her in celebrating by sharing some projects and ideas all about 'Bucket Lists'!! :) If you've hopped along from
Ashley
then you are in the right place!! If you are just joining me from your dashboard, or reading this via email, please be sure to
CLICK HERE
to start at the beginning with
our FIRST Birthday Girl -- Michelle's Blog
(since it's always BEST to begin at the beginning!!)...
As you hop along, please be sure to wish our friends with August Birthdays a "Happy Birthday!"... And be sure to keep an eye out for the Blog Candy you'll find sprinkled throughout the hop... Remember, this is a TWO DAY hop, so if you missed YESTERDAY'S projects, be sure to
CLICK HERE
for a list of ALL the posts from yesterday!! :)
After yesterday's post and so many inspiring comments left for me, I thought even more about my "Bucket List"... The-Girl-Child and I had a conversation about it while we hung out after The-Boy-Child left for college. I'm a very analytical person, and having this discussion made me curious about whether or not other people felt the way I did about my Bucket List... Of course, The-very-smart-and-reasonable-Girl-Child stuck by her statement of... "Mom, a bucket list is just a list of things you want to do before you die. It's just a list. That's all."
If you google "Bucket List", you'll find a number of links for the 2007 movie starring Jack Nicholson and Morgan Freeman (yes, I enjoyed the movie!)... The basic plot of this movie is that two terminally ill men meet (in the hospital) and decide they're going to do a few things they've always wanted to do before the "kick the bucket".... They sky-dive, ride motorcycles on the Great Wall of China, visit the Taj Mahal, and even fly over the North Pole. Of course, if you're going to have a bucket list filled with over-the-top dreams, it's nice if you have an unlimited financial ability to do as you please... For most of us, this isn't the case. So... If faced with a terminal illness, what would I really want to do? What would I really want to have on my Bucket List?
Sometimes I feel like 'wishing' to do something else in life is like saying that life as it is isn't good enough... That doesn't mean that I don't think that anyone should dream or strive for more... It just means that when I sit and think about what I might really, really, really want to do in life, what I would regret NOT doing when faced with the last moment of my life, it always comes back to this... My greatest desire is to love my kiddos as best I can, to be there for them when they need me (and sometimes when they don't), and to be as kind as I can to others... If, at the end of the day, I've accomplished that (to the best of my ability), what could possibly trump that on my Bucket List? Would I love to ride in a hot air balloon? Yes. Would I love to see the Grand Canyon? Yes. Would I love to learn to play the violin? Double yes! These are the things I would do if I had every ability and the finances were readily available (and possibly if there weren't starving people in my own community). But would my life be incomplete if I never got to do a single one of them? I don't think so... I'm pleased and blessed that I've had a wonderful life, full of wonderful opportunities... I've been to amusement parks and zoos, traveled to other countries, sailed a boat, met football heroes and famous people, and even earned a Black Belt... All of these things have made my life fun and enjoyable, but what I would regret not having, what I would miss most in life is the relationship I have with my children...
And so, with that in mind, I created a journal so that I could continue to tell them how much they mean to me and what I wish for their lives...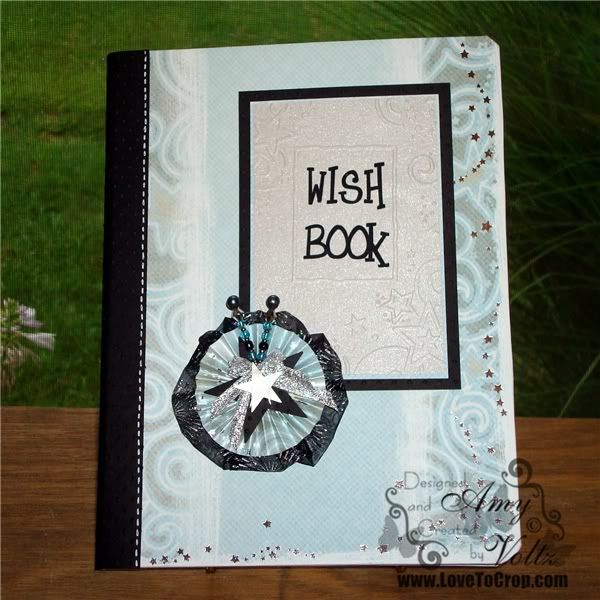 I started with a 40-cent composition book from Wally-World and covered it with some Creative Memories decorative paper (coincidentally from their 'Wishes & Dreams' collection).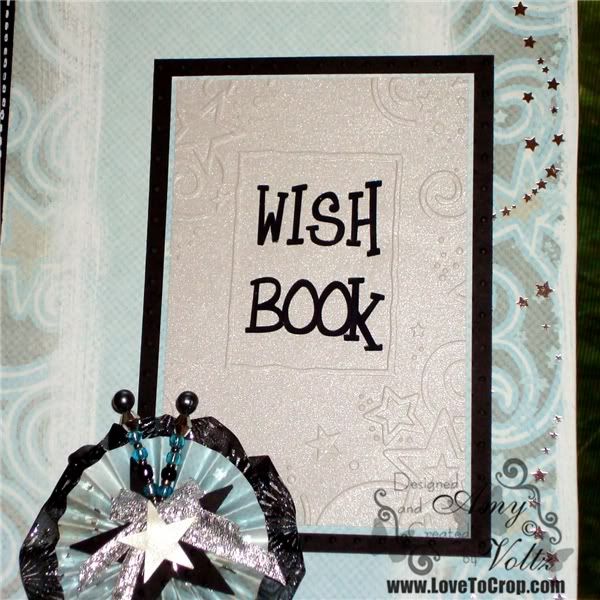 I used a Darice embossing folder (no other title on the packaging) for the title box (shimmer paper also from the Wishes & Dreams collection). The title was created with alphabet stickers.
One of my handmade rosettes with stick pins seemed like a nice touch for the journal... To make the fabric background, I took a 12" piece of 2.5" wide wired ribbon and pulled the wire to gather the ribbon (makes a little poof that you can flatten behind the rosette).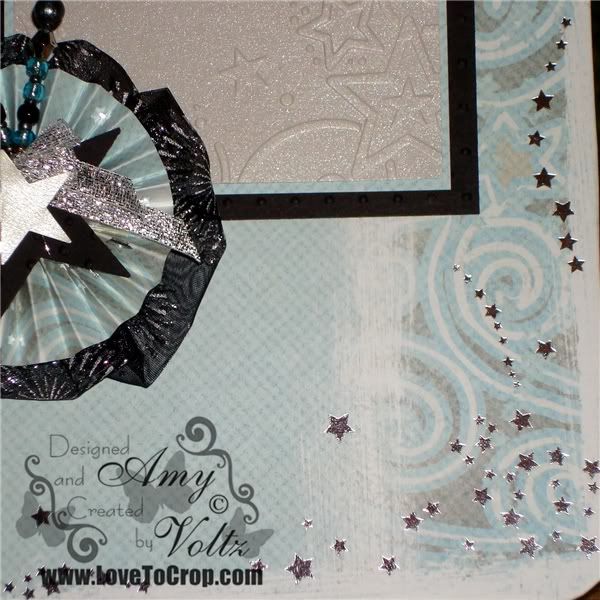 I love the silver embossed stars on the background paper -- It made the journal very elegant looking...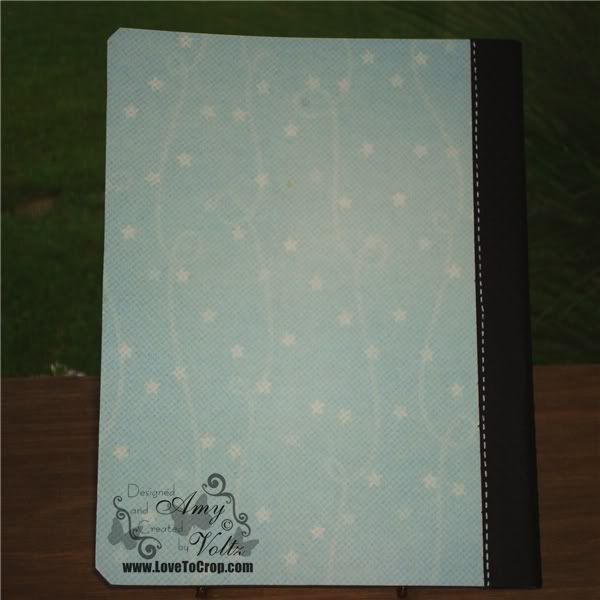 The back of the notebook has been covered as well... The black strip on the binding is cardstock that has been embossed with my Cuttlebug Swiss Dots folder. I used my white Signo pen to add the faux stitching.
If I could fill this book with what I wish for my children's lives, well... I'd wish the same for you too:
(
if you cannot see the video above, you can click here to enjoy it
)
I hope you've enjoyed my Day Two project for the "Bucket List" Blog Hop...
Once again, I'd like to thank Michelle for including me in her "Bucket List" Birthday Celebration!! I'd also like to thank YOU, my fabulous friends and followers, who are helping to make this such a WONDERFUL hop!! Now.... Before I send you off to your next stop on the hop... What's a hop without some
CANDY
??? I have a *package of goodies* to send out to one fabulous
winner
!! :)
To be eligible for my blog candy:
Please

become a follower of my blog and leave me a comment answering this FUN question: "

What's one thing on YOUR Bucket List?

"!!
Receive a BONUS chance when you "Like" the Love To Crop! Facebook Page!! (Click HERE, then leave me an extra comment for your bonus chance!)
If you leave your email address (please leave it in SAFE scrapbookingwithamy at gmail dot com form), I will be happy to contact you if you are the winner; otherwise, you will need to check back after Wednesday, August 23rd to see if you are a winner. No captcha here, so commenting is quick and easy!! :)
Thank you so much for checking out my project... Now hop on over to
Maria's blog
and remember to visit all the stops, become a follower at each blog, and leave a comment at each stop along the way!!
Here's a list of all the participants in today's hop in case you get lost along the way or want to revisit anyone!!
*** Please note that the following links will take you directly to each participants post in case you're joining the hop later in the week!! ***
*** For QUICK LINKS to each post in DAY ONE of the "Bucket List" and August Birthdays Blog Hop, please
CLICK HERE
***
Until next time,