Happy Terrific Tuesday to ya!! It's another one of my very-most-favorite days, cuz it's time for another challenge at
Celebrate The Occasion!
This week, they've asked us to loop round, ring in, wheel over, and orbit by to show you our cards for ANY OCCASION in the shape of a circle (a sphere, an ellipse, a globe!)!! :) So... Come on and show us YOUR take on the challenge!! The AWESOME Design Team has celebrated up another revolution of inspiration for ya, so band together, curve around, and have a ball while you check out the AMAZING circle-shaped creations in store for ya over at
Celebrate The Occasion
!!
Here's what I made to inspire ya (but don't just stop here, please check out what the rest of Design Team 1 has rounded up just for!!)...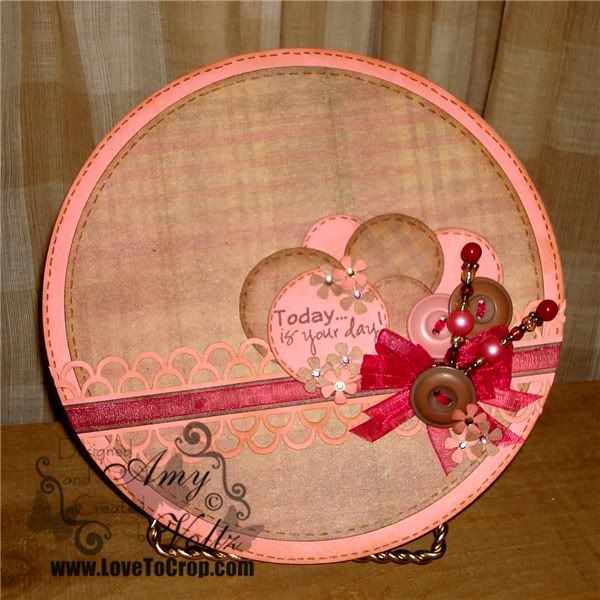 While it's difficult to see, I actually welded two 6" circles together for my card base... I then added another 6" circle cut with TAFFY pink cardstock to the front so that the flat (fold) edge of the card would not be visible. I then cut a 5.5" circle from some KRAFT cardstock with a decorative plaid print. I inked the edges of both circles with Stampin' Up! Creamy Caramel ink and added faux stitching with my Creative Memories brown fine tip pen. I also cut 6 more little circles (1.25", 1", and 3/4")... One set from the taffy cardstock, and one set from the kraft cardstock. I inked the edges and added faux stitching to those as well.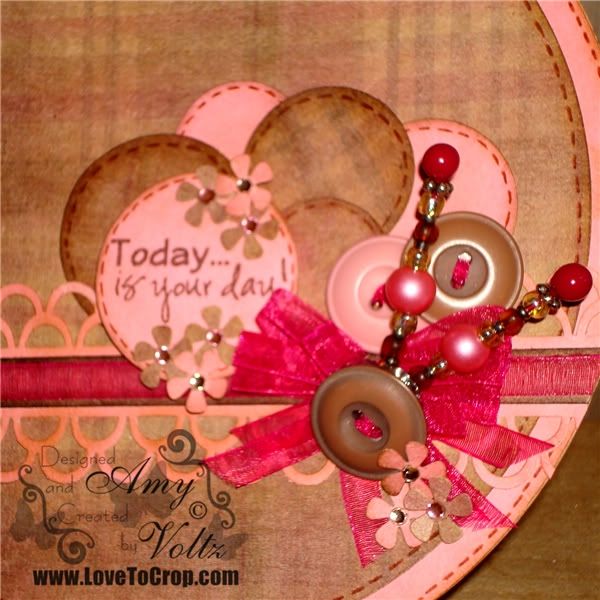 The loop-de-loop punch is from MS Crafts (double loop, I believe the punch is called). I punched along both edges of a 2" strip of taffy cardstock. I added a strip of the kraft cardstock to the center of the punched image before adding the raspberry sheer ribbon. I then made a cluster with the circles, added a loopy bow, three buttons, and two of my handmade stick pins, and then topped it all off with some of my little gemmed flowers. The sentiment stamp is from the "
Positive Thoughts
" Stamp Art Set from
K Andrew Designs
(HEY!! Did you know that Kristal just released three BRAND NEW AWESOME stamps sets???
CLICK HERE
for more details)...
I hope that you like my card, but it's even MORE important that my BFF Christi likes it... You see, I thought that TODAY was her birthday (and I was so on top of things), but her birthday is actually Thursday... So while I might be ruining the SURPRISE of her card, she doesn't know that I'm sending out this HAPPY BIRTHDAY, CHRISTI shout-out to her two days early (this, in itself, is very unusual as I honestly am the WORST at remembering birthdays!!)... So, Christi... Just this once I want to be early :) -- HAPPY, HAPPY BIRTHDAY!! You know I love you more than anything!! Thank you for always being there for me, for sharing your craft table with me, and for making DQ runs with me!! I hope your birthday is the very best that it could possibly be, because you deserve nothing less than the ABSOLUTE BEST!! :) I'm even including my very-most-favorite birthday song to give you a smile on this special (early) day -- please feel free to read all of this (and play the song too) again on Thursday, so it's extra-official!! :)
If you cannot see the video above, and want to join the Birthday Fun, please
CLICK HERE
...
So join the circlet of creative friends at
Celebrate The Occasion
and link up YOUR elliptical project for a chance to WIN this month's PRIZE!! You have until Sunday, August 28th at 11:59pm to add your hooped, looped, or regular round card with ANY theme into our "CIRCLE CARD" Challenge!! Hope to see you there!! :)
Until next time,