Welcome to another WONDERFUL Wednesday!! :) I would like to thank both my new followers and friends as well as my 'seasoned' followers and friends -- I look forward to your visits -- I invite you to leave a comment with a link to YOUR blog (if you have one), so that I may come and visit you too!! :)
Today is the start of Challenge #7 at the
Decorate To Celebrate!! Challenge Blog
!! The theme for this challenge is WEDDINGS, ENGAGEMENTS, and BRIDAL SHOWERS!! So we want to see all of your decorations and party supplies celebrating everything fantastic about the UNION of two people in LOVE!! :)
Recently, I was asked to create one of my lighted glass blocks (or Ice Lights as my mom sometimes refers to them) for a 25th Wedding Anniversary... 25 years is a wonderful thing to celebrate, so I was extremely pleased to add some extra special touches to one of my blocks perfect for the
Decorate To Celebrate!! Challenge
this week!! :)
I do make these by Special Order for all seasons and holidays, so if you are interested in placing an order for one, please feel free to email me at scrapbookingwithamy at gmail dot com for pricing and shipping information.
Now it's YOUR turn!! Show us what you've got!! :) Link up your NEW Wedding, Engagement, or Bridal Shower Themed (or ANY Themed) party project at the
Decorate To Celebrate!! Challenge Blog
...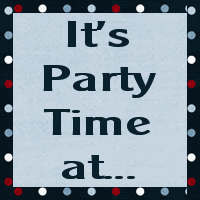 The winner(s) of the challenge are invited to be future Guest Designers AND are entered to win the Grand Prize for September -- A Slumber Party Cricut Lite Cartridge!! For more inspiration, be sure to visit the other designers' blogs:
Thanks so much for stopping by!! I can't wait to see what YOU create for the challenge!!
Until next time,