Welcome to the Faith Verse Blog Hop!
Welcome, friends! My dear friend,
Kari
, is kicking off a new series starting September 12th called the Faith Verse Series that she will put on
her blog
every Monday... Today she wanted to show you what it is all about...
Kari
, along with a few of her guest designers will be sharing their favorite verse (and why it is a favorite) as well as creating something featuring that verse. We all hope you are blessed and encouraged on your spiritual journey as you go through this hop with some talented ladies... We are each so blessed by their friendship and stories.
If you came here from
Lynne
, then you are in the right place!! If you are just popping in from your dashboard or reading this via email, be sure to
CLICK HERE
to start at the beginning (you know that I think the beginning is a good place to start!!)...
I'd like to thank Kari for including me in this very special event!! I'm so excited to share my verse and creation with you...
Isaiah 40:31 (NIV):


but those who hope in the LORD
will renew their strength.
They will soar on wings like eagles;
they will run and not grow weary,
they will walk and not be faint.
Just reading this verse causes my heart to feel a bit lighter!! What an AMAZING reassurance for those of us who face challenges and struggles and disappointments... This verse holds so much POWER and PROMISE for me. The only requirement on my part for fulfillment of this promise is... HOPE... If I HOPE in the Lord, my strength will be RENEWED -- It doesn't say that I'll just be stronger, it says that my strength will be RENEWED!! Now, I know you can't see how excited I get about this verse through the computer screen, so let me see if I can give you an idea... As I sit here writing this, it is HOURS past my bedtime, but my eyes are WIDE and I am sitting up straight (maybe even bouncing a bit in my chair!!)... I mean, it isn't like the verse says that my strength will be 'refilled' like a coffee cup being refilled from that "hours-old" coffee pot -- It says that my strength will be RENEWED like a brand new, fresh pot of coffee!! Even THAT isn't enough... Hmmm... Imagine yourself as good as you've ever felt -- Your hair done up, your make-up just right, dressed to the nines, and ready to take on the world!! Now add your SUPER-HERO cape -- Yeah... THAT kind of renewed!! WOW!!
Think about it... A tiny little thing like "HOPE"... Hope in the Lord and RENEW your strength... You won't fly like a cardinal or run like an ostrich, you will SOAR like an eagle -- That causes a little catch in my throat actually!! To soar, high above the world, on wings like eagles -- What a RUSH!! :) And then... You won't give it a quick jog for a few moments only to stop, bent over, gasping for air... You will RUN and not grow weary!! Imagine running to the end of your driveway... Now to the end of your street and the end of your town -- Imagine feeling the oxygen powering up your lungs for miles and miles of running -- Are you sitting up straight in your chair yet??? Are you feeling the POWER of RENEWED strength???
Whatever you are going through... Whatever you are facing... Whatever obstacle is standing in your path... God does not want you to be weary or to faint!! He doesn't want to refill your strength, He wants to RENEW it!! Now, if you think that means taking away your pain and your troubles, that's not what I'm saying here... This side of heaven we will see plenty of pain and plenty of trouble... We can either struggle underneath it, gasping for air and wishing for relief OR we can HOPE in the Lord, allow Him to RENEW our strength, and PRAISE Him for His POWER and PROMISE that will carry us through another day on the wings of eagles!! I don't know about you, but I want to soar high above this world, lay my burdens at His feet, and rejoice in the blessings of the moment... And so I have made this Isaiah 40:31 Verse Journal to share with you -- A place to jot my prayer requests, praises, and HOPE in the Lord...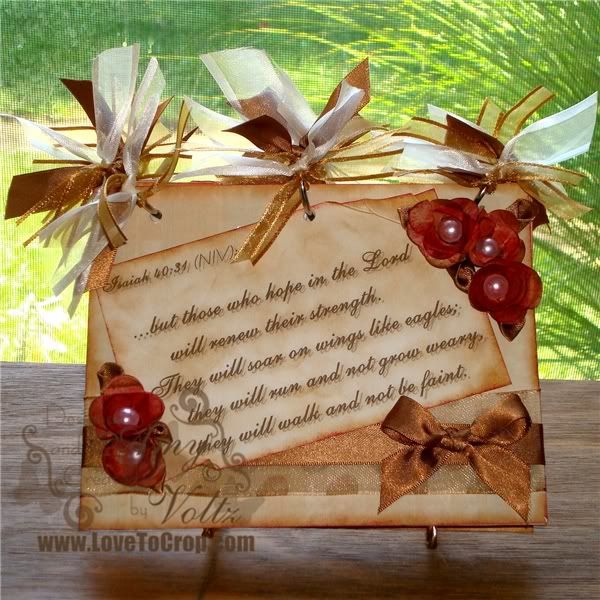 This journal measures 7" wide and 5.5" high. I created the base with two pieces of chipboard and covered them (all sides) with decorative paper.
My handmade flowers were created by first cutting a scallop shape (I used a punch, but the ones on the Accent Essentials Cricut Cartridge also work well) and then cutting a swirl just inside the scallops and into the center. Since I used plain Kraft cardstock for these, I inked it with Stampin' Up!'s Rose Red ink to give it the color I wanted... Starting with the outside edge, I rolled the cardstock into itself, glued the center, and added a pearl. Since I realize this may not explain things too well, here is the
VIDEO
that I watched ages ago to first learn how to make these -- Since then, I've kinda done my own thing, and my flowers here are much, much smaller that the ones in the video found
HERE
(they also don't take nearly as long because they are smaller).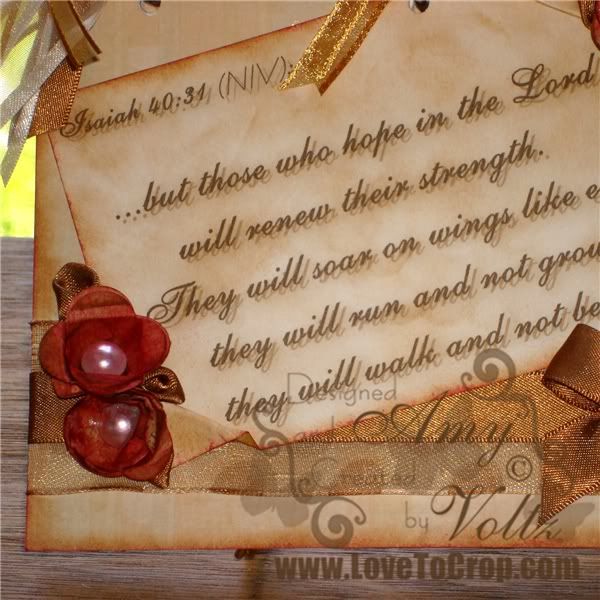 I made the leaves by folding a small strip of ribbon into a triangle, then folding the edges in again before using my Tim Holtz Tiny Attacher (stapler) to hold them in place... Glue dots attach the ribbon leaves to the backs of the flowers and the flowers to the journal.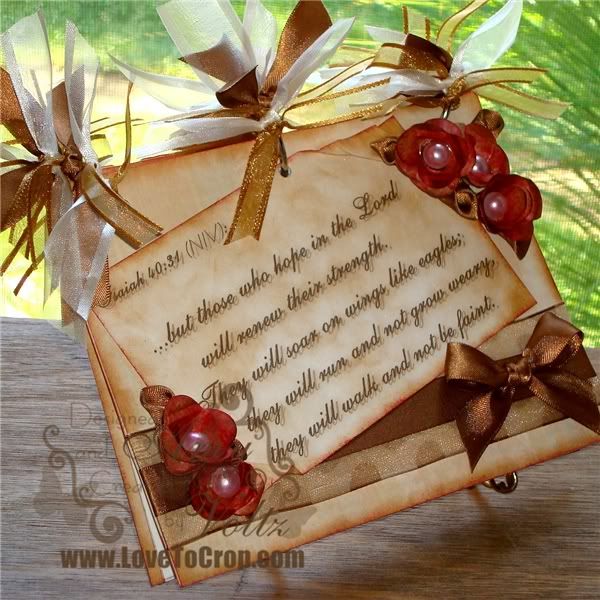 I inked the edges of my verse panel, the journal, and the journal pages with Stampin' Up!'s Rose Red and Creamy Caramel. After punching holes for the binder rings using my Crop-A-Dile, I added lots of ribbons to the rings...
Would you like to create a journal similar to this one? I have created a png file with this verse (my formatted version) as a FREEBIE for everyone!! Simply click on the image below (open the picture to a LARGE version), then right click on the image, select "Save image as", and then click the "Save" button... You will be able to use this in any digital scrapbooking software (if you would like a
FREE version of the software
I use, please
CLICK HERE
), paint, or publisher... Because it is saved in high quality 300 dpi, you will be able to resize it without distorting the image. You can even print it from your picture viewer!! :)
Have you heard this song by Third Day? The name of the song is "Eagles" and can be found on their
Wherever You Are
Album... This is one of the songs that reminds me of my favorite verse -- I hope you enjoy it too!! :)
My pain and problems keep me chained
And my troubled heart makes me weak
I'll wait for You to comfort me
And in You I know I'll find my strength

I will soar on the wings of eagles
I will learn to fly high above this world
And I will soar on the wings of eagles
I will learn to fly
I will learn to fly high above this world

I tremble with this heavy weight
And I'm buried underneath my grief
I'll run to You and not grow faint
And I'll lay my burdens at Your feet

I will soar on the wings of eagles
I will learn to fly high above this world
And I will soar on the wings of eagles
I will learn to fly
I will learn to fly high above this world
And for those of you who enjoy the music too... :) A video...
If you cannot see the video above or prefer to watch it on YouTube, please
CLICK HERE
...
If you are interested in learning more about this group, please be sure to visit us on Facebook!!
To celebrate this new series, Kari is offering one lucky WINNER the chance at her Grand Prize Blog Candy (a
Scripture Sayings Stamp Set
from
K Andrew Designs
and some other embellishments and ribbons)!! To be eligible, be sure to visit each blog and leave some bloggie-love (you don't have to follow everyone, but it sure would be nice if you do!!)... Keep alert though -- There are other stops along the way that will offer some goodies as well... I know you won't want to miss the chance at some extra-special goodness!! :)
Oh LOOK -- Here's a little bit of that extra-special goodness I was just talking about!! I have a special surprise gift to send out to one fabulous winner!! :)
To be eligible for my blog candy:
Please

leave me a comment

answering this question:

"Do you have a favorite verse?" If you do, I'd love for you to share it!!

Receive a BONUS chance when you "Like" the Love To Crop! Facebook Page!! -- CLICK HERE -- then leave me an extra comment for your bonus chance!)
Receive a BONUS chance for visiting EACH of the Faith Verse Hop participants and leaving them a comment (YES! That means an

EXTRA TEN

chances when you visit

EVERYONE

and leave a comment!!)... After you have visited and commented on each blog, you may leave me ONE comment letting me know how many EXTRA chances you are eligible for!! :)

Remember -- the links below are updated to take you directly to each participant's post

!!
If you leave your email address (please leave it in SAFE scrapbookingwithamy at gmail dot com form), I will be happy to contact you if you are the winner; otherwise, you will need to check back after
Thursday, September 1st
to see if you are a winner. No captcha here, so commenting is quick and easy!! :)
Now you can hop on over to your next stop: Christel!!
I'll know you'll just love the WONDERFUL project she has to share!!
Here's a list of the entire hop, in case you get lost along the way or want to revisit anyone:
*** Please note that the following links will take you directly to each participants post in case you're joining the hop later in the week!! ***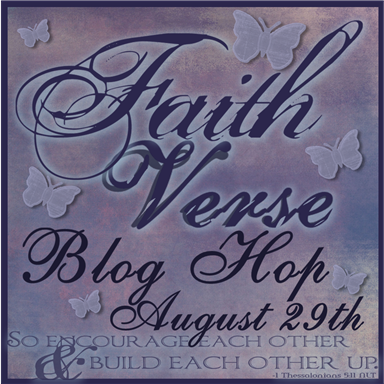 Thank you SO much to all of my fabulous friends and followers who are helping to make this a WONDERFUL hop!! I can't begin to tell you how much your visits mean to me!!
Until next time,