Welcome to the "McVic is 36" Birthday Blog Hop!
Hello, friends!! Welcome to the "McVic is 36" Birthday Blog hop!! Please sit down, stay a while, and enjoy the cards or crafty projects we have made... Each of the talented ladies participating in today's hop have created something special to celebrate our MAGNIFICENT friend, Kacee!!
If you've hopped along from my FABULOUS friend,
Shawnee,
then you are in the right place!! If you are just joining me from your dashboard, or reading this via email, please be sure to
CLICK HERE
to start at the beginning with
Kacee's blog
(cuz starting at the TOP is the way to see it all!!)...
To celebrate her day, Kacee is offering one lucky WINNER the chance at her Birthday Blog Candy!! To be eligible, be sure to visit each blog and leave some bloggie-love (you'll want to follow too -- Just to be sure you're eligible for any extras!!)... Keep alert throughout the rest of the hop too as there are several other stops along the way that will offer some goodies as well... I know you won't want to miss the chance at some extra-special goodness!! :)
Now on to what I made for Kacee!! :)
This is a standard A2 card base (5.5"x4.25")... My camera wasn't exactly cooperating with me tonight, so I apologize for the sub-par pictures -- I hope you'll get the basic idea of this card!! :) I cut a piece of light gray cardstock for the background (5.5"x4.25"). I then embossed a piece of black color-core cardstock using my Cuttlebug embossing folder -- "Birds and Swirls" -- and then distressed it with a sanding block to really bring out the design.
I added this bright pink, very sparkly ribbon and bow to the front before adding two of my handmade stick pins (have I mentioned that I'm pretty much addicted to these things?!?)...
I also added five of my handmade flower embellishments for a little extra "BLING" on the card!! :)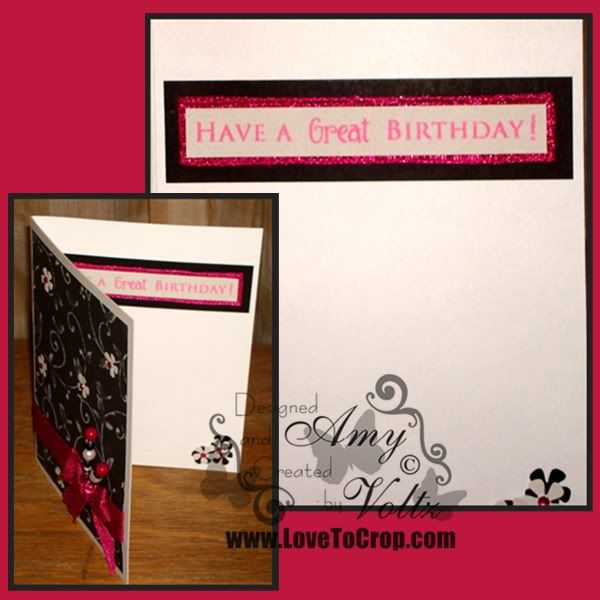 My "Have a Great Birthday!" sentiment is from the FUN Mix-N-Match "
Coffee & Tea for You & Me
" Stamp Art Set from
K Andrew Designs
... This is such a versatile set and so much fun to mix and match for creative new sentiments!! :)
Thank you SO much to all of my fabulous friends and followers who are helping to CELEBRATE my friend,
Kacee
, on her incredible birthday hop!! It means so much to me that you are here for the FUN!! Now.... Before I send you off to your next stop on the hop... I have some extra special goodies to send out to one fabulous friend!! :)
The "Birds and Swirls" Cuttlebug embossing folder (just like the one I used on my card!), a yard of the sparkly pink ribbon I used, a sleeve of my handmade flower embellishments, and TWO handmade stickpins exactly like the ones on my card!! :)
To be eligible for my blog candy:
Please

leave me a comment

answering this question:

"What's your favorite birthday dinner?"

Receive a BONUS chance when you "Like" the Love To Crop! Facebook Page!! -- CLICK HERE -- then leave me an extra comment for your bonus chance!)
If you leave your email address (please leave it in SAFE scrapbookingwithamy at gmail dot com form), I will be happy to contact you if you are the winner; otherwise, you will need to check back after
Monday, September 5th
to see if you are a winner. No captcha here, so commenting is quick and easy!! :)
Now you can hop on over to your next stop (and one of my Bloggie-land Besties): Rhonda!!
I'll know you'll just love the SPECTACULAR project she has to share!!
Here's a list of the entire hop, in case you get lost along the way or want to revisit anyone:
*** Please note that the following links will take you directly to each participants post if you are joining the hop later in the week!! ***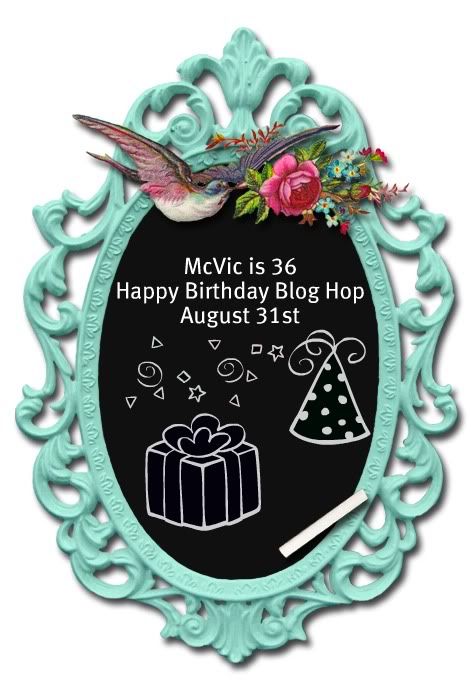 Thanks again for visiting!! Happy Wednesday!! :)
Until next time,