Welcome to the 50 States Blog Hop! Most of us would love to travel but are having staycations this year. What better way to travel but through a blog hop. This hop was inspired by our host
Shawnee
's journey across the United States as she traveled with her family to their new home. The United States is truly beautiful with many wonderful places to visit and see.
If you've hopped along from *
FLORIDA
*, then you are in the right place!! If you are just joining me from your dashboard or happened along from somewhere else, please be sure to
CLICK HERE
to start with the first state in the union,
Delaware
, because you won't want to miss out on any of the fun (or any of the blog candy!!)...
There is an AMAZING Grand Prize Package for one LUCKY hopper (winner chosen by Rafflecopter)!! To be entered to win, please do the following:
So what's the Grand Prize???
Cricut Cartridge - Destinations, beautiful handmade flowers from
Shannon
at
Creative Chaos Flowers
, and a $20 Gift Certificate to
Scraptastical Kreations
.
Now on to my state and my project....
Welcome to..... TEXAS!! :)
On December 29, 1845, Texas became the 28th state in the Union... Nicknamed the "Lone Star State," the state flower is Bluebonnets, the state bird is a Mockingbird, and the state tree is Pecan... Now, it's a bit hard for me to sit and write about the state of Texas without immediately becoming a little twang-ish... You see, my family and friends who love me dearly would all tell you that the one of their favorite things to come out of the state of Texas is... ME!! :)
Yeppers, faithful friends... I'm a Texas Girl!! Well, now doesn't that just explain a few of the Howdies, Yee-Haws, and Hey-there Pardners??? :) If ever you get the chance to saddle up your horse and head to Texas... Well, I just couldn't recommend anything more!! :)
A month or so ago when I did the Bucket List Blog Hop, one of the things I thought I might like to do is visit each and every one of our wonderful states of America, so I was awfully excited about this hop!! I decided it would be the PERFECT way to start an album with a layout for each state!! Then, as I make my way across the USA, I can add a few pictures and some memorabilia to each layout -- Kinda like a passport, except with a bit more character!! :) So here is my layout for Texas....
I don't know about you, but when I think of Texas, I think about the Red-White-and-Blue (okay, and the Texas Longhorns... HOOK 'EM HORNS!!)... This 12x12 layout features some of my favorite 'retired' paper from the Creative Memories Primary 4th of July Additions Kit (I've actually been saving this paper for this layout in particular!!) and the retired Star Shape Maker Punch. All of the Cricut cuts (the state, name, and mockingbird) are from the 50 States Cricut Cartridge (oh, how I LOVE this cartridge!!). I also used my Creative Memories Tag Punch for the hidden journaling tags....
Two tags are hidden on the left side of the Texas state cut (the state is cut at 11.5" using the base feature and shadow feature). I distressed the white cardstock with Stampin' Up!'s Creamy Caramel ink... The ribbon is from the rapidly shrinking craft section at Walmart...
On the right side of the state, I included a hidden 4.5"x6.5" double-sided photo mat also with hidden journaling tags... This gives me a little extra room to hide some memorabilia, event tickets, or even one of those pennies that you flatten in those souvenir machines. :)
Here you can see that the entire photo mat pulls out from under the state... It is matted on both sides so that I can add TWO 4x6 photos (this is a great time to make a mini-collage of several photos and really jam-pack the memories into one layout)...
As I mentioned, the state bird is a mockingbird... Not quite as regal as an eagle, but since the nation claimed that for the National bird, I suppose it's okay that it wasn't up for grabs in Texas. :) Anyway, I think the mockingbird is a rather nifty bird... If I had a mockingbird outside my window, I think I'd enjoy hearing it sing quite a bit!! So this is a picture of the state bird......
And this is my mockingbird on my layout!! :) One of the great features on the 50 States Cricut Cartridge is that it has a cut for each state bird... I cut this one at 2.75" -- Two of the base layer (for extra thickness) in black and one in the top layer in light gray. I then used my white Signo pen and black marker to add some details and finished it off by shading it with some black ink.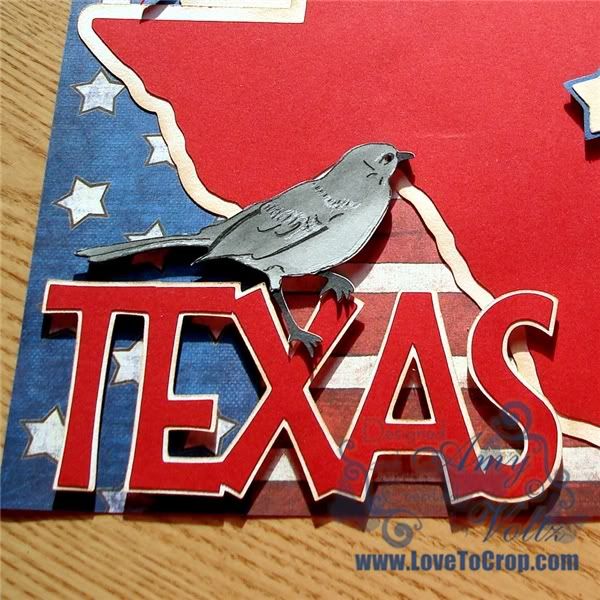 The TEXAS title (another feature on the cartridge) was cut at 2.5" in both the base layer and shadow layer. I popped the title up with some foam tape for a little extra dimension...
And there you have it!! That's my Texas layout!! I hope you've enjoyed it!! :)
I'm so thankful that you've stopped by to visit me (and TEXAS) that I am giving away a little RAK to one person who comments on this post. The RAK has a stamp and a strip of sticker embellishments, so if you would like a chance to win, please leave a comment on this post (If you aren't sure where to comment, please
***CLICK HERE***
)
Now you can hop to the NEXT STATE IN THE UNION -- *
IOWA
*!! Remember to leave a comment on each state to be eligible for the GRAND PRIZE!!
.............