Welcome to the 50 States Blog Hop!!
You have reached.... HAWAII!! :)
Welcome to the 50 States Blog Hop! Most of us would love to travel but are having staycations this year. What better way to travel but through a blog hop. This hop was inspired by our host
Shawnee
's journey across the United States as she traveled with her family to their new home. The United States is truly beautiful with many wonderful places to visit and see.
If you've hopped along from *
ALASKA
*, then you are in the right place!! If you are just joining me from your dashboard or happened along from somewhere else, please be sure to
CLICK HERE
to start with the first state in the union,
Delaware
, because you won't want to miss out on any of the fun (or any of the blog candy!!)...
There is an AMAZING Grand Prize Package for one LUCKY hopper (winner chosen by Rafflecopter)!! To be entered to win, please do the following:
So what's the Grand Prize???
Cricut Cartridge - Destinations, beautiful handmade flowers from
Shannon
at
Creative Chaos Flowers
, and a $20 Gift Certificate to
Scraptastical Kreations
.
Now on to my state and my project....
Aloha and welcome to.... HAWAII!! :)
If you've been following along from state to state, I have good news for you -- HAWAII is the 50th state to join the Union!! That means you have reached the LAST STOP on the hop!! :) Yippee!! :)
On August 21, 1959, Hawaii became the 50th and final state in the Union... Nicknamed the "Aloha State," they claim the yellow hibiscus as their state flower, the Hawaiian goose as the state bird, and the Humpback Whale as their state animal... Known for its beautiful waterfalls and lush greenery, Hawaii is also home to the largest and most active volcano, Kilauea, in the world!! More than 1/3 of the world's commercial supply of pineapples comes from (can you guess???)... Hawaii!! :)
A month or so ago when I did the Bucket List Blog Hop, one of the things I thought I might like to do is visit each and every one of our wonderful states of America, so I was awfully excited about this hop!! I decided it would be the PERFECT way to start an album with a layout for each state!! Then, as I make my way across the USA, I can add a few pictures and some memorabilia to each layout -- Kinda like a passport, except with a bit more character!! :) So here is my layout for Hawaii....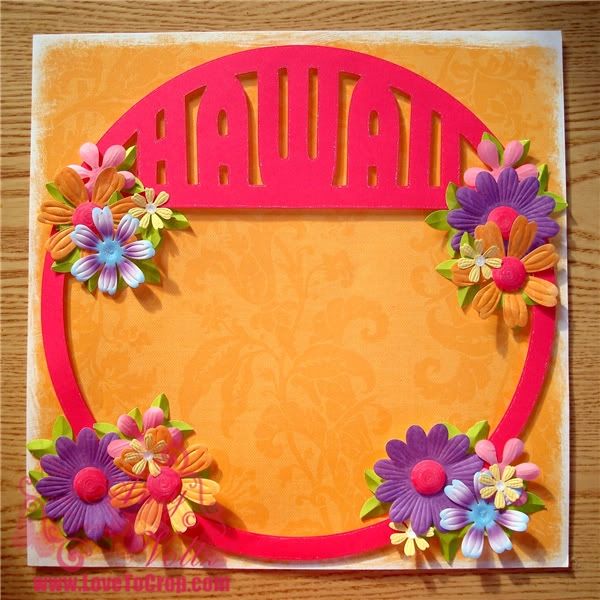 This is a 12x12 layout featuring elements from the
Creative Memories Simply Beautiful Power Palette
... The large circle with the "Hawaii" title was cut at 11.5" with the Destinations Cricut Cartridge (this is the cartridge in the GRAND PRIZE for today's hop!!)... While most of the flowers are from a Creative Memories pack, the light pink ones are from the Walk In My Garden Cricut Cartridge...
When I was very little, my parents took a trip to Hawaii... I remember my mom coming back from the trip looking so bright and tan. Since I was just happy to have my parents home safe and sound, I don't remember too many details that they shared about the trip -- But I remember that my mom vaguely smelled like flowers and coconut!! The circle title above reminded me of a Hawaiian Lei, so I decided to add some clusters of flowers for a simple layout...
I used my Gelly Roll Sparkle Dust pen to outline all the cuts on the Hawaii circle (can you see all the sparkle???) I also added some doodling with the Sparkle Dust pen to the flower centers... The circle and the flowers and leaves are all popped up with foam tape, so there's LOTS of dimension on this page!!
And there you have it!! That's my Hawaii layout!! I hope you've enjoyed it!! :)
I'm so thankful that you've stopped by to visit me (and HAWAII) that I am giving away a little RAK to one person who comments on this post. The RAK has a stamp and a strip of sticker embellishments, so if you would like a chance to win, please leave a comment on this post (If you aren't sure where to comment, please
***CLICK HERE***
)
If you've visited the 49 other states, your journey is now complete!! Since you're in Hawaii, you might as well relax by the ocean and enjoy a Piña Colada!! If you need to head back to any states you missed, the line-up is below!! Remember to leave a comment on each state to be eligible for the GRAND PRIZE!!
.............