Welcome to our blog hop devoted to the remembrance of the 10th anniversary of Sept. 11th...
If you've hopped along from
Vicki
then you are in the right place. If you are just joining me from your dashboard, or reading this via email, please be sure to
CLICK HERE
to start at the beginning with
Tami's blog
...
The terrorist attack against our nation that occurred a decade ago is still a fresh memory for me... Like most Americans, I am forever changed because of what I witnessed and experienced not only that day, but in the weeks and months that followed...
Never, in my wildest dreams, could I imagine the idea of something so devastating and horrific happening in this country that I loved... In a home where I felt safe... Surrounded by family and friends... But it did.
Americans came together as one in the emotional aftermath of 9/11. We were united by grief, had compassion for those who lost their lives, reached out to families tragically touched with pain, and showed loyalty to our country.
I watched as citizens rallied together to volunteer in conditions that were unimaginable and beyond frightening. Heroes came forward to sacrifice their time and, in some cases, their lives... While fear reached epic proportions, hope sprung forth and restored faith...
The loss on that day is no less painful for me ten years later... So when Tami first mentioned the possibility of this hop, I was not sure it was something I could do. As the days passed, and I thought more about what she was asking of us; I realized that, as difficult as this would be, I needed to share just a small part of how I have begun to move through this tragedy... It is my hope and prayer that this hop will be a blessing to you, and that you will find new ways to remember those we've lost and celebrate the hope that springs forth...
Please join the country in a moment of silence on Sunday morning, at 8:46 (Eastern Time). This should be a time to reflect on what we all lost, as well as on the courage and common purpose that lived, and still resides, deep within the American people.
There are 10 blogging friends who invite you to join in this day of remembrance by stopping at each blog to see a project made for the tenth anniversary of 9/11... May we always remember the sacrifice and dedication of this great nation's heroes...
Through my eyes...
This sculpture stood in the plaza of the World Trade Center for 30 years. In its 21st year, I remember pausing to curiously read the plaque that explained this large orb, surrounded by fountains, that strangely reminded me of the "Spaceship Earth" at Epcot Center... A group of my friends were already moving on to our next destination as I pulled my camera out to snap a picture of the large globe aptly named "The Sphere"... The massive twist of metal had been commissioned by the owner of the World Trade Center (Port Authority of New York and New Jersey) in 1966. Artist Fritz Koenig spent four years creating "The Sphere" as a symbol of World Peace through World Trade. Ten years after my inquisitive pictures, and despite its location between the towers and the obvious devastation surrounding it, The Sphere survived the attacks with little damage... It now stands (temporarily) in Battery Park as a "memorial to all who lost their lives in the terrorist attacks at the World Trade Center."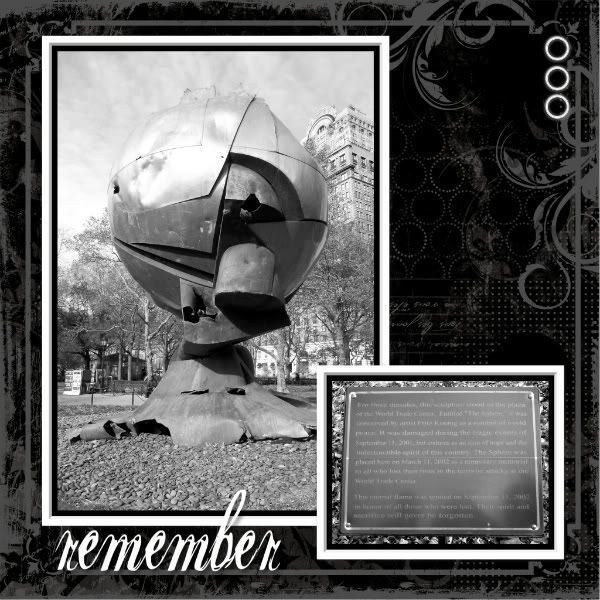 Last November, when we took a trip to New York City with my daughter and her friend, I again snapped pictures of "The Sphere"... It was a bittersweet reminder of a time spent in the city without the thought or memory of such devastation. For a larger picture of my layout with more detail, please
CLICK HERE
.
Through their eyes...
This was the first thing that struck me during our trip to New York City. On the advice of a friend, we drove into Staten Island to take the ferry over to Manhattan. Almost immediately after parking the car, we noticed these large "wings"... Only after closer inspection was it evident that the "wings" were part of the monument for the victims of 9/11 who were once a part of the Staten Island Community. As I read the names etched in the stones of each silhouette, I realized that they were facing the spot where the Twin Towers once stood... Here, where their loved ones could visit, they would forever watch over the city and always be remembered...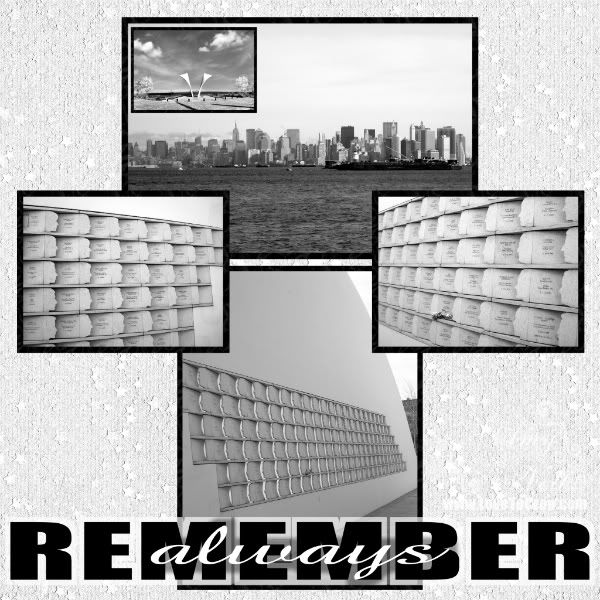 It was not until after our trip that I learned more about this monument... I hope to return again to read each and every name carefully etched in these "Postcards"... You can read more about this monument
HERE
. For a larger picture of my layout with more detail, please
CLICK HERE
...
Through His eyes...
No one can deny that we were a country devastated by tragedy in the days, weeks, months, and even years following 9/11... And yet, through it all, God made His presence known... From the miracle of survivors to this steel t-beam found in the rubble, hope sprang forth. In these moments, we found JOY...
It is this very joy that has allowed me to share with you today -- For although we are hard pressed on every side, we are not crushed; although we are perplexed, we are not in despair; although we are persecuted, we are not abandoned; and although we are struck down, we are not destroyed --2 Cor. 4:8-9. In this tragedy, we are comforted... With the good works and sacrifices of the heroes who did not shy away from fear, with the good will of friends and strangers who chose to give their time and financial assistance to families who suffered great loss, and with each sunrise and sunset that reminds us of the hope in tomorrow... For a larger picture of my layout with more detail, please
CLICK HERE
...
Why are they all black & white?
I had printed each of my pictures in full color for the layouts for this hop... So why didn't I use them? As I began to document my feelings and memories, I realized that what was hardest for me was the COLOR on the pages... Even the red, white, and blue paper took away from the meaning behind the photos for me... It's possible that, at some point, I will still scrapbook the color photos; but I hope my black and white photos allow you to feel the deep emotions behind each of these layouts...
Thank you very much for stopping by during this hop... It means so much to me and the other hop participants that you are willing to spend a piece of today with us -- I hope these posts will be a blessing to you. Before I send you off to your next stop on the hop... I do have a little goodie for one of you...
Since all three of these are digital layouts, I thought perhaps at least one of you would be interested in a few of my own digital elements... So I will provide your choice of 5 digital elements -- jpg and png format in one of the following themes: Scripture phrases, Inspirational quotes, or Fun Friends (animal images) that you can use with your own digital software OR.... you may elect to have a blog button/badge or custom header of your own designed by ME!! :)
To be eligible for my blog candy:
Please

leave me a comment

...
Receive a BONUS chance when you "Like" the Love To Crop! Facebook Page!! -- CLICK HERE -- then leave me an extra comment for your bonus chance!)
If you leave your email address (please leave it in SAFE scrapbookingwithamy at gmail dot com form), I will be happy to contact you if you are the winner; otherwise, you will need to check back after
Wednesday, September 14th
to see if you are a winner. No captcha here, so commenting is quick and easy!! :)
Now you can hop on over to your next stop: Nicole!!
Here's a list of the entire hop, in case you get lost along the way or want to revisit anyone:
*** Please note that the following links will take you directly to each participants post if you are joining the hop later in the week!! ***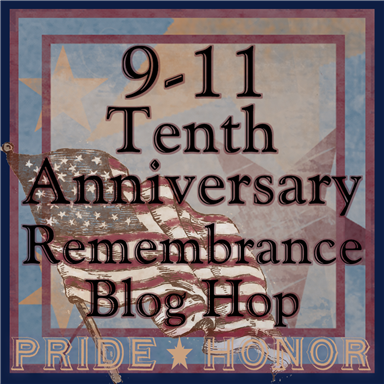 Tami at Tambo's Creations
Lynne at Her Craftiness

Vicki at Maw Maw's Thoughts
Amy :) at Love To Crop! You are HERE!!
Nicole at Crashing Creatively Go here NEXT!!
Lisa at Bit by the Cricut Bug!
Susan at Susana's Scrappin' Corner
Lynda at Memories In Tyme
Theresa at The Scrapbooking Queen
Jearise at Lorby's World

May today be a day of peace for you... Until next time,