Happy Terrific Tuesday everyone!! Do you know what it's time for right now??? YES!! It's time for another challenge at
Celebrate The Occasion!
If you haven't heard yet, this Sunday (September 11) is GRANDPARENTS DAY!! It's time to celebrate the cookie-makers, the cheek-pinchers, the funny-fishermen... The very best people in the world!! I only have a few memories of my one grandfather... Sadly, I was very young (or not yet born), when my grandparents passed away, but I am still so thankful to all of them for giving me the most wonderful parents possible... The memories I have of my grandfather are as fresh in my memory as yesterday... I can still smell his aftershave and feel the way the stubble on his chin would scratch my cheek when he would hug me... I can remember his smile -- the one that I'm reminded of when I smile myself -- that little gap between his front teeth just like mine... I even remember that wobbly-necked dog he had on the dashboard of his avocado green car -- I would watch that dog's head bobble to-and-fro, nodding in agreement to anything you asked ("Did Grandpa bring me a gift this visit??? Yes???"), encouraging squeals of delight... Didn't matter if the gift was a shiny penny or a stubbly-chinned hug... :)
Thankfully, my own children have grown up with my parents close by... It always makes my heart leap for joy when The-Girl-Child or The-Boy-Child chooses to enjoy some sort of activity with The-Grandpa or The-Grandma... Why, even tonight they'll be looking forward to an excursion away from the college campus for dinner with The-Grandparents!! :) Truly, grandparents like theirs deserve more than just a day or even a week!! They deserve at least a month dedicated to celebrating how inspirational and amazing they are!! :) And so, with each of my wonderful parents in mind, I created this card to share how I feel about how GRAND they really are...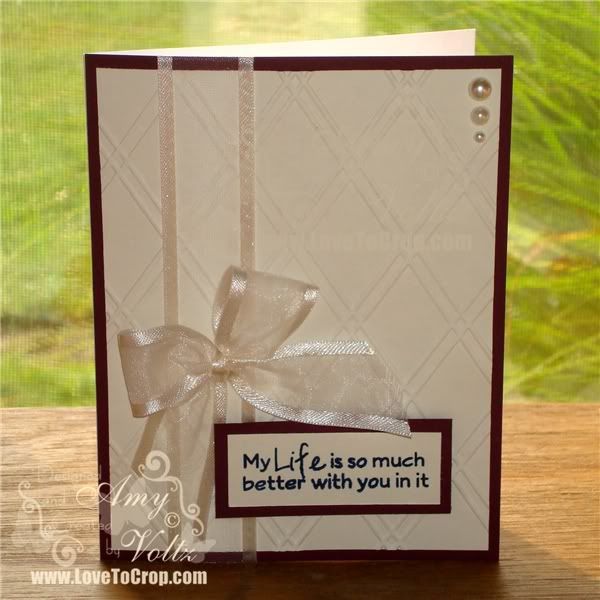 This is a standard A2 card (5.5"x4.25"). I started by embossing a piece of 5.25"x4" ivory cardstock with my Argyle Cuttlebug embossing folder (from the Happy Birthday set). I then adhered that on top of a 5.5"x4.25" piece of brick cardstock... The ribbon is an ivory 1" ribbon with satin edges and a sheer center...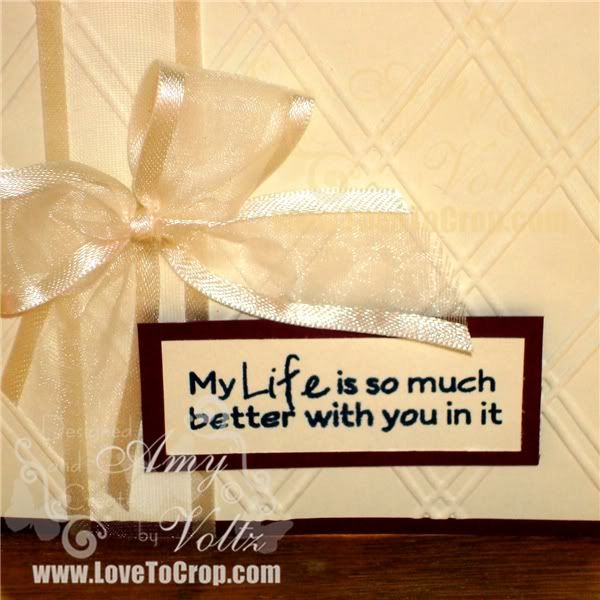 The sentiment stamp is from the "
Positive Thoughts
" Stamp Art Set from
K Andrew Designs
... I stamped it onto ivory cardstock with Stampin' Up!'s Night of Navy ink, trimmed around the sentiment and adhered that to a rectangle of brick cardstock before popping it up from the card with a strip of Fun Foam (my substitute for pop dots).
Finally, I added 3 graduated pearl embellishments from Creative Charms and handwrote the sentiment inside ("Happy Grandparents Day to two amazing grandparents!!)... I am quite certain that my parents will enjoy this card (especially if I slide a photo of two of their favorite grandchildren inside!!)... :)
Now, I hope you'll join our group of creative friends at
Celebrate The Occasion
and link up YOUR card, layout or project celebrating your favorite grandparents for a chance to WIN this month's PRIZE!! You have until Sunday, September 11th at 11:59pm to add your take on the Challenge!! Hope to see you there!! :)
Until next time,