*** Welcome to the Faith Song for His Glory Blog Hop!! ***
Happy Wednesday to you all!! :) Thank you so much for stopping by my blog today -- Now, let me tell you that you are in for a BIG surprise!! :) My dear friend,
Kari
, is at it again... She's gathered up some very special friends to share and glorify God in song! :) If you like what you see here today, then I invite you to visit
Kari's blog
every other Wednesday for her Faith Song for His Glory series!! Every other week,
Kari
will be inviting some very caring friends to share different faith-based songs and the projects inspired by these songs... To give you a little preview, there are eight of us sharing our songs today. So grab yourself a cup of coffee, tea, or orange juice, sit back, and enjoy some special moments with us....
If you are joining me from
Susan
, then you are in the right spot!! If you're joining me from your dashboard or reading this via email, please be sure to
CLICK HERE
to start at
Kari's blog
as you won't want to miss a moment of the music!! :)
Those of you who already follow me may already be aware that Kleenex are sometimes necessary while you're visiting... Some of you write me with the most lovely compliments and stories that also require Kleenex... SO! I have decided that today, I will start off with this little story, no Kleenex required....
Johnny's mother looked out the window and noticed Him "playing church" with their cat. He had the cat sitting quietly, and he was preaching to it. She smiled and went about her work.
A while later she heard loud meowing and hissing and ran back to the open window to see Johnny "baptizing" the cat in a tub of water.
She called out, "Johnny, stop that! The cat is afraid of water!"
Johnny looked up at her and replied,
"He should have thought about that before he joined my church."
OH MY!! :) I certainly hope that made you laugh the way it made me laugh... In all honesty, I could totally see The-Favorite-Nephew doing just this... Sometimes I wonder how the Adorably-Cute-Sister-in-Law (seriously -- you should see her -- like a little doll!!) of mine manages that Obvious-Spawn-of-The-Brother-of-Mine (no, seriously -- you should see him -- The-Favorite-Nephew is an exact replica of The-Brother-of-Mine!!)... Maybe this is why they don't have a cat... Hmmmmmmm....
Okay, so on with the real reason you're here... Kari asked me to share one of my favorite songs with you (and a project inspired by that song). Wow. That was really tough for me!! Not because I couldn't think of a song, but because I could think of SO MANY songs!! Here's the thing... I have worship music on for at least half of my day every day. I don't mean half of a normal work day either. As soon as I wake up, I turn my music on, and depending on how much I have going on throughout the day, it's pretty much guaranteed that I'm still listening to music 8, 10, or 12 hours later... That's a lot of songs to choose from!! :) So how did I decide? Well... It's been a week.
As I thought about what my friends were going through, and as I considered things that I have been feeling, a few songs kept popping into my head... And then ONE has been stuck there for days... It's so incredibly easy to get caught up in all the YUCK of life... There are bills to pay and work to do and kids to feed and chores to finish and...... Well, the list goes on, right? If we focus on all the stressful things of life, we stop seeing the beauty around us, and that is so NOT what God intended for us... So what if we stopped for a moment several times each day to remind ourselves of an important truth??? What if we took the time see all the beautiful things in our lives... Including ourselves??? I challenge you to try it for just one day and see what kind of difference it makes... If you end up feeling just as unhappy as you might on any other day, then you never have to do it again -- But if you end up realizing that life is just a little bit better because you found the beauty in your day... Well, maybe you'll try it again tomorrow... and the next day, and even the one after that!! :)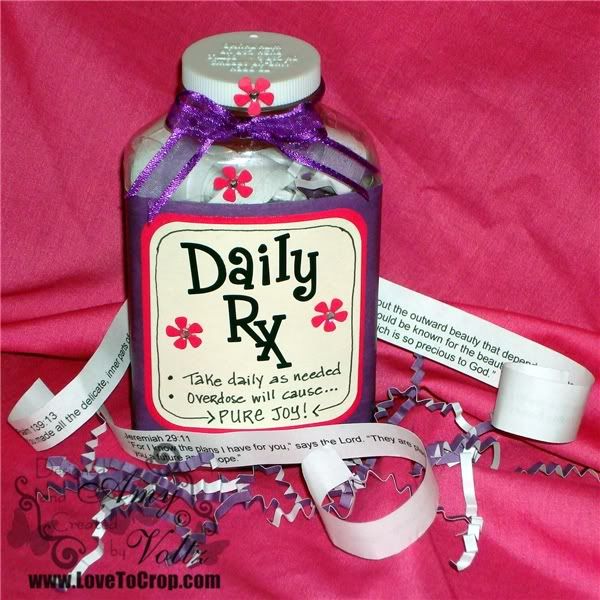 So... My project is a prescription... You can take as many doses as needed and as often as needed!! No worries about over-dosing here because taking too many will only bring you PURE JOY!!
This started off as an aspirin bottle (nothing works better, ya know)... I covered the original label with some decorative paper (a little Mod-Podge helps to keep the paper sealed against the container), added the "Rx" label, and then......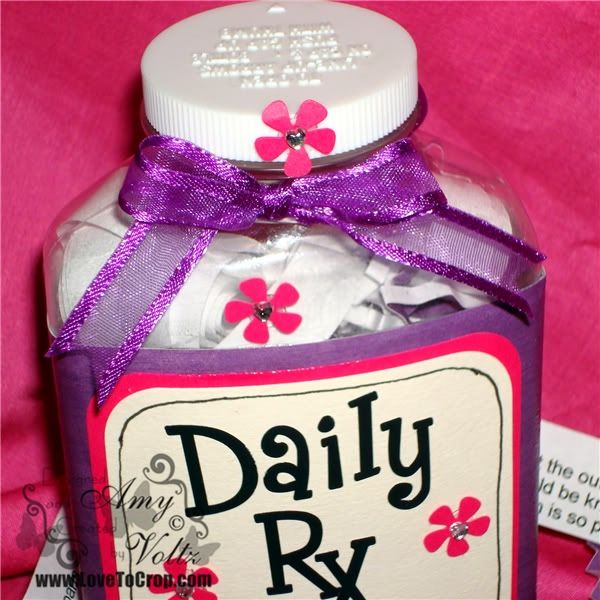 .......filled this bottle with pre-printed strips of some of my very-most-favorite scriptures that will uplift me throughout the day and remind me that God shines even in the darkest of moments... And that he's making my life so beautiful, beautiful...
If you cannot see the video above, or prefer to view it on YouTube, please
CLICK HERE
...
Thank you very much for stopping by during this hop... It means so much to all of us that you are willing to spend a little time with us today -- I hope these posts will be a blessing to you. Before I send you off to your next stop on the hop... I do have a little goodie for one of you...
It's a "Your Choice" prize!! You can choose to receive a Blog Button/Badge designed by me OR one of my custom mini paper & embellishment packs (a package 6x6 paper with a selection of fun embellishments)...
To be eligible for my blog candy:
If you leave your email address (please leave it in SAFE scrapbookingwithamy at gmail dot com form), I will be happy to contact you if you are the winner; otherwise, you will need to check back after
Friday, September 16th
to see if you are a winner. No captcha here, so commenting is quick and easy!! :)
Now you can hop on over to your next stop: Brenda!!
Here's a list of the entire hop, in case you get lost along the way or want to revisit anyone:
***

Please note that the following links will take you directly to each participants post if you are joining the hop later in the week!!

***
1. Kari -
http://purplefuntastickcreations.blogspot.com/
2. Susan -
http://susanascorner.blogspot.com/
3. Amy -
http://www.lovetocrop.com
You are HERE!! :)
4. Brenda -
http://createbyburffrau.blogspot.com
Go here NEXT!! :)
5. Tammy -
http://www.fromme2upapercrafting.blogspot.com
6. Gloria -
http://omascrafts.blogspot.com/
7.Zenita -
http://www.scrappinwithz.blogspot.com
8. Heather -
http://craftymamaof2heve.blogspot.com/
May you having an inspiring day... Until next time,