Welcome to the Fashion Blog Hop!!
We're so happy you could join us for this SUPER-FUN Fashion-Themed Mini Blog Hop hosted by
Berenice at Sweet Escape
!! If you are just joining me from your dashboard, or reading this via email, please be sure to
CLICK HERE
to start at the beginning with
Berenice's blog
(you'll definitely want to be a part of all the FUN!!)...
I'm sharing TWO Fashion-themed projects with you today.... The first is a sparkle-shiny card!!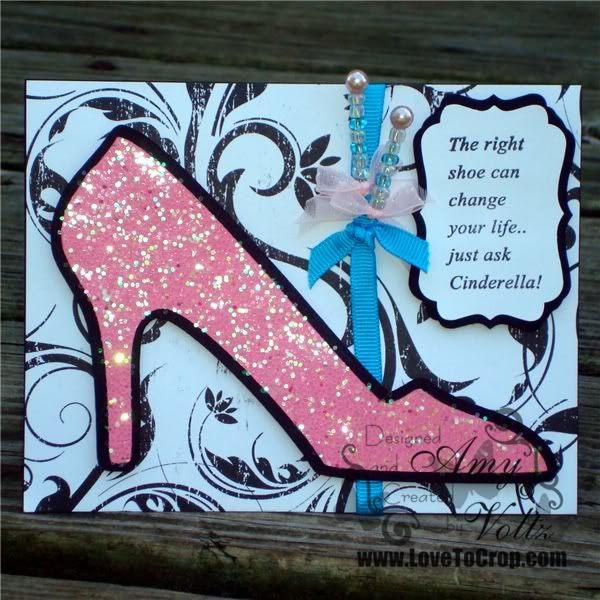 The shoe for my card was cut at 3.25" from the Gypsy Wanderings Cricut Cartridge... For those of you who have this cartridge (pre-loaded on your Gypsy), you will need to use the 'weld' feature and add an oval over the swirly cut out on the back of the shoe to make this a solid cut. For those of you who do not have this cartridge, you can find a sample of ALL the shoes available on any cartridge over at
MyCutSearch.com
... Shawn has done a WONDERFUL job of entering every imaginable image into her search engine (complete with handbook preview pages!) to make it easy to find ANY cut you're looking for... If you haven't visited
MyCutSearch
yet, please hop on over there and check it out -- you'll be SO glad you did!! This service is absolutely FREE (but I'd love it if you'd
buy Shawn a "cup of coffee"
while you're there!!)
The background paper (and paper used inside the card) is from the Creative Memories Black and White Power Palette (decorate paper pack). The wonderful Cinderella sentiment can be found on the
"Fashionable Friends"
Stamp Art set from
K Andrew Designs
...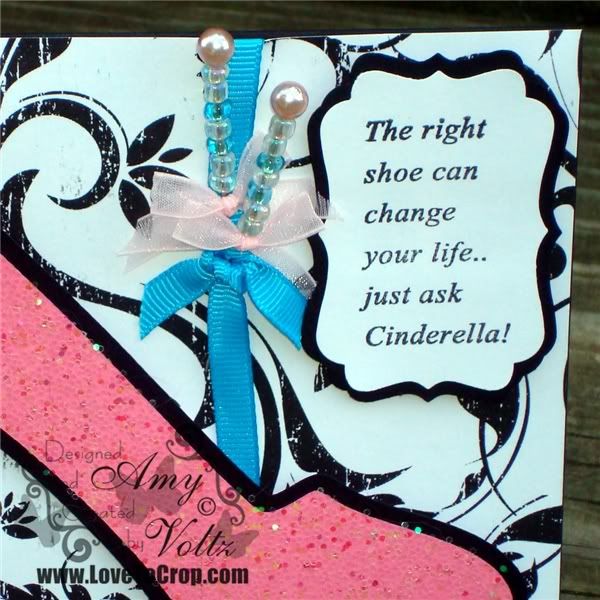 Two of my handmade stick pins finish off this fun card sure to add a little sparkle to the life of someone special!! :)
My second project is a purse-shaped mini album....
I started with two (white) lunchbags for the base. I followed a video tutorial (for the paper bag base) that I found on YouTube, but I apologize that I couldn't find it today to repost...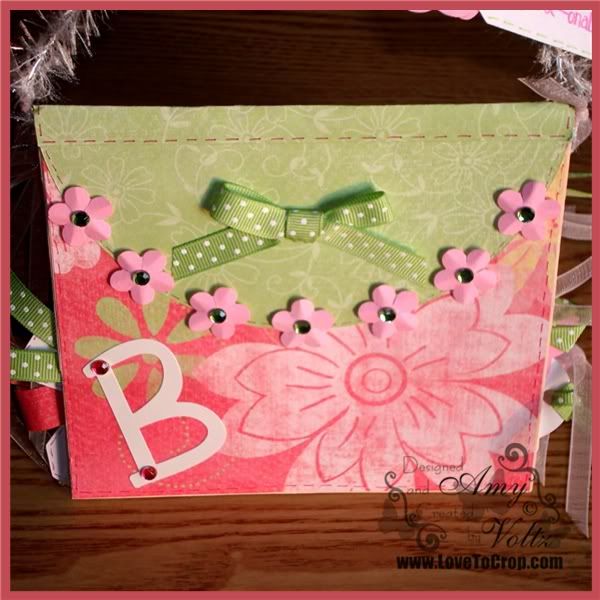 All of the paper is from my stash of retired Creative Memories paper (this was part of the Delight Power Palette).... The little flowers were made using my CM Friendship Micro Maker -- I trimmed each flower petal towards the flower center to add a little dimension and FUN to the flowers...
There are six inside pages complete with tags and pockets to hide a few extra pictures and add some journaling...
I used several sentiments that can all be found on the
"Fashionable Friends"
Stamp Art set from
K Andrew Designs
... This is such a versatile set for the Fashion-Savvy (or Fashion-Savvy-Wannabees like me!!)....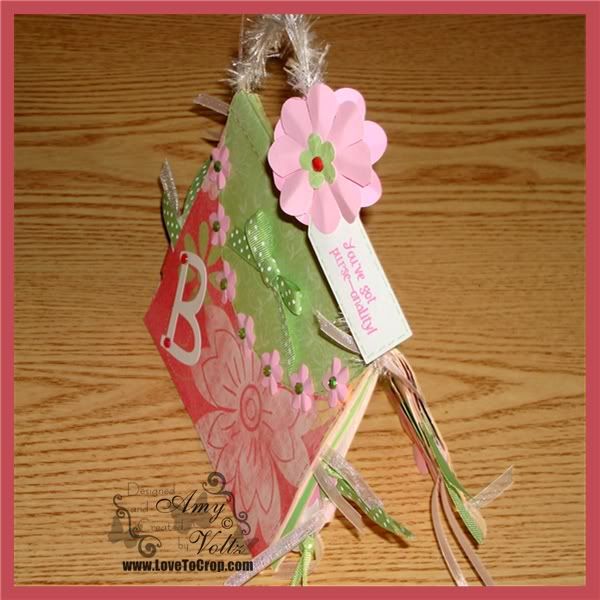 The mini album purse is sturdy enough to stand up... All of the ribbons on the sides are attached to tags, so they can easily be pulled from the mini to add small photos or journaling...
One last look!! :) I hope you've enjoyed my fashionable little goodies today!!
I have a little blog candy for one fabulous
follower who leaves a comment on this post
!! I have a package of fashionable embellishments and goodies that are looking for a new home... Will you be the lucky one??? :)
To be eligible for my blog candy:
Please

become a follower of my blog and leave me a comment

answering this FUN question: "What's your favorite fashion tip (even if it's something everyone should avoid)?"!!
If you leave your email address (please leave it in SAFE scrapbookingwithamy at gmail dot com form), I will be happy to contact you if you are the winner; otherwise, you will need to check back after Wednesday, September 28th to see if you are a winner. No captcha here, so commenting is quick and easy!! :)
Thank you again for checking out my project... Now hop on over to the other blogs shown below and enjoy your day of fashion!! :)
..........
Here are the links for the other participants!! :)