Happy Sunday, friends!! :) I hope this day finds you enjoying moments with family and friends... Those of us here in the USA are reflecting on a difficult day in our nation's history... My thoughts and prayers are with those of you who were touched by the tragic events of ten years ago. I would like to take a quick moment to invite you to share in my post of remembrance that I wrote for earlier today... You can find that post by
CLICKING HERE
... May hope spring forth for you in this time of remembrance...
It's time again for one of my favorite challenge days!! It's
Simply Sunday Challenge Day over at Getting Cricky
!! This week, the challenge is to create something with the theme of "Halloween" -- Whether that's a ghost or a pumpkin (or something a little scary), you can create a card, layout, or altered art project of YOUR CHOICE... We want to see you use your CREATIVITY and show us your interpretation of the challenge!! :)
For this challenge, many of my Design Team Sisters will be featuring one of Kristal's NEWEST stamp sets -- "
Falloween
" (check out all the newest stamps at
K Andrew Designs
)... This great Mix-N-Match set is an "extra-large" stamp set filled with all kinds of fun phrases!! :)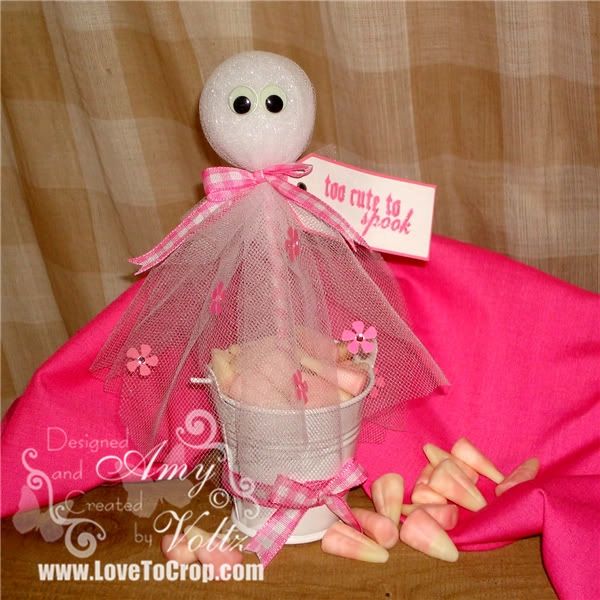 I am not much of a "Halloween" person... I'm not sure exactly when this happened, as I know my mom always enjoys finding fun new decorations for the fall and Halloween season, and I know she used to make the most wonderful costumes for my sister, my brother, and I... But at some point, I think Halloween became more about scary costumes and frightening things, and I just kinda checked out of the holiday... One thing is for sure though -- There are plenty of challenges out there to show off your ghosts and pumpkins and vampire cards and layouts!! So while I might not send many cards (or even pass out candy -- GASP!!), you'll likely see a few of these Halloween projects featured on my blog over the next couple of months... Admittedly, it's become a little addicting for me to come up with some cutesy projects to balance the far scarier ones out there!! :) This little ghost became the happy source of smiles for me yesterday... Now who would be frightened by a ghost dressed in Princess Pink and sharing candy corn that is... yes, you do NOT need to adjust the color on your screen... PINK and WHITE!! :)
I wrapped a skewer with pink gingham ribbon and gently added a Styrofoam ball for the head of my ghost... I then covered it with two layers of white tulle and added some glow-in-the-dark googly eyes and handmade flower embellishments... My "too cute to spook" stamp is from the "Falloween" Stamp Art set and is stamped with Stampin' Up!'s Pink Passion ink. I also added some sparkle to the stamped sentiment with a quick roll of my NEW Gelly Roll Stardust Pen (thanks, Brenda, for recommending that!!)... Can you see the touch of SPARKLE?!?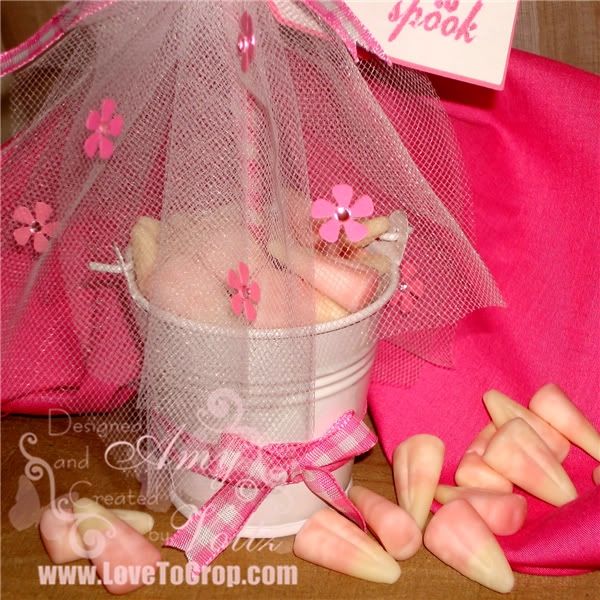 A friend of mine recently informed me that Candy Corn never goes bad... Well, that's a relief cuz I've had this pink and white Candy Corn since Easter (and NOT this Easter!!)... While both of my kiddos will jump at the chance to gobble up some chocolate chip cookies (with a LARGE glass of milk), neither of them are big on sugary snacks or candy otherwise... Therefore, a gift of Easter-themed Candy Corn wasn't much of a hit around here... But now I'm glad I didn't just toss it as my pink ghost was happy not to have the orange-yellow-and-white variety clashing with her pretty bows and flowers...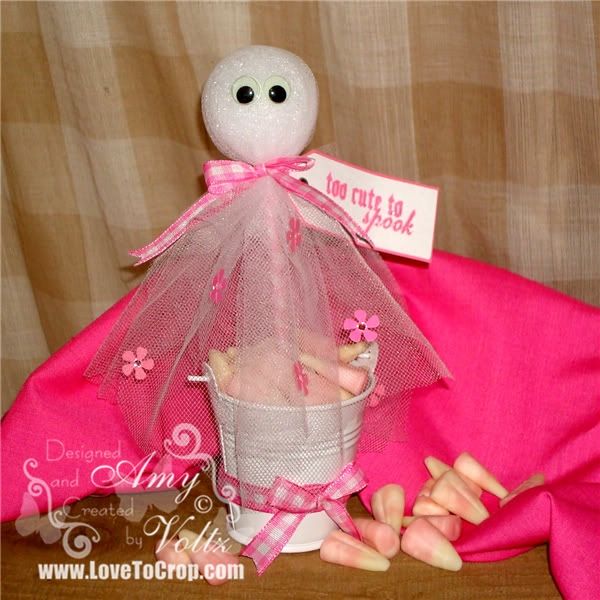 So there you have it -- A cute little favor perfect for some non-scary Halloween FUN!! :)
Now that I've shown you my take on the challenge, I hope you'll hop on over to see what all of my Design Team Sisters made for inspiration... Then, I hope you'll enter this week's "Halloween"
Simply Sunday Challenge at Getting Cricky
... We can't WAIT to see what you create!!
This Friday is the Getting Cricky Blog Hop featuring the Design Team and a very special guest!! Be sure to join us as we feature new ideas and projects (all with a Fall and/or Halloween Theme) using Kristal's newest stamps!! Check out the newest designs at
http://kandrewdesigns.com/
and then join us for a FUN hop...
The fun begins at: 6pm PST, 7pm MST, 8pm CST, 9pm EST...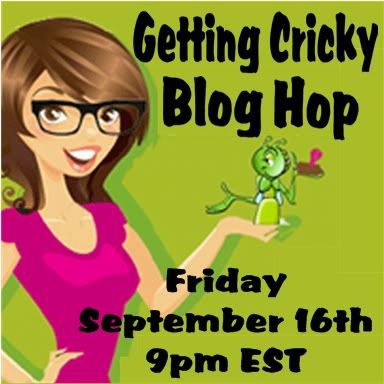 To RSVP to this event on Facebook, please CLICK HERE!! :)
Hope to see you Friday!!
Until next time,