Woot-woot!! It's another sensational Sunday... And what a WONDERFUL Sunday it's turning out to be!! Yesterday, I was able to travel down to see The-Girl-Child cheer in her first college football game!! It was an unexpectedly beautiful day with LOTS of sunshine (it had been chilly all week!!)... The football team won by a landslide (I'm sure this was only because of the excellent cheering from the sidelines - wink, wink)... And if you're wondering where The-Boy-Child was during all of the excitement -- Well, he was responsible for making sure that the radio broadcast of the game reached all of the faithful fans and listeners (that means he was "behind the scenes" in the radio station)...
After the game, the kiddos and I, along with The-Grandma (who had also driven out for the game) walked into town to have a late lunch at The Cool Spot, the local hot dog shop... It was quite delicious (especially the yummy ice cream cookie sandwich!!), and the company was FANTASTIC!! :) After we were stuffed so full that we could only waddle back to campus, we said our good-byes to The-Grandma and The-Boy-Child... The-Girl-Child and I were heading back home because today is a VERY SPECIAL DAY!! We've been waiting for today for almost a YEAR!! Today is the day we finally get to see....
Oh my, I'm such a fan of The Wizard of Oz... There isn't even a tiny little part that I don't love, love, LOVE!! My most wonderful parents very generously got tickets for the four of us --- And I just could not be more excited (I'm nearly bouncing out of my seat right now!!)... So, I'm pretty sure that this day will be at the Tip-Top TOP of my very best days for quite a while.... And now that I've shared all of that, guess what else I want to share with you??? Here's a hint....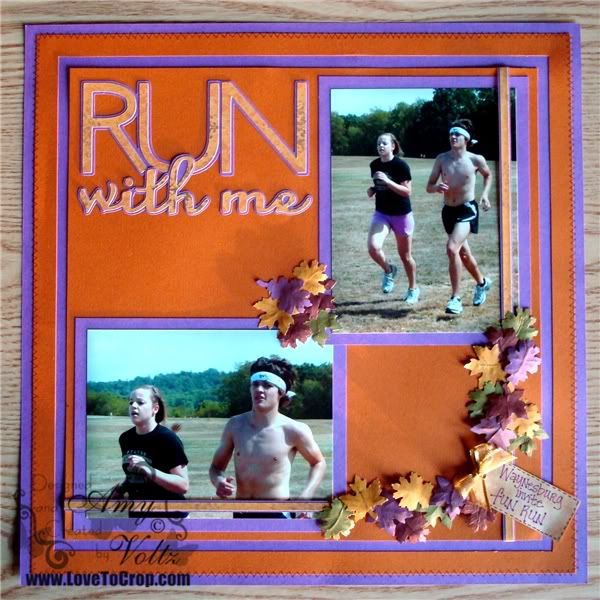 Did ya guess??? Well... It's time for a NEW CHALLENGE at
Lasting Memories
!! :) As you know, I simply LOVE doing layouts, and Lasting Memories is ALL about layouts (and layouts only -- no cards -- woot woot!!)... This week over at
Lasting Memories Layout Challenges
, we've been challenged to use fall colors in our layout AND follow this
sketch
!! You can twist it or turn it -- just as long as we can see it!! :)
I decided to stay pretty close to the sketch... The only thing I will probably still add is a bit of journaling -- I didn't want to add it just yet as I haven't finished the second page for this layout yet (and most of the journaling may end up on that page instead).
For my 12x12 layout, I started with a piece of Grape cardstock... I created the inside border of Spiced Cider cardstock by trimming 1/4" from each side... I then cut the Spiced Cider to create a "frame" where the Grape could peek through.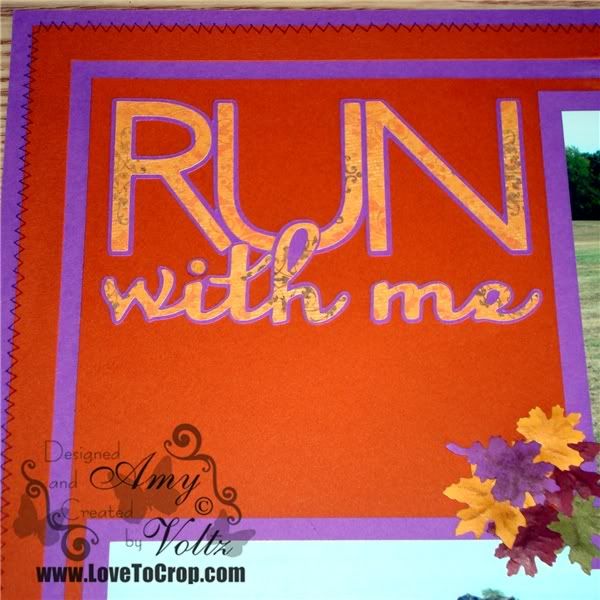 I used the "Beach Bum" font on the Creative Memories Traveler Cricut Cartridge for the "RUN" and the font on the Songbird Cricut Cartridge for the "with me"... I used my Creative Memories brown fine-tip marker to add the faux-stitching along the edge.
The leaves were punched with my Creative Memories Leaf Shape Maker Punch... After punching each leaf, I added some details by pressing the "veins" into the leaves with my embossing tool (that looks like a pen) and then distressing each leaf with SU!'s Creamy Caramel ink. The tag is from Plantin SchoolBook (cut at 1" and distressed with Creamy Caramel ink).
These pictures were taken last year during The-Boy-Child's college cross-country invite -- Each year, they have a "fun run" for charity after the Men's and Women's Cross Country events... Wasn't it nice of The-Boy-Child to run alongside his favorite little sister??? While he would normally leave her in the dust, it was nice to see them jog it out together...
And now it's your turn!! Create your layout using fall colors and the sketch provided above, and link it up at
Lasting Memories Layout Challenges
...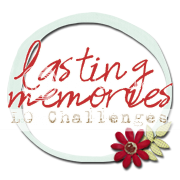 I can't to see what you create!! :)
Until next time,