Happy Thursday, everyone!! :) I'm so happy and THANKFUL that you are here to check out my layout today!! I was so excited to finish this one and share it with you!! Over at
Lasting Memories Layout Challenges
, they are having a DT call -- It ends tomorrow at NOON, so you still have a WEE bit of time to get your submissions in for review!! For
Challenge #52
, they asked us... "What's your SECRET?" The idea was to share your secret ideas and tips for journaling and adding extra pictures to your layout... Since I'm just a little bit obsessive (who?? me??), I decided to incorporate my 'secret' ideas into a 'CONFIDENTIAL' layout that really isn't so secret after all (it's also no secret that this post will be picture heavy -- there's enough details for THREE layouts!! hee hee)...
Creative Memories cardstock
-- If it looks like a file folder, it's because I replicated it so that it would be safe for my pictures (no, I don't own any archival spray, so I recreate a lot of things this way to make sure they will keep my pictures safe from acid and lignin found in traditional "office supply" papers). To create the file folder (complete with the score marks on the left edge), I started with two sheets of 12x12 French Vanilla cardstock, traced the edges of a regular file folder, and hand cut along those guides. I then scored the top piece four times, folding the "folder" on the fourth score line. I attached the bottom piece of the file folder just inside the fold on the inside. The "CONFIDENTIAL" is cut at 2" in black with the Opposites Attract Cricut Cartridge (Opposite Font feature)...
HERE
(if you can't see the embedded video below or prefer to
watch it
on YouTube)...
So that'll do it for my super-secret-layout... I hope you've enjoyed it, and will give something like this a try!! If you have any questions, please feel free to let me know in the comments section -- I always love reading your kind words, so thank you for sharing your thoughts with me!! :)
Now, to see what everyone else is creating for the Design Team call at
Lasting Memories
this month, be sure to stop on over -- There's some AMAZING inspiration there, so you're sure to enjoy your visit!! :)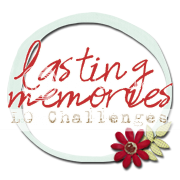 Have a wonderful day, everyone!! Until next time,