If you already hopped through
DAY ONE
(a completely different group of blogs than today's selection), then you know that we are all celebrating
Susan
's birthday with an "Anything Goes" project created for her birthday... I sure hope you enjoy hopping through all the creative blogs lined up to celebrate Susan's birthday today (and please remember to wish
Susan
a Happy Birthday)!!
If you've hopped along from the Birthday Girl herself,
Susan,
then you are in the right place!! If you are just joining me from your dashboard, or reading this via email, please be sure to
CLICK HERE
to start at the beginning with
Susan's blog
(cuz beginning at the START is always the BEST choice!!)...
Be sure to watch for some birthday-candy-goodness (giveaways) throughout the hop as there are several stops along the way with FUN gifts to share... I know you won't want to miss any of the GRAND PRIZE Birthday Celebration Giveaways, so here are those details:
Grand Prizes sponsored by --
1. Karber Digital Images will offer blog candy to a random commenter of the blog hop (be sure to comment on all the stops for both days for MAXIMUM chances to win!)
2. Jen's Digi Designs - $15 gift card (must "LIKE" the Jen's Digi Designs facebook page AND comment on Susan's blog)
3. Staci McD -- $20 gift card to Designs on Cloud 9 (must comment on her blog)
Now let's see what I made especially for Susan (who just happens to love anything and everything PINK and PURPLE!!)....
Positive Thoughts
" Stamp Art Set from
K Andrew Designs
... This is my favorite set for encouraging and celebrating friends!! :)
CLICK HERE
to see what the big SURPRISE with my cake is (oh, I'm just "exploding" with excitement over this FUN cake!!)
Thank you SO much for stopping by during this hop to CELEBRATE Susan!! I hope you've enjoyed my project as much as I appreciate you joining the PARTY!! Now.... Before I send you off to your next stop on the hop... I have some extra special goodies to send out to one fabulous friend!! :)
The "Floral Fanfare" Cuttlebug embossing folder (just like the one I used on my card!), a yard of pink gingham ribbon, a sleeve of my handmade flower embellishments, and TWO handmade stickpins (similar to the ones on my card)!! :)
To be eligible for my blog candy:
Please

leave me a comment

answering this FUN question: "What colors would YOU choose for your birthday party decorations?"
Receive a BONUS chance when you "Like" the Love To Crop! Facebook Page!! -- CLICK HERE -- then leave me an extra comment for your bonus chance!)
If you leave your email address (please leave it in SAFE scrapbookingwithamy at gmail dot com form), I will be happy to contact you if you are the winner; otherwise, you will need to check back after
Wednesday, September 7th
to see if you are a winner. No captcha here, so commenting is quick and easy!! :)
I'll know she'll have something WONDERFUL to share!!
Here's a list of the entire hop, in case you get lost along the way or want to revisit anyone: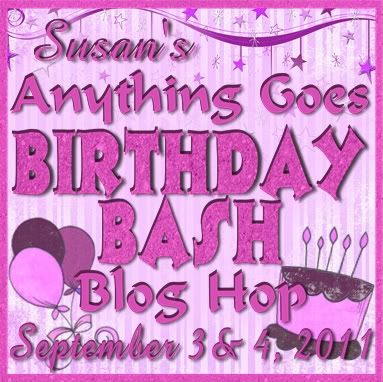 Did you miss Day ONE's hop??? Here's a list of all of those blogs for those of you who didn't have a chance to hop along yesterday!! :)
Until next time,