Happy Fabulous Friday, Friends!! :) I have a quick-and-easy layout to share with you today!! Over at
Lasting Memories Layout Challenges
, they have been having a DT call (submissions close today), so I've been so happy to be able to finish up a few layouts recently!!
Challenge #53
asked us... "Who or What Inspires You?"...
This is probably one of the toughest questions for me to answer, not because it's hard for me to think of something, but because there are SO MANY things... The sun shining, the breeze blowing, the birds singing... Yup, that inspires me!! :) Good music, good friends, good times... That's inspiring too!! :) The beauty in the world around us, the kind words spoken by a stranger, the songs heard on the radio... All of those things inspire me too!! :) I guess I could scrapbook for days on just the things that inspire me!! Of course, three things that inspire me most of all -- My faith, my family, and my friends... These things are the basis for all the happiness in my life!! Life doesn't have to be perfect or easy when you have faith, family, and friends... The hard times are easier to get through, the dark days have a little more light, and the path seems a little less stressful...
For those who have followed my blog for a bit, you know that I am very close to my family -- I look forward to spending as much time as I can with all of them!! And so I created my layout with two of my favorite pictures from one of our trips to the zoo a few years ago... My-Favorite-Nephew (I can call him that since I only have one) made his first solo trip to stay with Grandma and Grandpa for a whole week... Since he is the source of many humorous stories, we were all really looking forward to this week (and, YES, he gave us a whole BOOK of funny stories!!)...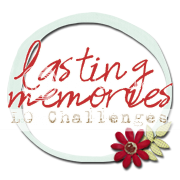 I hope you have enjoyed my layout today!! I invite you to pop on over to Lasting Memories -- where the challenges are all about layouts only, so you're sure to find plenty of wonderful inspiration for all of your scrapbooking!! :)
Oh yeah... About that title on my post... All morning I've had this George Thorogood version of "Who Do You Love" running through my head... Last year, one of our family events was a Pittsburgh Pirates game followed by a concert with George Thorogood and plenty of fabulous fireworks... Whenever I hear this song, I always think of my family -- Not because it's about family, but because the chorus fits... They ARE who I love, and I mean reeeeeaaaally loooooove... Got the song stuck in your head now? Well, here's the VIDEO in case ya want to sing along with me (I am inspired by music too, after all!!)...
Can't see the video above or prefer to watch it on YouTube?
CLICK HERE
... :)
I hope your Friday is as FANTASTIC as YOU are, my friend!! :) Until next time,