Welcome to Kathie's "Blessed at 60" Birthday & Blogaversary Blog Hop!!
I'm super-PUMPED to be a part of this fantastic hop with my dear friend, Kathie!! I'd like to start by saying HAPPY BIRTHDAY, KATHIE!! And then I'd like to send up a PRAISE (or 60) for blessing my dear friend with so many "extra" birthdays since she kicked CANCER in the DUPA!! :) This is a TWO-DAY hop -- Today, we are all featuring some FUN Birthday cards and projects for Kathie and tomorrow (which I sure hope you'll hop back over to see) we'll be raising some awareness for different types of cancer that are near and dear to each of us...
If you hopped here from
Jessie's blog
, then you are in the RIGHT place!! :) If you've just popped in to visit my blog or are reading this via email and you'd like to join our CELEBRATION, then please
CLICK HERE
to start at the beginning with
Kathie's blog
because I really want you to be a part of this AWESOME celebration!! :)
For Kathie, I've made something super fun to remind her of how much I TREASURE our beautiful friendship... Kathie lives only about an hour from my brother, his wife, and my very-most-favorite nephew... One of these days, I hope we get to plan an AWESOME week-long crop with LOTS of celebrating. :) She is always ready with a FUN comment, an ENCOURAGING word, and a SUPPORTIVE ear... She has an amazing FAT CAT that is a testament to what a loving, caring, and kind person she is -- If you haven't experienced Kathie yet, I really must insist that you give her a visit... You simply will not be disappointed!! :)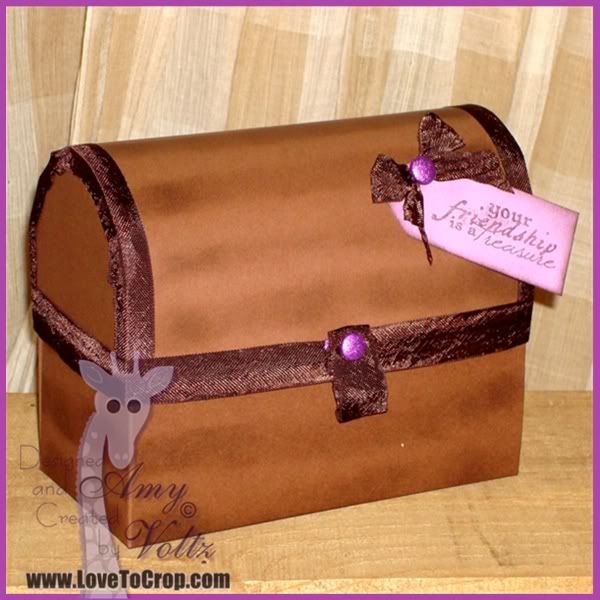 Okay, Kathie -- Here it is!! A treasure chest for you to keep some precious memories... This chest measures about 5.5" wide, 2.5" deep, and 5" high... I designed it up quick, right in my head when I saw the sentiment... cuz Kathie really IS a treasure of a friend...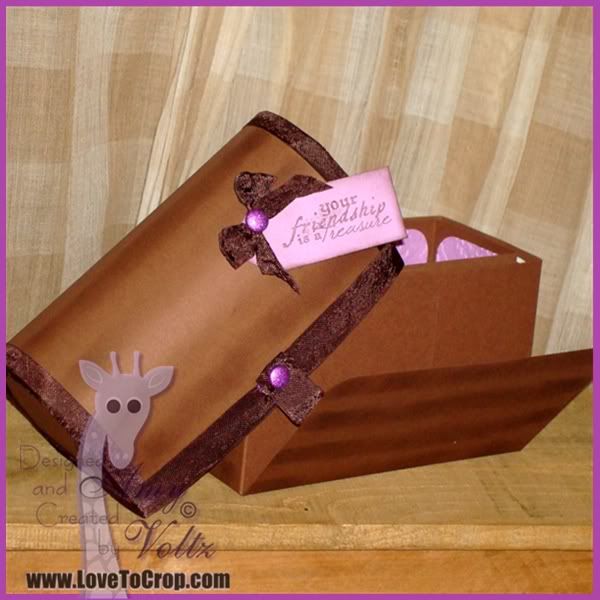 Did you GUESS that it would transform into...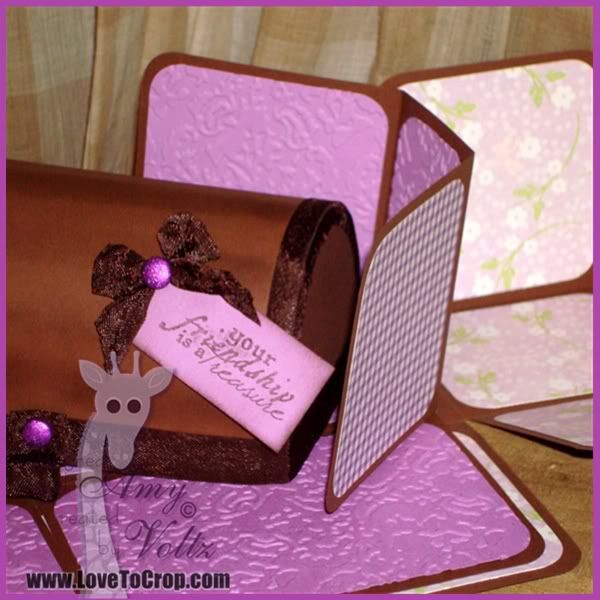 An explosion box filled with one of your favorite colors??? :) Hee-hee!! What FUN!! :)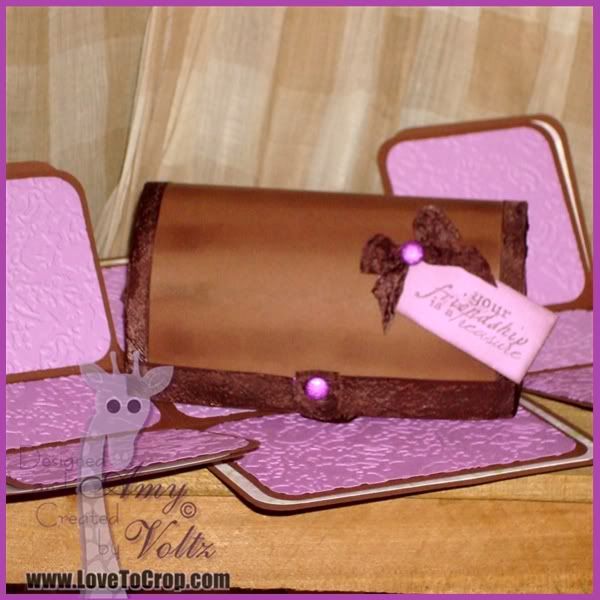 Do you think you'll be able to find a few pictures to fill this up, my wild and wonderful friend??? ;) Don't ya just love that FABULOUS ribbon detail on the treasure chest? That's done with some "hot chocolate"
3 Girl JAM
crinkle ribbon -- it's delightful ribbon (at AMAZING prices), so be sure to check it out if ya haven't yet!! :)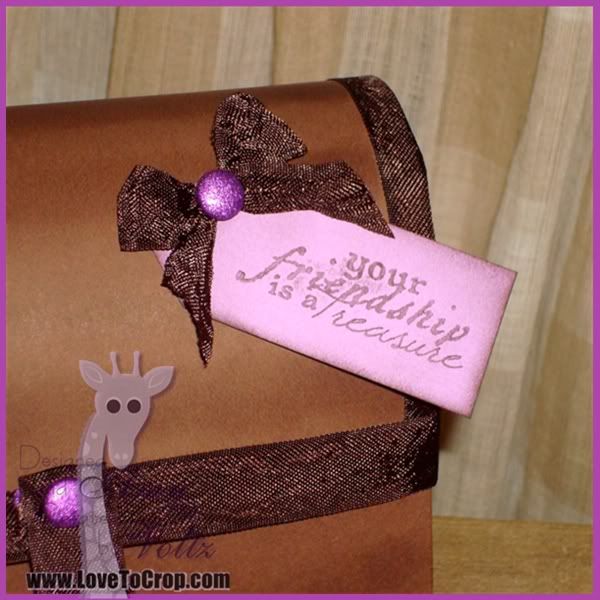 That AWESOME (and oh-so-perfect) sentiment is from the "
Pirate Tales and Fish Scales
" Stamp Art Set by
K Andrew Designs
- Well, shiver me timbers, isn't that just the BEST??? In case ya weren't aware, there's a fantastic Getting Cricky Design Team Hop taking place right now (
CLICK HERE
) -- There's even a FANTASTIC coupon code (or two) for some really great deals!!
I'd like to thank Kathie for including me in the Birthday Blessings part of her hop -- I sure hope that she has a SUPER-DE-DUPER day!! :) I'd also like to thank all of my FABULOUS friends and followers who take the time to hop through and help make this such a WONDERFUL hop!! Please remember to stop back by tomorrow for more GREAT projects and more CELEBRATION of LIFE!! :)
Now.... Before you leave... What's a hop without some
GOODIES
???
I have a little blog candy for you!! I will be sending a pack of 6x6 paper and a stamp set to one fabulous
winner
!! :)
To be eligible for my blog candy:
Please

become a follower of my blog and leave me a comment

answering this FUN question: "What's your Birthday Wish?"

!!

Receive a

BONUS

chance when you subscribe via email (enter your email address in the box at the top of this page -- please leave an extra comment once you have CONFIRMED your subscription).
You will also receive a

BONUS

chance should you decide to follow Love To Crop! via Networked Blogs OR "Like" the Love To Crop! facebook page (again, please leave an extra comment for each extra thing you do)...
If you leave your email address (please leave it in SAFE scrapbookingwithamy at gmail dot com form), I will be happy to contact you if you are the winner; otherwise, you will need to check back to see if you are a winner. No captcha here, so commenting is quick and easy!! :)
I'm the LAST STOP on this hop, so if you've missed any of it, please allow me to direct you back to my wonderful creative friend...
Kathie!! :)
And one last thing... Please remember that Kathie has an INCREDIBLE giveaway on her blog to WIN a BRAND NEW Gyspy!! You'll want to check out all of the details and enter to WIN (while helping out a really wonderful cause!!)...
Thank you again for checking out my project... Here's a list of the entire hop, in case you get lost along the way or want to revisit anyone (please note that I will update the following links to take you directly to each participants post if you are joining the hop later in the week!!)
Until next time,