Welcome to DAY TWO of Kathie's "Blessed at 60" Birthday & Blogaversary Blog Hop!!
What a wonderful treat to be back for DAY TWO of this fantastic hop with my friend, Kathie!! Yesterday, we said HAPPY BIRTHDAY to Kathie... Today, we are CELEBRATING that my dear friend has been BLESSED with so many "extra" birthdays since she kicked CANCER in the DUPA!! Each of us have selected a cancer that we are interested in bringing more awareness about -- Even though this is Breast Cancer Awareness Month (so do your self-exams, schedule your mammogram, and encourage a friend to do the same!!), it's important to be aware of signs and symptoms for other forms of cancer as well because EARLY DETECTION is ALWAYS our best defense... If you missed DAY ONE of this super-special hop, I hope you'll visit all the projects from yesterday too (I've included the links for all of yesterday's projects all the way at the bottom of this post just in case you'd like to catch up!!)...
If you hopped here from
Jessie's blog
, then you are in the RIGHT place!! :) If you've just popped in to visit my blog or are reading this via email and you'd like to join our CELEBRATION, then please
CLICK HERE
to start at the beginning with
Kathie's blog
because I really want you to be a part of this AWESOME celebration!! :)
I created a project to bring awareness to Ovarian Cancer... Each year, almost 22,000 women are diagnosed with this silent killer... Since there isn't a standard test to diagnose Ovarian Cancer, it's important to know the 4 main signs and symptoms: 1) Bloating. 2) Pelvic or abdominal pain. 3) Difficulty eating or feeling full quickly. 4) Urinary frequency or urgency. If you or someone you know has experienced these symptoms for at least two weeks, please be persistent when speaking with your PCP or make an appointment directly with a gynecologic oncologist. For more information on Ovarian Cancer, and for answers to frequently asked questions, please visit the
Ovarian Cancer National Alliance
...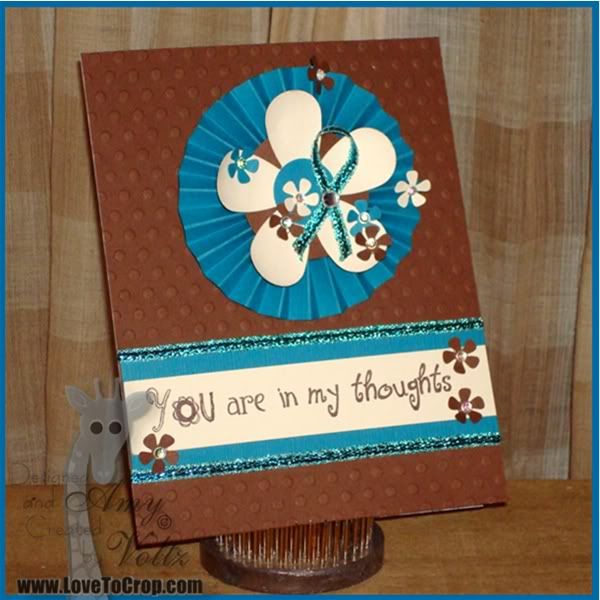 For my project I created a card that I can send to a newly diagnosed ovarian cancer patient... If you or someone you love has been diagnosed with ANY form of cancer, then you know that one of the hardest things about this disease is the fear of what the future may hold... Knowing that you are cared for and thought of can make the difference in being able to stay positive.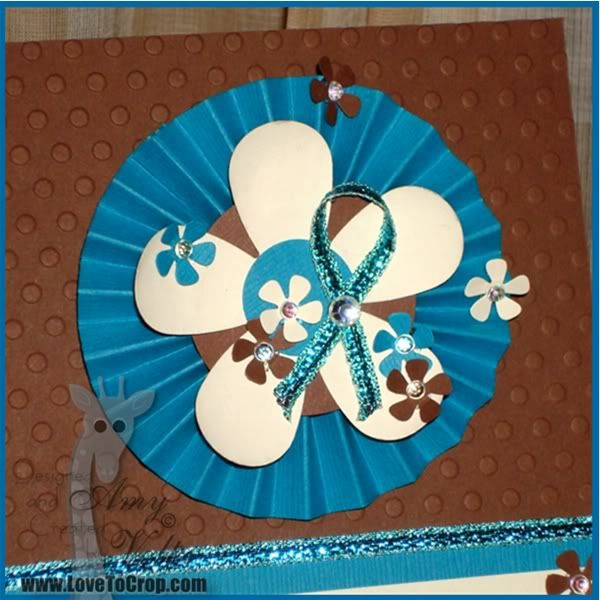 The rosette on the card is actually a pin so that it can be removed and worn in support of Ovarian Cancer Awareness...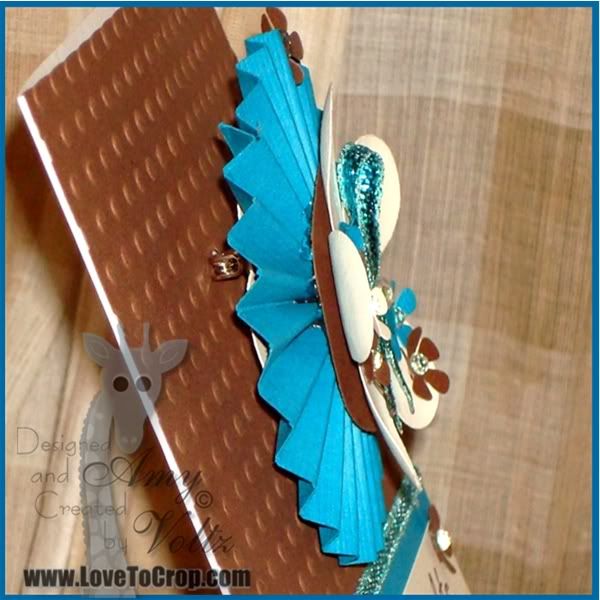 The pin is very dimensional and is simply pinned to the front of the card...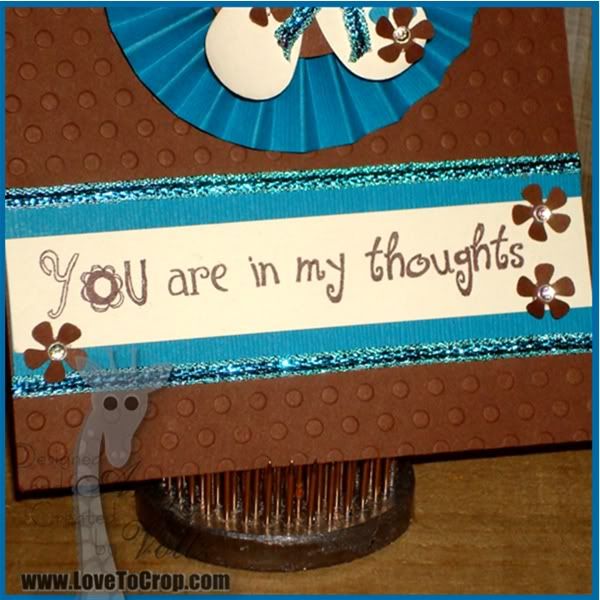 That mix-n-match sentiment is from the "
Owly Hoo Sentiments
" Stamp Art Set by
K Andrew Designs
- I love that there are so many neat phrases that can be used even without an owl on your project!! :)
...(By the way, the Getting Cricky "Thankful" Blog Hop is still going on, so
CLICK HERE
for a coupon code on all of Kristal's stamps!!
I'd like to thank Kathie for including me in the Cancer Awareness part of her hop... I'd also like to thank all of my FABULOUS friends and followers who take the time to hop through and help make this such a WONDERFUL hop!! :)
Now.... Before you leave... What's a hop without some
GOODIES
???
I have a little blog candy for you!! I will be sending a pack of 6x6 paper and a stamp set to one fabulous
winner
!! :)
To be eligible for my blog candy:
Please

become a follower of my blog and leave me a comment

answering this question: "Is there a cancer survivor or fighter in your life that you would like to recognize?"

I'll create a card similar to this one (with an awareness pin) for someone mentioned on this post (separate from the blog candy)...

Receive a

BONUS

chance when you subscribe via email (enter your email address in the box at the top of this page -- please leave an extra comment once you have CONFIRMED your subscription).
You will also receive a

BONUS

chance should you decide to follow Love To Crop! via Networked Blogs OR "Like" the Love To Crop! facebook page (again, please leave an extra comment for each extra thing you do)...
If you leave your email address (please leave it in SAFE scrapbookingwithamy at gmail dot com form), I will be happy to contact you if you are the winner; otherwise, you will need to check back to see if you are a winner. No captcha here, so commenting is quick and easy!! :)
I'm the LAST STOP on this hop, so if you've missed any of it, please allow me to direct you back to my wonderful creative friend...
Kathie!! :)
And one last thing... Please remember that Kathie has an INCREDIBLE giveaway on her blog to WIN a BRAND NEW Gyspy!! You'll want to check out all of the details and enter to WIN (while helping out a really wonderful cause!!)...
Thank you again for checking out my project... Here's a list of the entire hop, in case you get lost along the way or want to revisit anyone (please note that I will update the following links to take you directly to each participants post if you are joining the hop later in the week!!)
DAY ONE (October 22nd) -- in case you missed any of the fabulous Birthday projects!!
Until next time,