Happy Monday, everyone!! Are you settling in to the fact that it's already October yet??? Where did summer go??? Today, I actually started my first fire of the season... Since staying bundled up in multiple blankets on the sofa while the thermostat read 51 degrees in my living room was NOT an option, I made the "furry" family happy and filled the fireplace with a warm, crackling fire... And that decides it... Fall is upon us.
With the changing leaves and crisp, cool nights comes something else... Football players sporting pink socks and armbands... Band members with pink feathers atop their hats... Office staff trading button down oxford shirts for pink polos and t-shirts... Kiddos with temporary pink ribbon tattoos on their cheeks and hands... Waiters with pink pens, stores with pink shopping bags, pink tractors, pink signs, pink pins and a sea of pink everywhere else ya look too... That's right -- It's October, and that means "Breast Cancer Awareness" month...
My friend
Lynne over at Her Craftiness
asked me to help her "Think Pink" and share her personal mission of Breast Cancer Awareness... I'm delighted to be one of her Guest Designers for such a worthy occasion. I created a set of cards (that I will be giving away to one person who comments both here and on
Lynne's blog
-- on the post with my card)...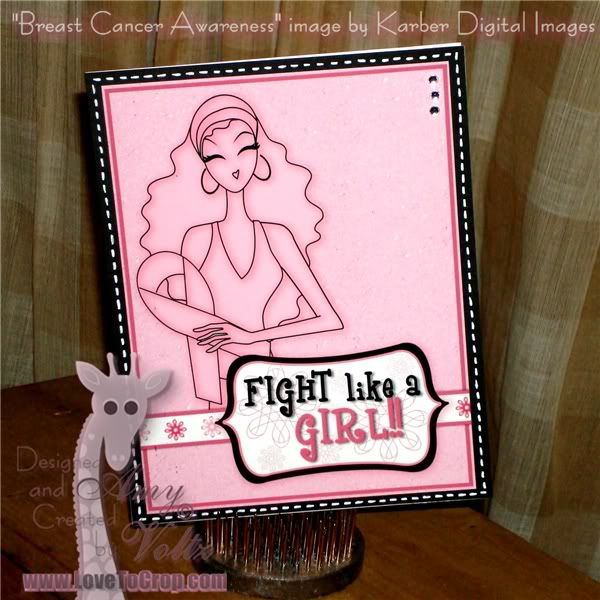 This card was something new for me -- It's a "hybrid" card. I designed the main part of the card with my
Creative Memories Storybook Creator Plus software (available HERE)
... I love my digital software for all kinds of things -- card-making, scrapbooking, projects, and so much more... If you're looking for an easy-to-use digital scrapbooking software program, I can't recommend any other product more. I've been so impressed with this software -- If you're ready to try some digital software, please feel free to download the
FREE trial version HERE
... And while you're there, be sure to check out all of the
amazing digital content available HERE
...
I picked up this fantastic
"Breast Cancer Awareness" digi stamp
from
Karber Digital Images
-- It's on sale right now for only $1.80!! Since I've used a Karber Image on my card, I can enter it in their
Weekly Challenge (Challenge #42 -- Anything goes using a Karber stamp!!)
...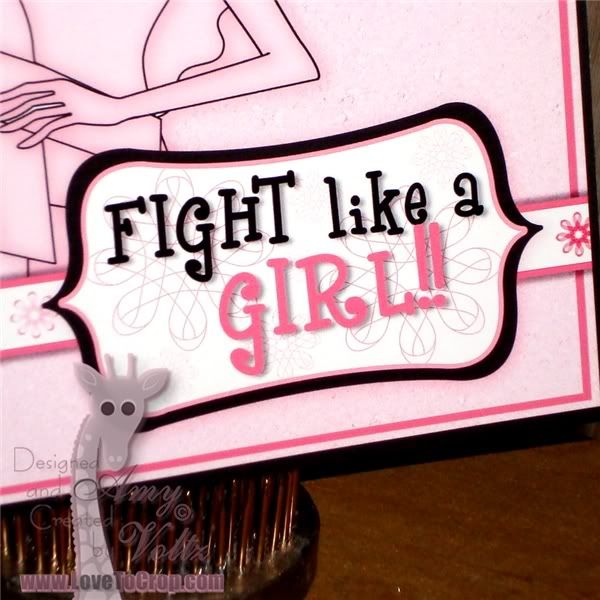 I used my software to create this great "FIGHT like a GIRL" tag... I can use this tag as an embellishment on my digital pages, print it out to use on cards, or even add it as a button on my blog!! Would you like to use this tag on a project of your own??? Or would you like to post it on your blog in support of Breast Cancer Awareness??? I have it as a FREEBIE for you today!! :) I do ask that when you create a project with it that you would please include a link back here so that others may also enjoy creating projects with this tag:
*** To download this tag with the best quality, click on the tag, then right click and "save image as"...
If you would like to post this "tag" as a button on your blog in honor of Breast Cancer Awareness, simply right click on the code in the box below, click on "select all", then right click and select "copy"... Go to the design tab on your blog, select "add gadget", select "add html/java" option, right click in pop up and select "paste", then save.
Copy and paste the following code:

I can't stress enough the importance of taking steps for early detection... Talk to your daughters, your sisters, your friends about doing self-exams... Schedule a mammogram for yourself, and invite a friend (or friends) to do the same... And if you know someone who has been diagnosed with this disease that does not discriminate, please... find ways to be an encourager, a supporter, and the hug that your someone needs... And most of all... Love them through it:
** If you cannot see the video above, or wish to view it on YouTube, please
CLICK HERE
... **
As I mentioned earlier, I created a set of FOUR of these cards that I am using as a GIVEAWAY when you leave a comment on my post here AND on the post with my card over at
Lynne's blog
!! So if you want to win these (4 cards with envelopes):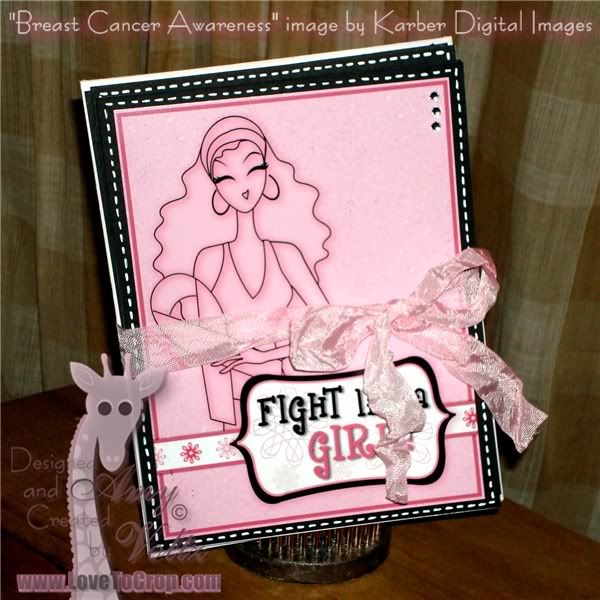 Please be sure to visit
Lynne
(and become a follower) too!! :)
And if you'd like to create a project for Breast Cancer Awareness, be sure to check out the "Link Up For Pink" party over at the lovely
Yolie's blog
(it's also taking place at
Celeste's blog
and
Gaby's blog
)... They have over $3000 worth of prizes and giveaways!! WOW!! Additionally, you can create a card (or cards) to be sent to the PA Breast Cancer Coalition -- your note of encouragement will be included in
"Friends Like Me" care packages
distributed to newly diagnosed cancer patients... Please be sure to pop over and check out the "Link Up For Pink" Party today!! :)
Until next time,