OH MY GOODNESS, this is such an EXCITING DAY!! If you would just close your eyes for a moment and imagine me bouncing up and down in my chair as I share this exciting news with you today.... TODAY, October 8th, is my Bloggie-Land-Bestie's Birthday!! Yep, that's right!! My good friend, Brenda, is celebrating her 40-something birthday today, and I'm SUPER excited to be able to celebrate with her!! :) And I'm sooooooo glad that you're here to join the PARTY too!! :)
*** H

A

P

P

Y

B

I

R

T

H

D

A

Y,

B

R

E

N

D

A

!

! ***
Now... Brenda has selected an AMAZING group of creative friends to create some super-fun projects for her birthday, so grab your coffee (and possibly a cupcake!!), and get ready to PAR-TAY with this SUPER crowd!! :) Brenda has lots of wishes for her Birthday, and one of those wishes is for one of YOU to win her Grand Prize Blog Hop Candy!! So be sure to visit each hop stop and leave some bloggie-love for each friend along the way... When you post a comment and become a follower at each stop, you'll be entered to win, win, WIN!! So let's get started!! :)
If you've hopped over from my creative sister-friend
Kari
, then you are in the right place!! If you've just popped in to visit my blog or are reading this via email and you'd like to join the FUN , then please
CLICK HERE
to start at the beginning with
Rhonda's blog
... Rhonda is starting the party off, and you'll end up at
Brenda's blog
!!!! :)
What you're seeing today is not my "complete" gift for Brenda because I still need a few more days to finish everything up... But I'll be revealing the "rest" of my gift for her in the next few days (so I hope you'll be sure to stop back by for the big reveal)... :) For now... Here's a peek at the card I made JUST for her!!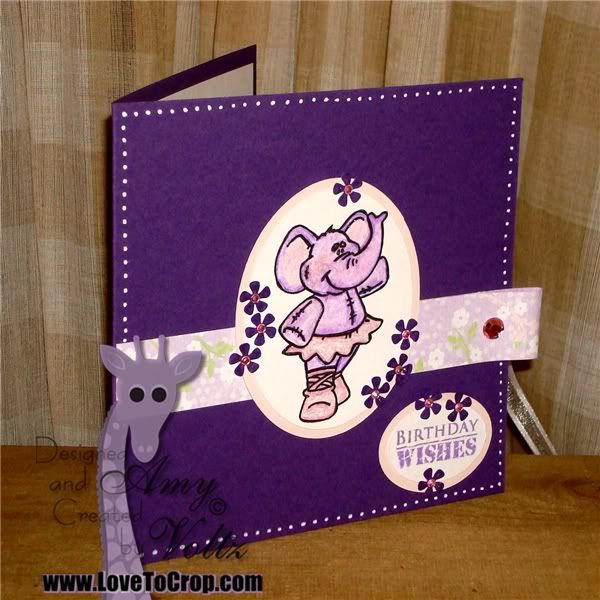 Ya see... Brenda LOVES purple, pink, and ELEPHANTS (so I think you're gonna see a lot of purple and pink elephant projects today!! hee hee)... I just LOVE this FUN dancing elephant from Dustin Pike, so I couldn't wait to use this on Brenda's card!! A ballerina elephant might be a little unconventional, but Brenda is a little unconventional too; because, quite honestly, Brenda can do just about ANYTHING!! She's one of my very most creative friends, and you'll often find me saying, "Now how did she think of that?!?!" when I'm checking out her blog!!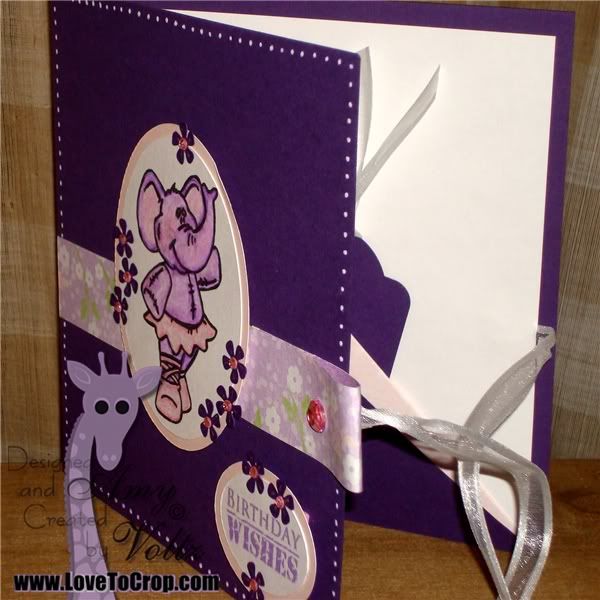 This card is actually a mini folder with pockets on the inside... It measures 6x6 and ties closed. The pockets on the inside are to hold all of Brenda's Birthday Wishes....
This card has a base attached so that Brenda can set this on a shelf with a great view of all of her Birthday Wishes!! :)
I added the "Birthday Wishes" sentiment by combining the mix-n-match sentiments from the"
Coffee and Tea
" and "
Winter Wishes
" Stamp Art Sets by
K Andrew Designs
... It's just CRAZY how many sentiments you can create with ALL the mix-n-match sentiments!! :)
I'd like to thank Brenda for including me in her Birthday Wishes hop -- I sure hope that she has a SUPER-DE-DUPER day!! :) I'd also like to thank all of my FABULOUS friends and followers who take the time to hop through and help make this such a WONDERFUL hop!! Now.... Before you leave... What's a hop without some
GOODIES
???
I have a little blog candy for you!! I will be sending a pack of 6x6 paper and embellishments to one fabulous
winner
!! :)
To be eligible for my blog candy:
Please

become a follower of my blog and leave me a comment

answering this FUN question: "What's your Birthday Wish?"

!!

Receive a

BONUS

chance when you subscribe via email (enter your email address in the box at the top of this page -- you do not need to leave a second comment, all newly confirmed email addresses will be added to this drawing).
You will also receive a

BONUS

chance should you decide to follow Love To Crop! via Networked Blogs OR "Like" the Love To Crop! facebook page (again, automatic entries by notification, no need to comment)...
If you leave your email address (please leave it in SAFE scrapbookingwithamy at gmail dot com form), I will be happy to contact you if you are the winner; otherwise, you will need to check back to see if you are a winner. No captcha here, so commenting is quick and easy!! :)
Now it's time to send you on your way to my wonderful creative friend...
Lisa!! :)
Thank you again for checking out my project... Here's a list of the entire hop, in case you get lost along the way or want to revisit anyone (please note that I will update the following links to take you directly to each participants post if you are joining the hop later in the week!!)
Until next time,