Welcome to the Cupcakes Blog Hop!!
We're so happy you could join us for this super-fun hop showcasing cards, layouts and projects with a "cupcake" theme!! You'll find an array of ideas throughout the hop -- From gift ideas to cards and more, we hope you'll enjoy each and every project along the way (you'll find the entire line-up below my post)!!
If you're ready for your SUGAR FIX, then grab your glass of milk (or coffee if you prefer), sit back, and join us for some YUMMY creations!! If you've hopped over from
Jen
, then you are in the right place!! If you've just popped in to visit my blog or are reading this via email and you'd like to join our Cupcake-Themed FUN, then please
CLICK HERE
to start at the beginning with
Berenice's blog
because... The START of the FUN will always begin at the beginning!! :)
For the hop today, I made a scrumptiously yummy layout.....
Okay, I totally love this layout... I originally made it for a "cupcake challenge" -- but I really wanted to share it with you here today!! Can't ya just imagine how CUTE a couple pictures of The-Girl-Child will be for this layout???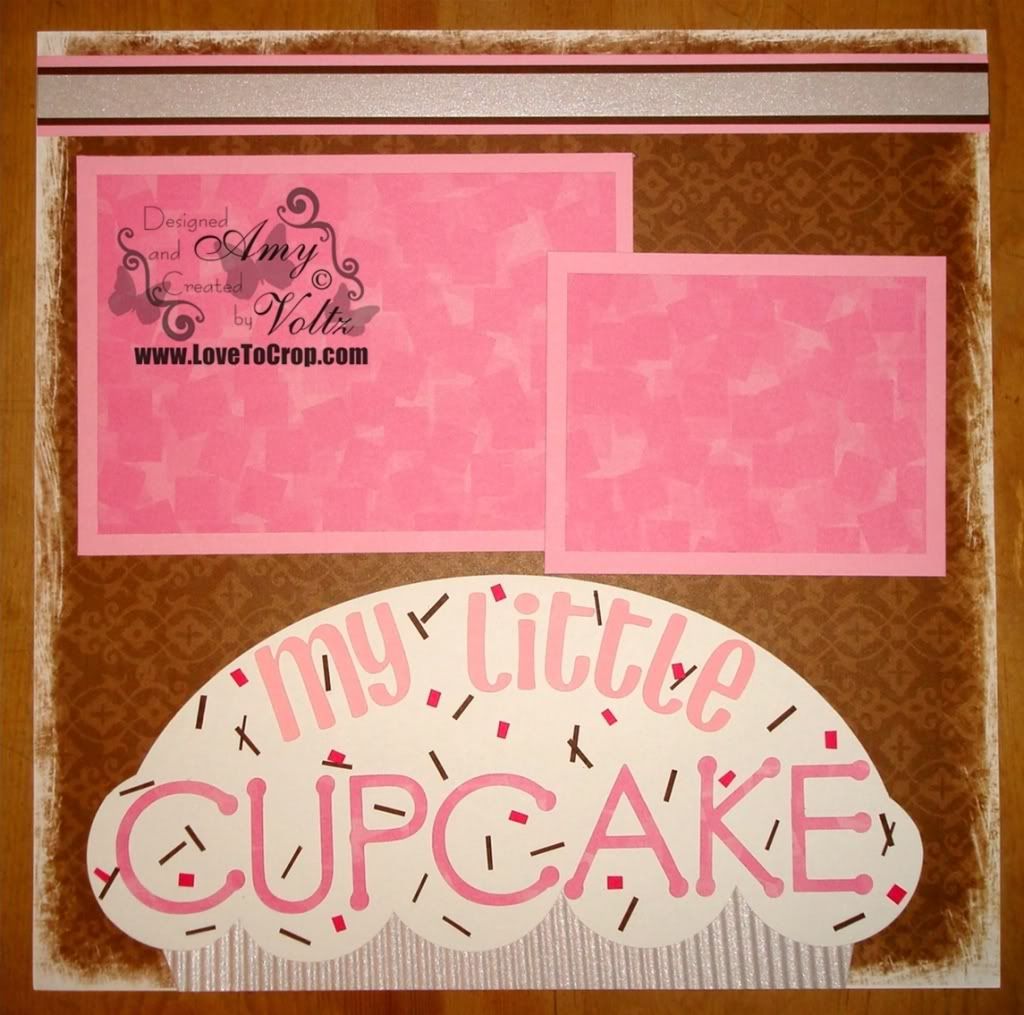 I cut the "my little" with the base font on the Don Juan Cricut Cartridge from CM's Pink Lemonade cardstock. The "cupcake" was cut on some leftover decorative CM paper that I thought looked like confetti (see the photo mats?) from the Car Decals Cricut Cartridge... What a wonderful font that is hidden on the Car Decals cartridge!! It reminds me of the 'Lollipop' font from my old Sizzix dies (yup, still hoarding all of those!)...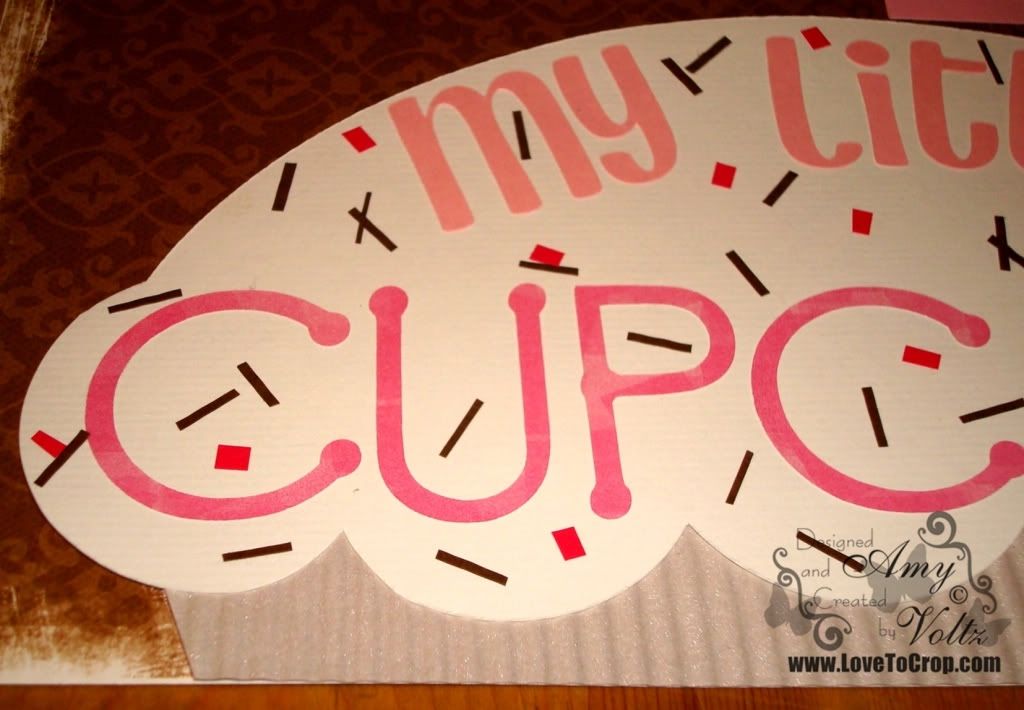 My cupcake 'liner' was made from a piece of shimmery lightweight chipboard that I had leftover in my scraps. I ran it through my Fiskars paper crimper to make it look like a real liner -- I love how it turned out!!
All of my little sprinkles were created by running a small square of brown cardstock and a small square of raspberry cardstock through my Xyron X and then trimming them into strips and tiny squares... I figured this would be faster than trying to cut sprinkles on my Cricut and then trying to figure out how to stick 'em all down!! :)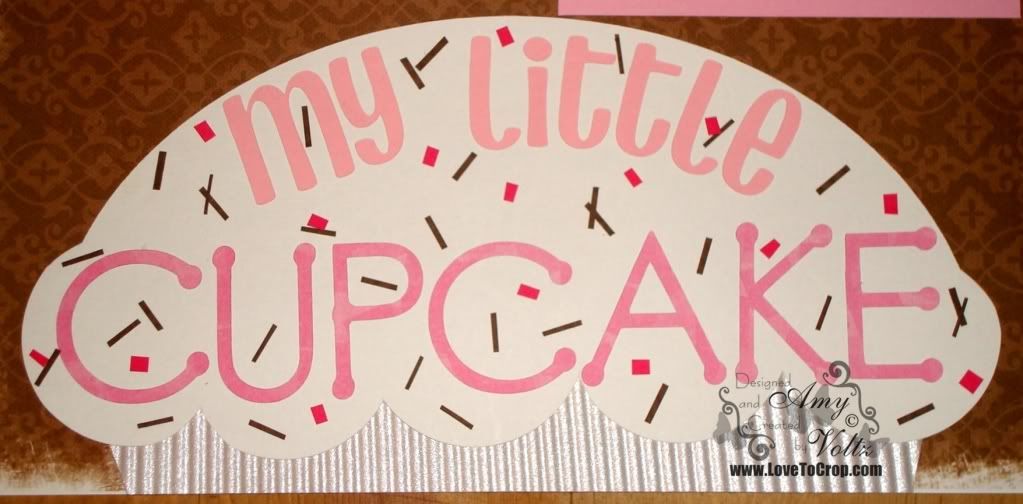 The cupcake top -- well, I thought about cutting just a layer like that on my Cricut, but I like to find ways that even those without a Cricut or die cutting machine might be able to do a similar layout... So I went 'old school' and used my
Creative Memories Custom Cutting System circles and jumbo oval
to get the look I wanted (I didn't cut all the way around any of the shapes, but rather used them as a guide to cut only where I needed to cut to get the desired shape). Long before I had my wonderful Cricut, this is how I would cut unique shapes for my scrapbook -- It was fun to do that again. :)
The background paper I used is from the
Creative Memories Simply Beautiful Tone-on-tone Paper Pack
.
I'd like to thank Berenice for including me in her Extra-Yummy Cupcakes Blog Hop -- I'd also like to thank all of my wonderful friends and followers who take the time to hop through and help make this such a FABULOUS hop!! Now.... Before I send you off to your next stop on the hop... What's a hop without some
GOODIES
???
I have a little blog candy for you!! I will be sending a pack of 6x6 paper and embellishments to one fabulous
winner
!! :)
To be eligible for my blog candy:
Please

become a follower of my blog and leave me a comment

answering this FUN question: "What is your favorite sweet treat (mine is Twizzlers!!)?"!!
If you leave your email address (please leave it in SAFE scrapbookingwithamy at gmail dot com form), I will be happy to contact you if you are the winner; otherwise, you will need to check back after Wednesday, October 26th to see if you are a winner. No captcha here, so commenting is quick and easy!! :)
Thank you again for checking out my project... Now hop on over to
Jamie
for another delicious project!!
Here's a list of the entire hop, in case you get lost along the way or want to revisit anyone (please note that I will update the following links to take you directly to each participants post if you are joining the hop later in the week!!)
Until next time,