Welcome, welcome, welcome!! It's another WONDERFUL Wednesday!! :) Thank you so much for stopping by to visit me today!! It's one of my favorite CHALLENGE DAYS.... So let's get to it!! :)
It's the start of Challenge #11 at the
Decorate To Celebrate!! Challenge Blog
!! The theme for this challenge is HALLOWEEN!! That means you can submit ANY decoration or party supply for a HALLOWEEN themed party (no cards or layouts, just decorations and supplies, please)!! :) The fabulous designers this week have some GREAT inspiration for you -- And I can't WAIT to see what YOU create too!! :)
Here's what I made to inspire ya....
Fall-O-Ween
" Stamp Art Set by
K Andrew Designs
-- If you're ready to try some of these stamps out yourself, be sure to stop back by on Friday evening for the Getting Cricky Blog Hop -- I'll have COUPON codes for you to SAVE on your order this weekend!! :) I added a bow and wrapped the skewer sticks with some yellow
3 Girl JAM
crinkle ribbon -- I love how the ribbon really dresses up the rosette sticks!! :)
3 Girl JAM
crinkle ribbon, two of my handmade stick-pins, and a few of my handmade flower embellishments...
3 Girl JAM
crinkle ribbon before topping it with the rosette...
Decorate To Celebrate!! Challenge Blog
...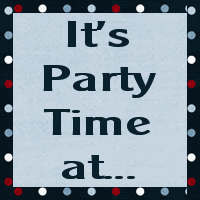 The winner(s) of the challenge are invited to be future Guest Designers AND are entered to win the Grand Prize for October!! For more inspiration, be sure to visit the other designers' blogs:
Thanks so much for stopping by!! I can't wait to see what YOU create for the challenge!!
Until next time,