Welcome to DAY ONE of the GREAT PUMPKIN Blog Hop!!
Hello, and WELCOME to the The GREAT PUMPKIN Blog Hop!! I am SO excited that you could join me and a few of my friends for this WONDERFUL two-day hop!! Please be sure to visit BOTH days for maximum ideas, maximum FUN, and maximum chances to WIN!! I have some SUPER prizes for a few hoppers, so be sure to check out all of those details below...
If you have arrived here ready for some 100% PUMPKIN FUN, then you have arrived at the perfect spot in the pumpkin patch (because this is the beginning)!! If you are just popping in to visit from your dashboard or via email, I invite you to visit each one of my special friends -- with all the pumpkins they're planting in the patch, you'll want to be sure to see them all!!
For today's project I have created a 12x12 PUMPKIN PATCH Layout!! This was a lot of fun to create as it is quite a bit of paper piecing -- Nothing like taking a few punches and cutting tools and creating something so perfect for a trip to the pumpkin patch!! :)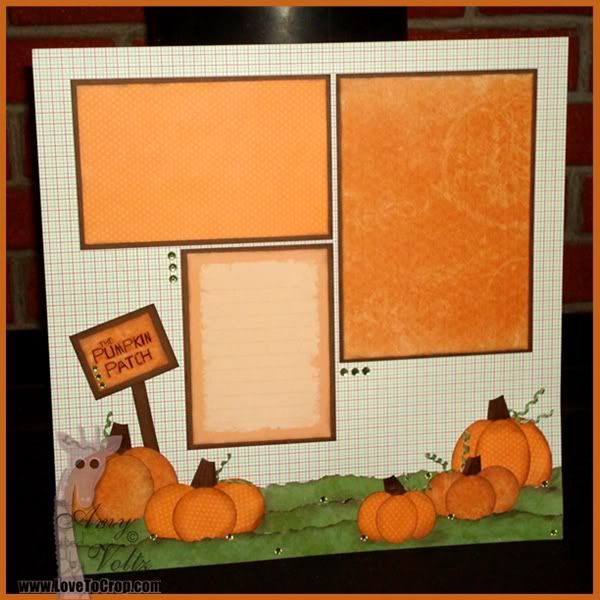 Each pumpkin was created by layering three of the same size circles or ovals (inked with chocolate), adding a scrap of brown, and twisting a thin strip of green...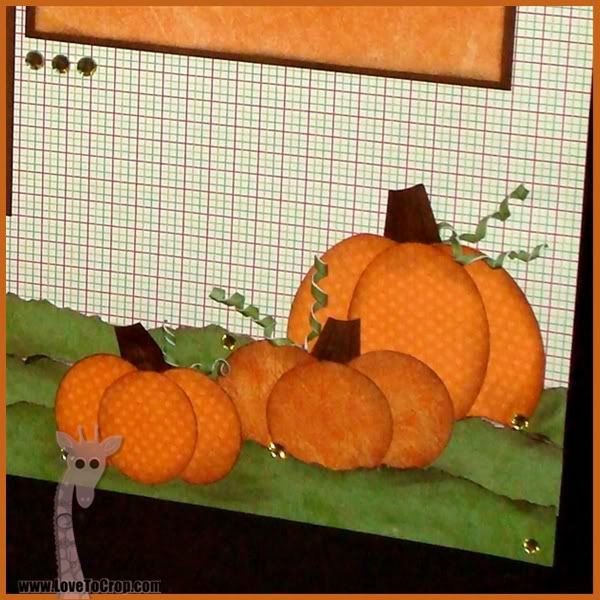 All of the paper (and the "Pumpkin Patch" sticker) is from Creative Memories (Reminisce and Cheerful Power Palettes plus scraps). The bling is from Kaiser.
I hope you have enjoyed my project today and are ready to see what else is in store for your GREAT PUMPKIN adventure!! Before you hop off to the next stop, I have some NEWS about BLOG CANDY for you!!
One LUCKY Great Pumpkin Blog Hop attendee from today and one attendee from tomorrow will be chosen to win a prize pack full of FUN Pumpkin (and Fall) themed goodies (paper, ribbon, embellishments, and stamps)!! To be eligible, please be sure to visit EACH stop in the Pumpkin Patch (links to each stop can be found at the bottom of this post) and leave a comment... I'd love for you to choose to follow each participant too, but it's most important that you leave a great pumpkin comment so we know you stopped by!! :) Several stops along the way may also have some EXTRA special goodies to pass out, so be sure to keep an eye open for that!!
ALSO -- ONE Great Pumpkin Blog Hop attendee who chooses to comment on BOTH DAYS of this 100% Pumpkin FUN Hop will WIN an AWESOME, FANTASTIC, FANTABULOUS, SUPER, EXCITING GRAND PRIZE!! I hope you'll choose to stop back by tomorrow, as that's when I'll reveal the GRAND PRIZE... So get hopping, and be sure to visit and comment at each stop of the hop!!
Below you'll find the ENTIRE list of participants (clicking on each link will take you DIRECTLY to each Great Pumpkin post -- So you may find it easiest to follow along from here)... Your NEXT Hop Stop in the Pumpkin Patch, please hop on over to
Melissa's blog
!! See you back here tomorrow!! :)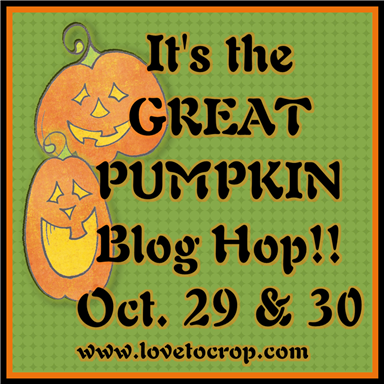 Until next time,