Welcome to DAY TWO of the GREAT PUMPKIN Blog Hop!!
Hello, hello and WELCOME BACK to the FABULOUS second day of The GREAT PUMPKIN Blog Hop!! I am SO excited that you decided to come join us again!! If you somehow missed DAY ONE of the hop, please be sure to
CLICK HERE
for direct links to all of yesterday's AWESOME projects for maximum ideas, maximum FUN, and maximum chances to WIN!! I have some SUPER prizes for a few hoppers, so be sure to check out all of those details below...
If you have arrived here ready for some 100% PUMPKIN FUN, then you have arrived at the perfect spot in the pumpkin patch (because this is the beginning of the stops for DAY TWO)!! If you are just popping in to visit from your dashboard or via email, I invite you to visit each one of my special friends -- with all the pumpkins they're planting in the patch, you'll want to be sure to see them all!! I've posted the entire line-up below my post so you can follow along quickly and easily!! :)
For today's project I have created a Pumpkin Luminary to light the night!! This quick and easy project is a great way to upcycle those glass jars and use up extra strips of ribbon, fabric, or even paper strips!! :)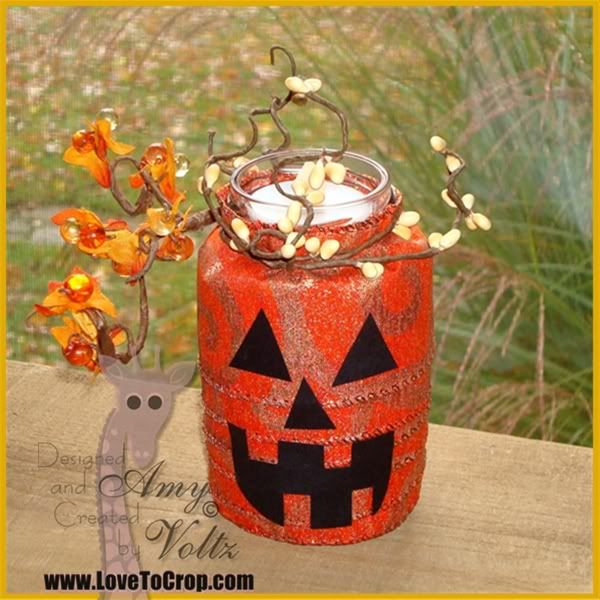 I started with a smaller jar (used to have some delicious maraschino cherries in it!!) and wrapped some 2" wired ribbon around the jar. At the base of the jar, I pulled the wire from one side of the ribbon tightly so it would tuck under the jar. I hot glued a circle of felt to the bottom to hide the end of the ribbon. I also pulled the wire at the other end of the ribbon tightly to cinch it around the top of the jar... Some fancy tucking and gluing made the ends unnoticeable for this project. ;)
I wrapped some decorative pip berries (bittersweet) around the top of the jar, added a jack-o-lantern face and battery-operated votive light (atop some glass rocks), and voila!! -- This luminary is ready to shine from any window or on any table or shelf!! :)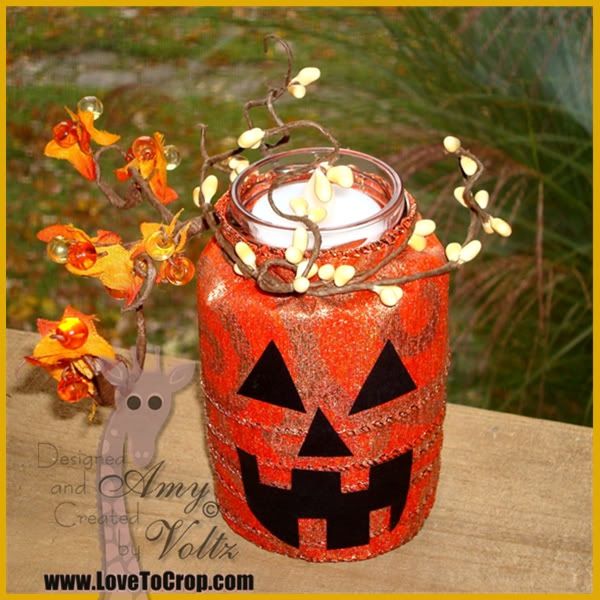 I hope you have enjoyed my project today and are ready to see what else is in store for your GREAT PUMPKIN adventure!! Before you hop off to the next stop, I have some NEWS about BLOG CANDY for you!!
One LUCKY Great Pumpkin Blog Hop attendee from today and one attendee from yesterday will be chosen to win a prize pack full of FUN Pumpkin (and Fall) themed goodies (paper, ribbon, embellishments, and stamps)!! To be eligible, please be sure to visit EACH stop in the Pumpkin Patch (links to each stop can be found at the bottom of this post) and leave a comment... I'd love for you to choose to follow each participant too, but it's most important that you leave a great pumpkin comment so we know you stopped by!! :) Several stops along the way may also have some EXTRA special goodies to pass out, so be sure to keep an eye open for that!!
ALSO --
ONE Great Pumpkin Blog Hop attendee who chooses to comment on BOTH DAYS of this 100% Pumpkin FUN Hop will WIN an AWESOME, FANTASTIC, FANTABULOUS, SUPER, EXCITING GRAND PRIZE!!
Ready to hear what it is??? YOUR CHOICE of any Cricut Cartridge available
HERE
, including the BRAND NEW Christmas cartridge that will be available for sale on Tuesday (not pictured
HERE
until Tuesday) OR a $50 Gift Certificate!! Now get hopping, and be sure to visit and comment at each stop of the hop -- You have until midnight on
November 7th
to get your comments in for the drawing!! :) Want some extra chances??? Share a note about this giveaway WITH a link to
www.lovetocrop.com
on your facebook page, twitter (be sure to mention @LoveToCropAmy so I get to see it!!), or blog page -- Simply leave an extra comment for each "extra" you choose to do!! :)
Below you'll find the ENTIRE list of participants (clicking on each link will take you DIRECTLY to each Great Pumpkin post -- So you may find it easiest to follow along from here)... Your NEXT Hop Stop in the Pumpkin Patch, please hop on over to
Melissa's blog
!! Thanks so much for joining us!! :)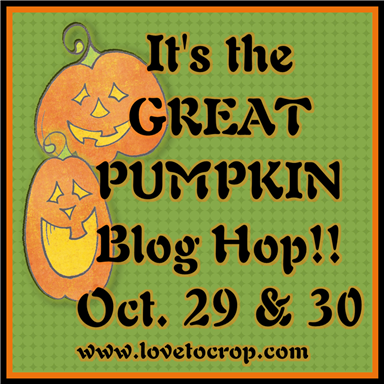 Until next time,