Woot-woot!! It's finally Friday!! With the weekend upon us, it's TIME for a CHALLENGE!! Did you get to see all the AMAZING challenge entries for "Let's Scrap It!"?!?! All I can say is... WOWZERS -- y'all know how to use your scraps!! :) Thanks so much to ALL who joined!!
Before we get to this week's challenge details, I need to announce TWO winners!! The winner of the "Let's Scrap It!" Challenge is:
Sarah
!! Sarah has a blog called "
Sarah's Crafts and Stuff
" -- I'd love for you to pop over and visit her... Here is her card!!
Isn't that Frankenstein just adorable??? Sarah, please email me (scrapbookingwithamy at gmail dot com) with your address so I can send your little goodie out!! :)
I also promised to send a little something to one person who popped over to my Guest Designers' blogs to leave a comment... Visiting all three blogs really paid off for
Jessica
, as she had three chances to win (and WIN she did)!! Jessica has a blog called "
Jessica's Craft Shaque
"... Please hop on over there to congratulate her!! And thank you, Jessica, for helping my guest designers feel welcome (please email me to claim your prize)!! :)
Now... Be honest... When you read the post title, who else thought of THIS fantastic song???
If you cannot see the video above (or you prefer to watch in on YouTube), please
CLICK HERE
and ENJOY!! :)
Now that you've enjoyed Ms. Fitzgerald's INCREDIBLE voice, let's get to this week's challenge!! For this challenge, please create a card, layout, or 3D project with EMBOSSING!! This can be heat embossing or dry embossing -- If you don't have any heat embossing supplies or a Cuttlebug/Sizzix machine, why not try adding some texture with a scoring tool or even a texture rubbing (remember the ones you might have done in elementary school???)...
This week, I have a very wonderful and very talented friend to help provide some inspiration for the challenge!! Remember to pop on over to my Guest Designer's Blog for more details on her project -- Be sure to mention that you're stopping over from Love To Crop! so that I can pick another lucky winner for a little something-something!! :)
Check out this inspiration...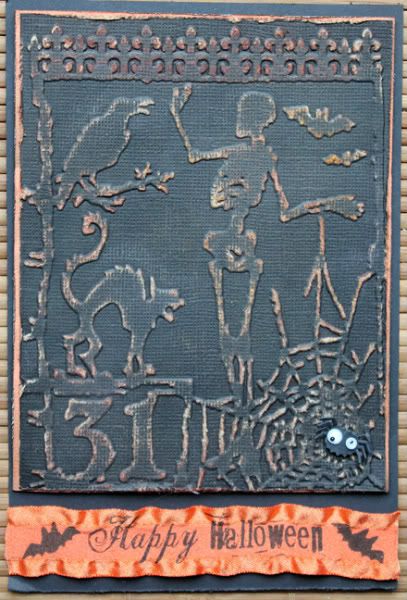 Isn't that FANTASTIC??? :) Lisa is so creative and is such a fabulous inspiration to others... If you haven't popped over to follow her yet, you'll definitely want to today!! :)
Lisa and I must both have had "skeletons" on the brain, cuz check out MY card for inspiration....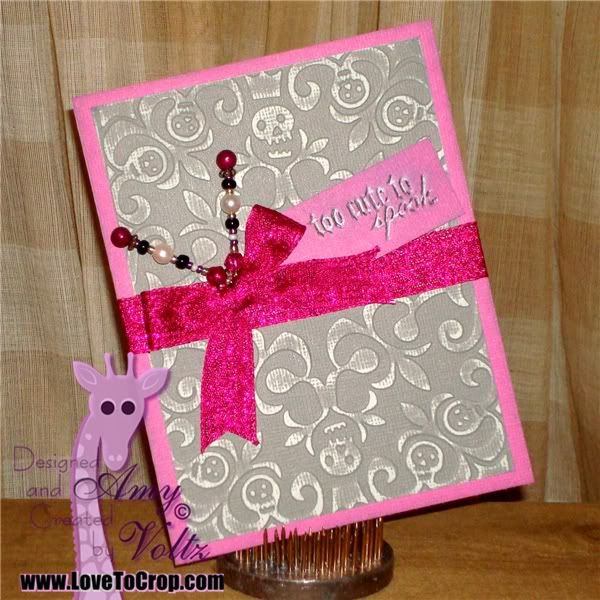 Those "Skeleton Scrolls" are CREEPY!! I had to add some PINK to take the SCARE out of them!! LOL... The embossing folder is from Cuttlebug ("Skeleton Scrolls"), and the paper is Color Coordinations white Color Core Cardstock (say THAT a few times FAST!!)... To get this effect, you simply "sand" the embossed image so that the white shows through -- I really love this effect!! :)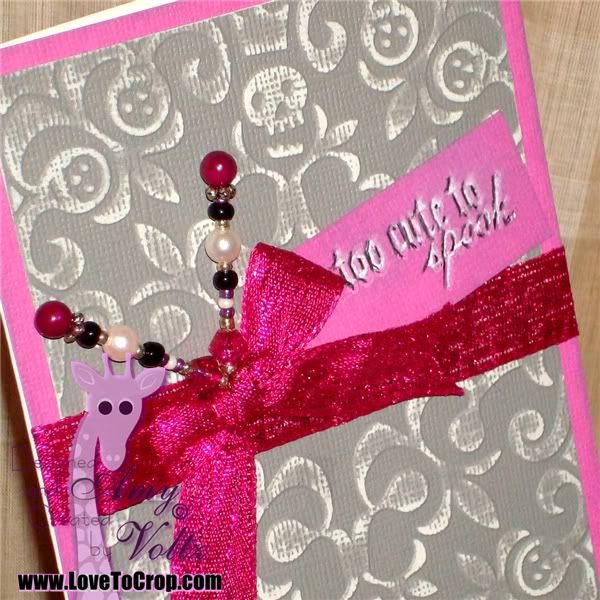 I added some sparkly pink ribbon and two handmade stickpins... Which definitely made this card "too cute to spook", don't ya think??? To stamp the tag, I used a sentiment from the "
Fall-O-Ween
" Stamp Art Set by
K Andrew Designs
and first stamped it with white Staz-On ink... Since these stamps are super clear, I could easily re-stamp the sentiment with Stampin Up!'s Bordering Blue ink which gave it that neat "ghost" look. For a little dimension, I added some "low-lights" with my black fine-tip marker...
Okay!! It's YOUR turn!! Show us your take on the challenge and create a card, layout, or 3D project using EMBOSSING!!
The challenge is open until Thursday, October 20th at 11:59pm EST.
You are welcome to link up as many NEW creations as you like as long as you follow the theme AND include a link to www.lovetocrop.com so that others may play along...
I also respectfully request that you do not "backlink" when entering the challenge (linking a project that was posted previous to the challenge date). Thank you!!
You will need to enter your actual post link (not a link to your entire blog). To do this, after clicking "Publish" on your post, click on "View Post" and copy and paste the address from your browser address bar into the Linky tool. If you have questions on how to do this, please feel free to leave a comment with your email address, and I'll be happy to help.
Now be sure to pop on over and visit my WONDERFUL Guest Designer
LISA
for a chance at a little goodie from me!! One random comment will be chosen (so be sure YOURS says, "I'm visiting from Love To Crop!")... :)
........