Is it FRIDAY already??? Yes, yes, I know... It's already SATURDAY!! I had a day-and-a-half without power or internet... It was like livin' in the olden days... The days of Little House on the Prairie!! Okay, not really -- I didn't have to ride a horse and buggy into town for milk and eggs and a fully-charged-battery-operated DVD player definitely made the dark evening a bit more enjoyable... I'm happy to admit though that I'm very, very happy to be plugged back in. :)
So!! With the weekend upon us, it's TIME for a new CHALLENGE here at Love To Crop!! Did you get to see all the FANTASTIC challenge entries for "Embossable you"?!?! YEE-HAW -- That challenge was LOTS of fun!! :) Thanks so much to ALL who joined!!
Before we get to this week's challenge details, I need to announce THREE winners!! The winner of the "Embossable You" Challenge is:
Sew Sweet N Crafty
!! I'd love for you to pop over and visit her... Here is her card!!
I've been loving the owl cards popping up all over bloggie-land, and isn't this one just fantastic??? Sew Sweet N Crafty, please email me (scrapbookingwithamy at gmail dot com) with your address so I can send your little goodie out!! :)
My second winner to announce isn't the random winner, but rather someone who created FOURTEEN projects for the challenge!! I was certain that one of her projects would come up as the winner, so I sure was surprised when that didn't happen -- Regardless, I think it's pretty impressive that she created so many projects during the challenge, and I wanted to recognize her dedication and energy... Here's my personal favorite of them all:
This fabulous pirate ship was created by
Melissa of "Created by Sunshine HoneyBee"
!! I'm sure you'll enjoy popping over to see what this busy little HoneyBee has been up to lately!! Melissa, please email me with your address so I can send YOU out a little goodie too!! :)
I also promised to send a little something to one person who popped over to my Guest Designer's blog to leave a comment... Visiting my sweet friend
Lisa
was just what Chriss from "
Scrappin' With Chriss and Lou
" needed to do to win a little something too... Please hop on over there to congratulate her!! And thank you, Chriss, for helping my guest designer feel welcome (please email me to claim your prize)!! :)
So let's talk about the challenge...
"ENCIRCLED and hugged..." Well what could THAT possibly mean??? Where do these titles come from anyway??? If that's what you're thinking, then join the crowd!! I'm always amazed when I tell my fabulous guest designers what the next challenge will be and then a day or so before it's "public" something really neat happens to make it all fit together... Lemme explain.
I have many "bloggie-land-friends" out there... Sometimes I get random emails with kind comments or encouraging words and sometimes there's a back-and-forth of blog comments where we establish a fun friendship of sorts... I feel extremely protective of many of the friends I've found in this community. So when something difficult or challenging happens to one of them, it's very personal to me. Recently, I've been made aware of major losses in a few ladies' lives... My heart goes out to these friends, and I want them to know that they are not alone!! In the lonely moments of each day, you are remembered and cared for -- There are no words to take away your pain or offer comfort from across the miles, but this challenge is dedicated to all of you who have experienced loss, challenges, difficulties, and sadness... I want you to feel encircled with love... and hugged!! So get out your circle punches, your circle templates, or your Cricut cartridges with circle cuts and join our great BIG hug with this circle-themed challenge... With each card, layout, or 3D project you create with circles, imagine sending some friend out there a cyber-hug!! Now doesn't that sound FUN???
So... For this challenge, please create a card, layout, or 3D project with CIRCLES!! It can be something circle-shaped or circle-themed or simply have circles on it -- Whatever YOUR take on the challenge is, we want to see CIRCLES in your inspiration...
This week, I have THREE very wonderful and very talented friend to help provide some inspiration for the challenge!! Remember to pop on over to my Guest Designer's Blog for more details on their projects -- Be sure to mention that you're stopping over from Love To Crop! so that I can pick another lucky winner for a little something-something!! :)
Check out this inspiration...
Sarah
created this super-cute card... Her blog is:
Sarah's Crafts and Stuff
!! For more details on her project, please
CLICK HERE
!!
Carri
created this super creative card... Her blog is:
DoubleClick Connections - AKA ABusyBee
!! For more details on her project, please
CLICK HERE
!!
Brenda
created this wonderful card... Her blog is:
Creativity is only a State of Mind
!! For more details on her project, please
CLICK HERE
!!
Isn't everything WONDERFUL??? :) Please remember to pop over to their blogs and let them know how FANTASTIC they are (hey, it's another cyber-hug!)! :)
And, finally, here is MY card for inspiration (and NO!! I don't REALLY want it to SNOW!!)....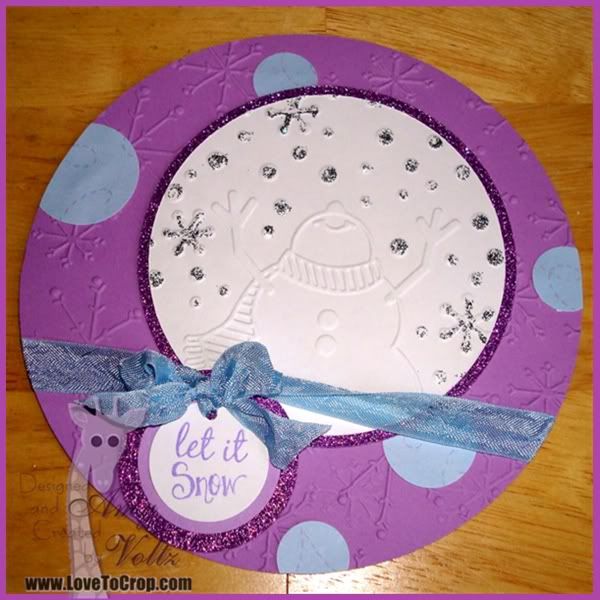 My circle card measures just under 6"... I used a white card base to create the card and topped that with the purple circle embossed with a Cuttlebug embossing folder (sorry, I don't have the name for it)... The "Snowman with arms up" embossing folder is made by Darice, and I just love how happy that fun snowman looks as he peers up into the falling snow... I added some silver stickles and a slightly larger circle cut from purple glitter chipboard. The blue snow-dots came from swirly paper in my scrap pile -- The light was crazy for trying to take a picture, so I apologize for the poor photo quality -- I like the card much better in person. :)
To create the circle tag, I cut a white 1.25" circle, a purple 1.5" circle, and a 2" purple glitter cardstock circle. I punched a hole in the tag so that I could tie it to the card with some "icy blue"
3 Girl JAM
crinkle ribbon -- it's delightful ribbon (at AMAZING prices), so be sure to check it out if ya haven't yet!! :) The "let it Snow" is a mix-n-match sentiment from the "
Winter Wishes
" Stamp Art Set by
K Andrew Designs
(there's a BUNCH of NEW RELEASES, so you may want to pop over and check THOSE out too!!)...
This picture gives you a better idea of all the texture and dimension on the card (crazy lighting, eh???)...
Okay!! It's YOUR turn!! Show us your take on the challenge and create a card, layout, or 3D project using CIRCLES!!
The challenge is open until Thursday, November 3rd at 11:59pm EST.
You are welcome to link up as many NEW creations as you like as long as you follow the theme AND include a link to www.lovetocrop.com so that others may play along...
I also respectfully request that you do not "backlink" when entering the challenge (linking a project that was posted previous to the challenge date). Thank you!!
You will need to enter your actual post link (not a link to your entire blog). To do this, after clicking "Publish" on your post, click on "View Post" and copy and paste the address from your browser address bar into the Linky tool. If you have questions on how to do this, please feel free to leave a comment with your email address, and I'll be happy to help.
Now be sure to pop on over and visit my WONDERFUL Guest Designers for a chance at a little goodie from me!! One random comment will be chosen (so be sure YOURS says, "I'm visiting from Love To Crop!")... :)
........