Welcome to the World Card-making Day Blog Hop, presented by
Operation Write Home
. I would like to thank
OWH
for including me in this wonderful hop!! If you're not familiar with
Operation Write Home
(OWH), I invite you to visit
their site
to learn more about the wonderful ways they support our heroes stationed overseas... I really enjoy creating cards for this program -- It's a good feeling to know that my handmade, blank greeting cards are being shipped to our military heroes stationed overseas so that they might be able to send a little extra love home...
If you just popped in on this post from your dashboard or are reading this in an email, be sure to click
HERE
or on the banner below to go to the beginning of the hop... There are over 100 blogs with some of the most wonderful and inspirational cards you will see!! The hop continues all weekend, so I hope you'll be able to visit everyone...
For the hop today, I made two cards... Please note that for the last OWH hop I did not offer a recipe or details... I had so many questions to answer separately that this time I decided to go ahead and add the details (or links for additional details) in the post. If you are trying to do this hop quickly, please feel free to scroll through the pictures quickly...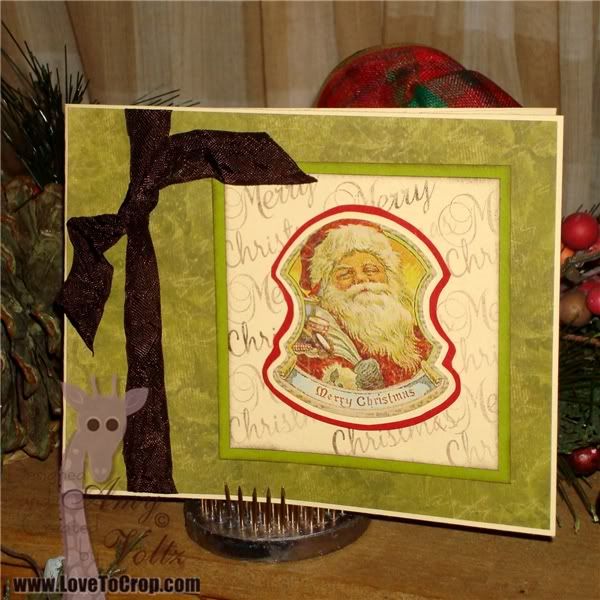 My first card is a "Wiper Card"... When closed, it is a standard A2 size (5.5"x4.25"). It's called a wiper card because as you pull it open, a little something "pops up" from inside the card...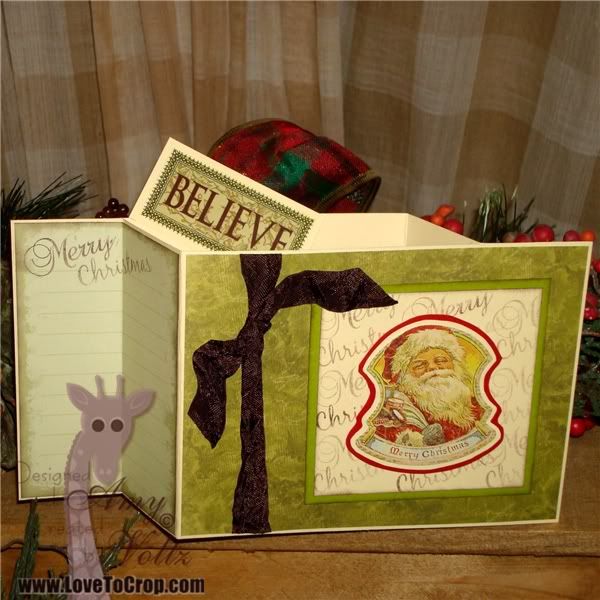 These are such fun and easy cards to make. If you would like to learn how to make this style card, you can find the tutorial on my friend
Erika's blog HERE
...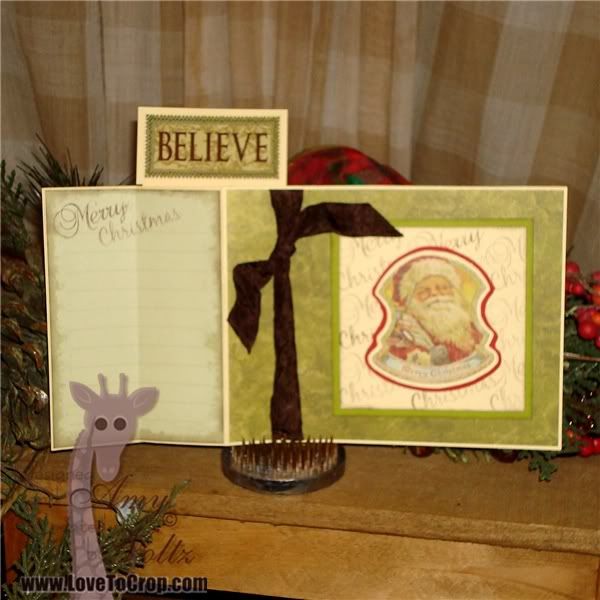 I used the
Creative Memories Reminisce Christmas Additions Kit
for the decorative paper, Santa sticker, and "Believe" sticker... I just love the rustic look of this paper pack.
The Crinkle Ribbon I've used is from
3 Girl JAM
and is called "Hot Chocolate" (I have a giveaway going on now for some of this ribbon -- If you'd like to enter, please
CLICK HERE
)...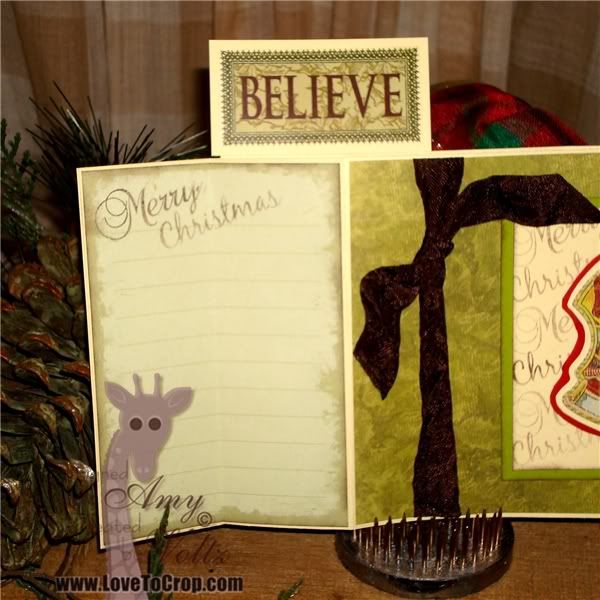 When creating cards for OWH, it's important to allow enough room for our heroes to write notes home to their loved ones... I added a journaling box to the section of the card that pulls out -- Additionally, there is plenty of room on the back of this card for more writing. :)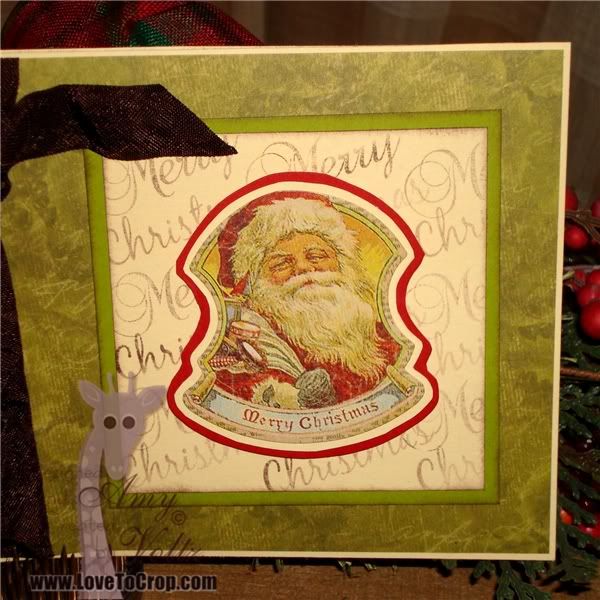 I created the "Merry Christmas" background paper by stamping a mix-n-match sentiment from the "
Winter Wishes
" Stamp Art Set by
K Andrew Designs
... To get the "faded" look of the stamp, I used SU!'s Chocolate Chip ink and stamped a scrap piece of paper once before stamping on my background paper...
My second card is a fairly simple card... This is one of those cards that can be completed quickly and in multiple quantities yet is still pretty and eye-catching for our heroes to send home...
This is again a standard A2 size card (4.25"x5.5"). This is the preferred size for cards for OWH... I started with a 4.25"x5.5" piece of color core cardstock (black with a green core). After embossing the cardstock with my Sizzix "Thin Ice" embossing folder, I used a sanding block to distress the embossing and reveal the green through the black... I then added a 4.25"x2.5" piece of solid green cardstock to the bottom of the embossed piece.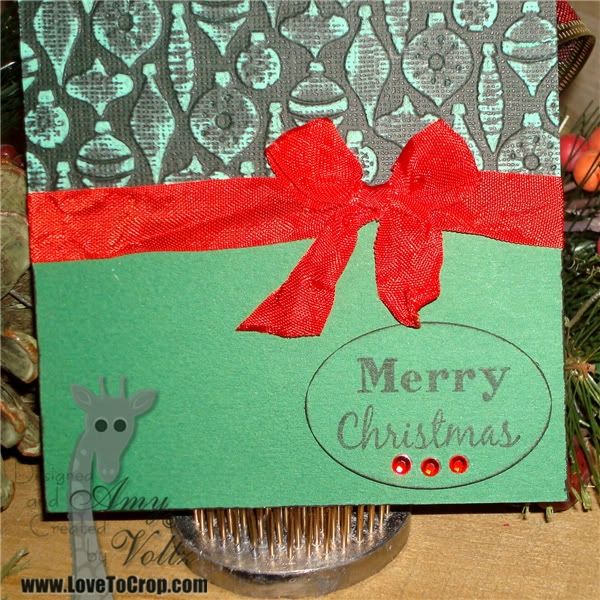 I added the "Holly Berry" Crinkle Ribbon from
3 Girl JAM
-- this 100% Rayon, hand-dyed ribbon is so easy to work with... And since it's not bulky, it's perfect for cards made especially for our heroes. My sentiment is another mix-n-match option from the "
Winter Wishes
" Stamp Art Set by
K Andrew Designs
... I stamped this sentiment on the same solid green cardstock in the shape of an oval, inked the edges with black ink, and popped it up with foam tape.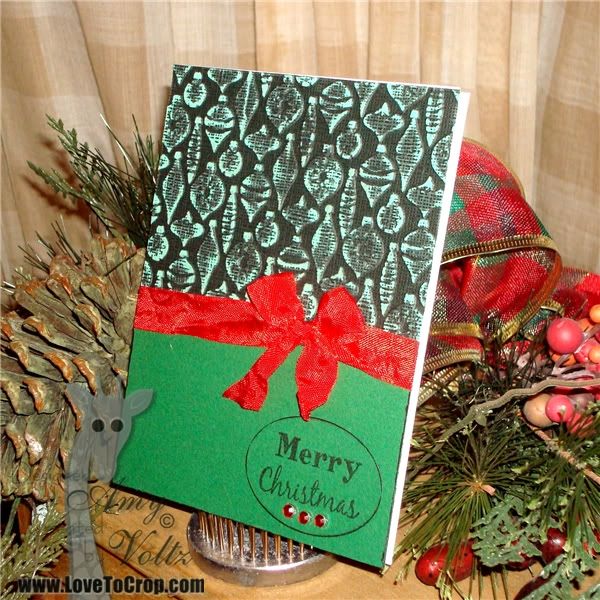 A touch of bling finishes this quick-and-easy card off (bling that is well attached is okay when sending to our heroes, though glitter is not -- for all the details on guidelines and additional information for sending cards to our heroes, please
CLICK HERE
...).
Blog Candy for the Hop? YES!! I have a 6x6 pack of paper perfect for Christmas card-making as well as some ribbon and embellishments to send to one lucky winner...
Please become a follower
and
leave a comment
to be eligible to win. If you wish to leave a message that you would like to have added to a "Hero Mail" card, please feel free to do so (for any messages left, I do actually hand-write them all into cards to be sent TO our heroes -- It's a nice way for you to be a part of this, and it helps me when I run short on things to say!!)... Receive a
BONUS
chance when you subscribe via email (enter your email address in the box at the top of this page -- you do not need to leave a second comment, all newly confirmed email addresses are added to the drawing). You will also receive a BONUS chance should you decide to
follow Love To Crop! via Networked Blogs
OR
"Like" the Love To Crop! facebook page
(again, automatic entries by notification, no need to comment)...
Now please return to the blog hop "home base" to visit the next hop stop!! Simply click the banner below...
Enjoy the rest of the hop!!