Welcome to the Getting Cricky Blog Hop!!
We're so happy you could join us for this SPECIAL Getting Cricky Design Team Blog Hop and Ustream event!! Each of us would like to welcome the NEW Design Team Members announced on tonight's Ustream -- We hope you got to join us for the BIG announcement!! To celebrate, we'd like to show you some ideas for creating cards and projects with Kristal's stamps sets!!
The LIVE Ustream Event is scheduled for 6pm Pacific, 7pm Mountain, 8pm Central, and 9pm Eastern (5pm if you're in Alaska, 2am Sat. in Germany, 9am Sat. in Western Australia, and 11am Sat. in Queensland... Whew, I hope that covers everyone who has asked me!!)... If you're hopping here during the Ustream time, please be sure to pop over and join the excitement here:
Getting Cricky Ustream Channel
-- If you've missed the Ustream event (GASP!), you can still visit the link to see the recorded version... We wouldn't want you to miss out on any of the FUN!!
If you've hopped along from
our fearless leader, Kristal,
then you are in the right place!! If you are just joining me from your dashboard, or reading this via email, please be sure to
CLICK HERE
to start at the beginning with
Kristal's blog
(you'll want to catch up on all the FUN before moving on!!)...
Each of Kristal's stamp sets benefit charity. At least $1 per stamp set goes to benefit the charity noted on the stamp set package. Kristal is donating to the following charities: Cancer Angels, Storefront Shelter for Homeless Children, Intrepid & Fallen Heroes, E. Glaser Pediatric AIDS Foundation, Doorways Shelter for Women & Children (Domestic Violence), Wayside House for Women, Camp Good Days & Special Times, Adopt a Classroom, and Autism Research Institute. Kristal will donate $1 for every stamp set sold, retail or wholesale to the charity noted; and over time believes this will add up to some wonderful miracles for these special people. So you can feel good that each time you purchase a K Andrew Designs art stamp set, someone around the country is receiving some good help!
K Andrew's stamps are all made and assembled here in the USA, which is very important to Kristal. This ensures all product materials are safe and that jobs are being provided and maintained here in America. You can learn even more about Kristal's stamps (and pick some up for yourself) by visiting her online store:
K Andrew Designs
To say "THANK YOU" for hopping along with us today, we have specials for you to take advantage of for THIS WEEKEND ONLY (thru Sunday, November 6th):
purchase $25

receive a FREE Mini Stamp Set!!
purchase $45
receive a FREE Full Size Stamp Set (a random set will be included with your order)!!
postagevalue

for FREE SHIPPING!!
fallblessings
for 25% OFF Fall-O-Ween!!
Kristal's newest stamps sets are LARGER sets -- perfect for cards, layouts, and so much more... For more details or to make one of these sets YOURS, please click on the previews under each of my projects... I have four projects to share with you... If you are already a regular visitor of mine, then you may have seen at least one of these before -- These are four of my most favorite recent projects...
First, I absolutely LOVE the Winter Wishes Stamp Set... There are so many nifty mix and match sentiments perfect for MORE than just the snowy, cold season we are about to find ourselves in!! :)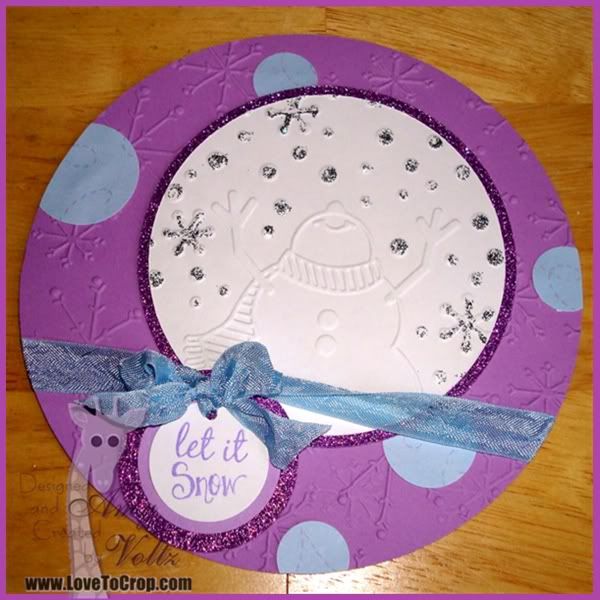 Isn't that just SNOW much FUN??? Hee hee... This circle card features my new favorite Darice embossing folder (for the snowman), the Cuttlebug snowflake folder, silver stickles, AC Glitter Chipboard, and my very-most-favorite Crinkle Ribbon from
3 Girl JAM
(great quality ribbon at EXCELLENT prices!! Please check it out!!)... For more details on my card, please
CLICK HERE
...
Winter Wishes benefits "Adopt a Classroom"
Second, I have a fun card that I created with the Fall-O-Ween Stamp Set... I love that this set can be used for Fall AND Halloween projects (and even some NON-Fall or -Halloween projects too!)! I've really enjoyed creating so many pumpkin projects with this set...
This square card measures 5.5"x5.5"... The pumpkin was created by piecing three large ovals together after crumpling them and inking them with walnut distress stain... The faux stitching is done with a pen, and I created the twisties by wrapping the paper tightly around a pencil. My "Happy Fall" tag is tied on with a length of raffia... For more details on this card (and links to the fall pumpkin challenge), please
CLICK HERE
...
Fall-O-Ween benefits "Adopt a Classroom"
Next, I have an Ovarian Cancer Awareness card and pin... I used the Owly Hoo Stamp Set -- This is a very versatile set with plenty of mix and match sentiments that can be used on cards with or without our favorite winged friends. :)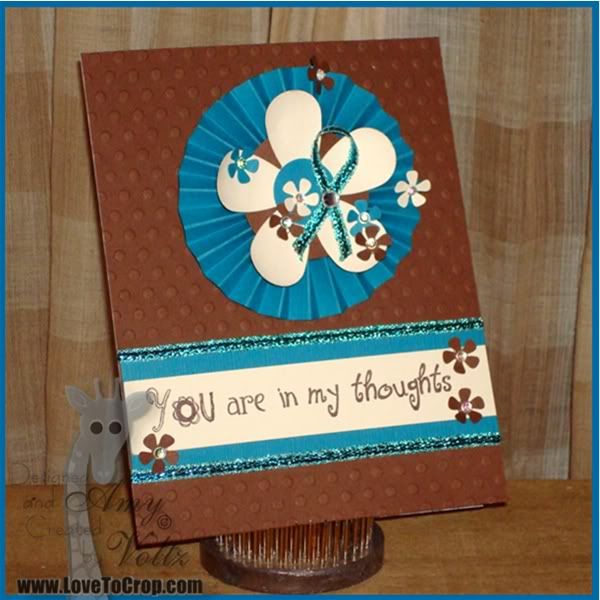 The rosette on this card is actually a removable pin... I made this card for someone recently diagnosed with Ovarian Cancer to remind her that she is not alone and will be thought of throughout this difficult season. For more details on this card or to read more about the signs of Ovarian Cancer, please
CLICK HERE
...
Owly Hoo
And finally, I have one of my favorite "transformer" explosion boxes to date!! Check it out... It's a TREASURE CHEST!! :)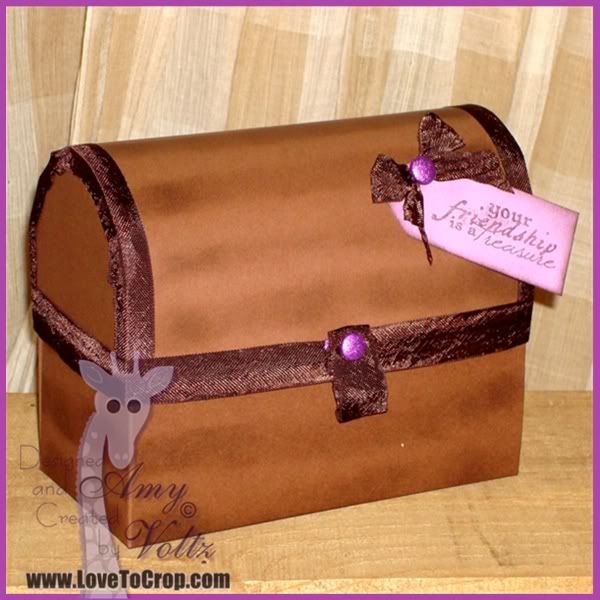 And when you open it, it does this.....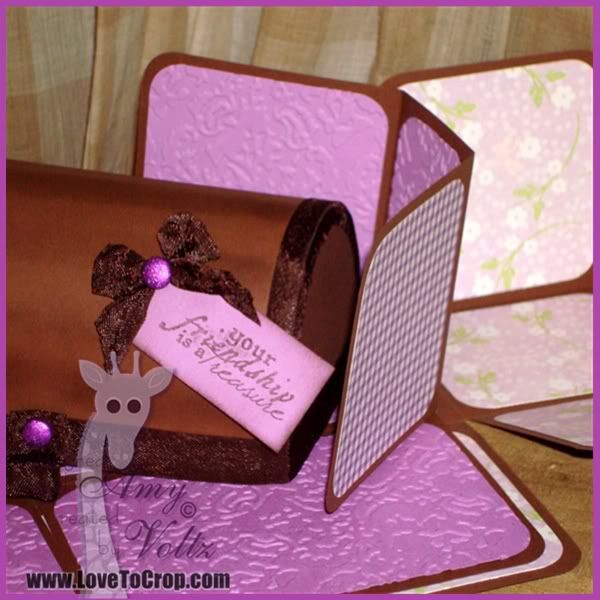 Isn't that sentiment so much FUN??? I can see myself using the Pirate set for LOTS of NEAT projects!! :) For more details and pictures on my Treasure Chest Explosion Box, please
CLICK HERE
...
Pirate Tales & Fish Scales
Okie-dokie... That's what I've got to share with ya tonight!! :) I hope you've enjoyed my four projects featuring four of my favorite Stamp Sets!!
Now, before you go, I do have a bit of Blog Candy (a 6x6 paper pad and a few other goodies!!) for one lucky winner who leaves a comment on this post answering this FUN question:
"What project have YOU created in the last few weeks that you are over the moon happy about???"
(mine is the Treasure Chest!!)...
Be sure to leave a way for me to reach you in case you are the WINNER!! :) Want extra chances?
Leave a comment on my Facebook page (CLICK HERE) for an extra chance...
Visit my CM site (START BROWSING HERE) and let me know which product you'd like to see me feature in a post later this month... ***I'm giving away the NEW Exclusive Creative Memories 'Tis The Season Cricut Cartridge too -- For details, CLICK HERE!! :)
........................................