Welcome to the Birthday Party Blog Hop for Rhonda and Amy!!
Once upon a time (okay, once upon two times nearly a decade apart), two girls were born... These girls were both visited by their fairy godmothers and granted very special talents... One was given the talent of creating the most beautiful mini scrapbook albums while the other was given the talent of creating some really amazing explosion boxes... Each of these girls would one day begin blogging, and this is how they would meet...
Somewhere over the rainbow, you'll find the lovely Rhonda... Where scrap happens and paper flies... And somewhere near the zoo, you'll find dear Amy... Where giraffes prance and frolic to her heart's content...
One day, these two lives collided and Rhonda and Amy have become forever friends!! Lovely Rhonda had this incredible idea for a new twist on a challenge blog, so she contacted dear Amy and asked her to take care of the "technical" side... For many months, they have enjoyed CELEBRATING the get-togethers and parties that make life fun by showcasing the DECORATIONS that others share... And THAT is how the Decorate to Celebrate! challenge blog began...
Today, it's time to CELEBRATE good times and good friends with this "BIRTHDAY PARTY" Blog Hop and Birthday Project Link-Up that will last all month long!! Rhonda, who is turning the big 5-0 this year deserves a month-long celebration, don't ya think??? And Amy, who will forever stay 29 (for the 12th time) has always been a BIG believer in the "Birth-month Celebration"... Soooooo... After the hop has ended, you'll be able to create a "Birthday Party" themed project and LINK IT UP at the Decorate To Celebrate! challenge blog!! Usually, your entry needs to be a decoration or party supply, but THIS MONTH (and this month only), you can link up ANY Birthday Party project (cards, layouts, 3D Art...). We'll be giving out some Birthday Presents all month long, but you'll need to enter to WIN!! You'll find more details on the challenge blog... For now, let's get hopping!! :)
Rhonda and Amy have assembled a few of their creative friends to join them on this Birthday Party Adventure through Bloggie-Land... Along the way, you'll find some incredibly creative projects to celebrate Rhonda and Amy... If you came here from
Carri
, then you are in the right spot!! If you have just happened upon my blog or are reading this via email, I'd love for you to join the PARTY so
CLICK HERE
to start at
Rhonda's Blog
so you don't miss any of the FUN!!
For my project today I made something very special for Rhonda!! :)
My dear friend Rhonda really loves the Wizard of Oz (I think as much as I do!!), so I wanted to make something FUN that was really "me" and that she would always be able to treasure... So what better than Dorothy's HOUSE that landed on the Wicked Witch???
The stocking feet were created by rolling two lengths of white cardstock, coloring them to look like striped socks, and bending them to look like feet... This was probably the hardest thing for me to figure out on the house... Sigh...... :)
I punched a scalloped strip and used it as a template for the roof -- I simply sponged black ink onto the roof to give the effect of shingles... Much quicker than adding many layers of scallops!! :)
The base of my "transformer" explosion box is a basic square box... I decided to make the top extend all the way down so that I could include "layers" of the events in The Wizard of Oz... First, the house has to be "picked up" by a swirling tornado!!
See the tornado layer??? :)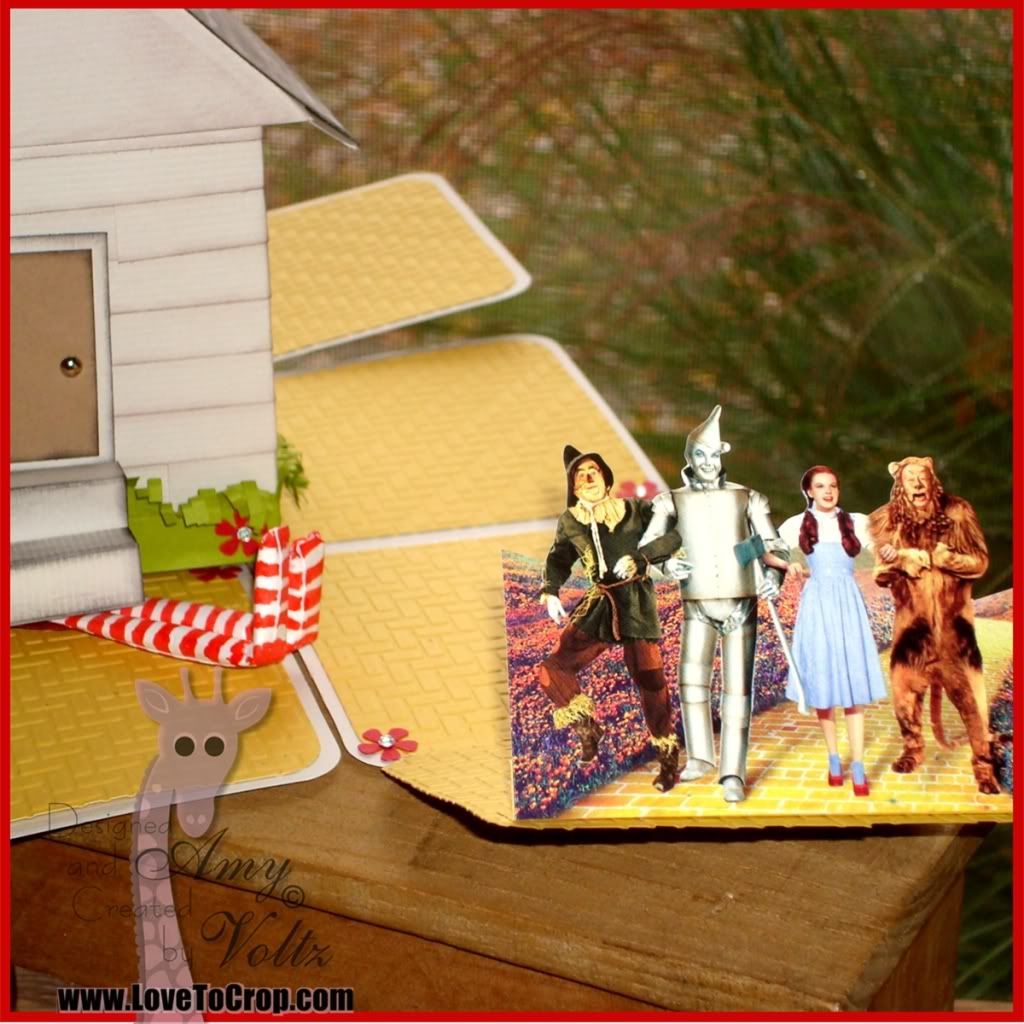 When the house lands on the witch, Dorothy has to "follow the yellow brick road"... So the yellow brick road wraps around and extends beyond the regular base.... That cool die cut with all the characters was a last minute find that I treated like an extra "fold out"....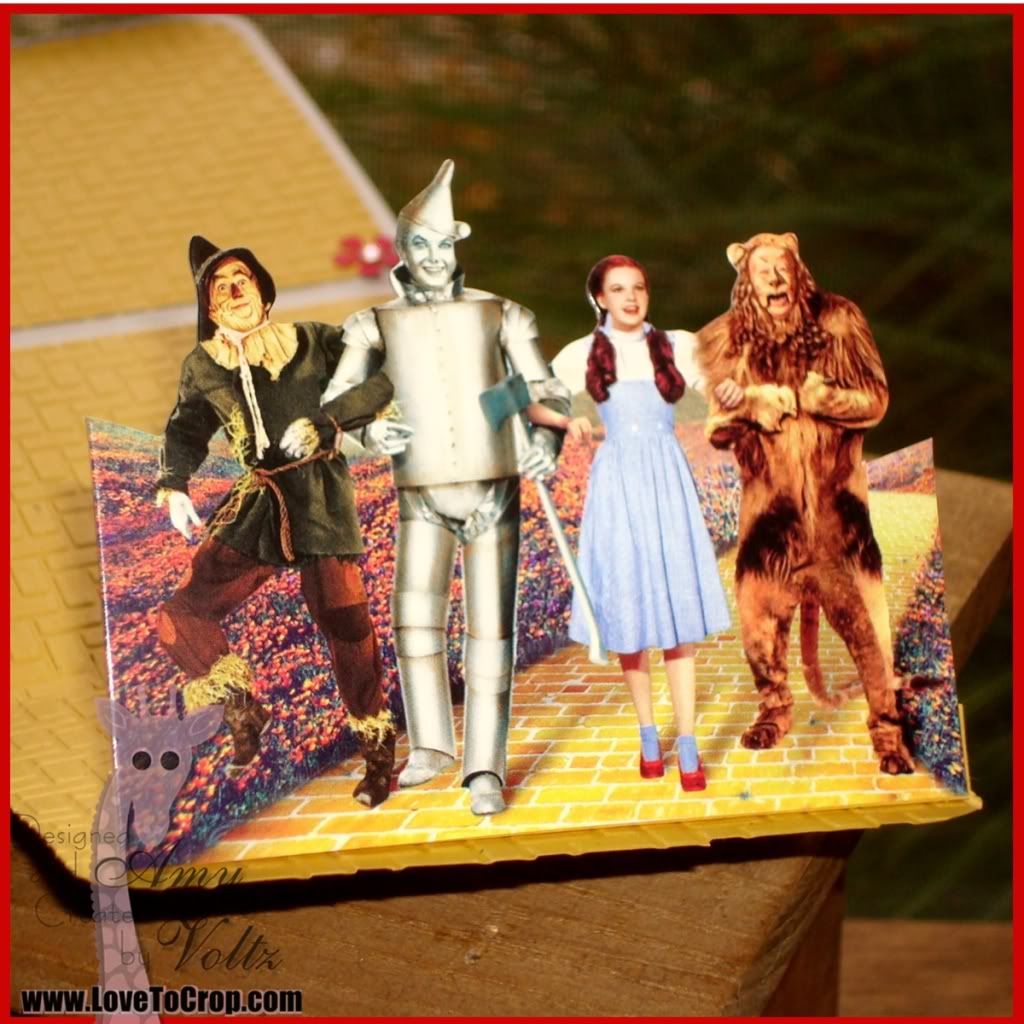 Doesn't that just make you SMILE??? :)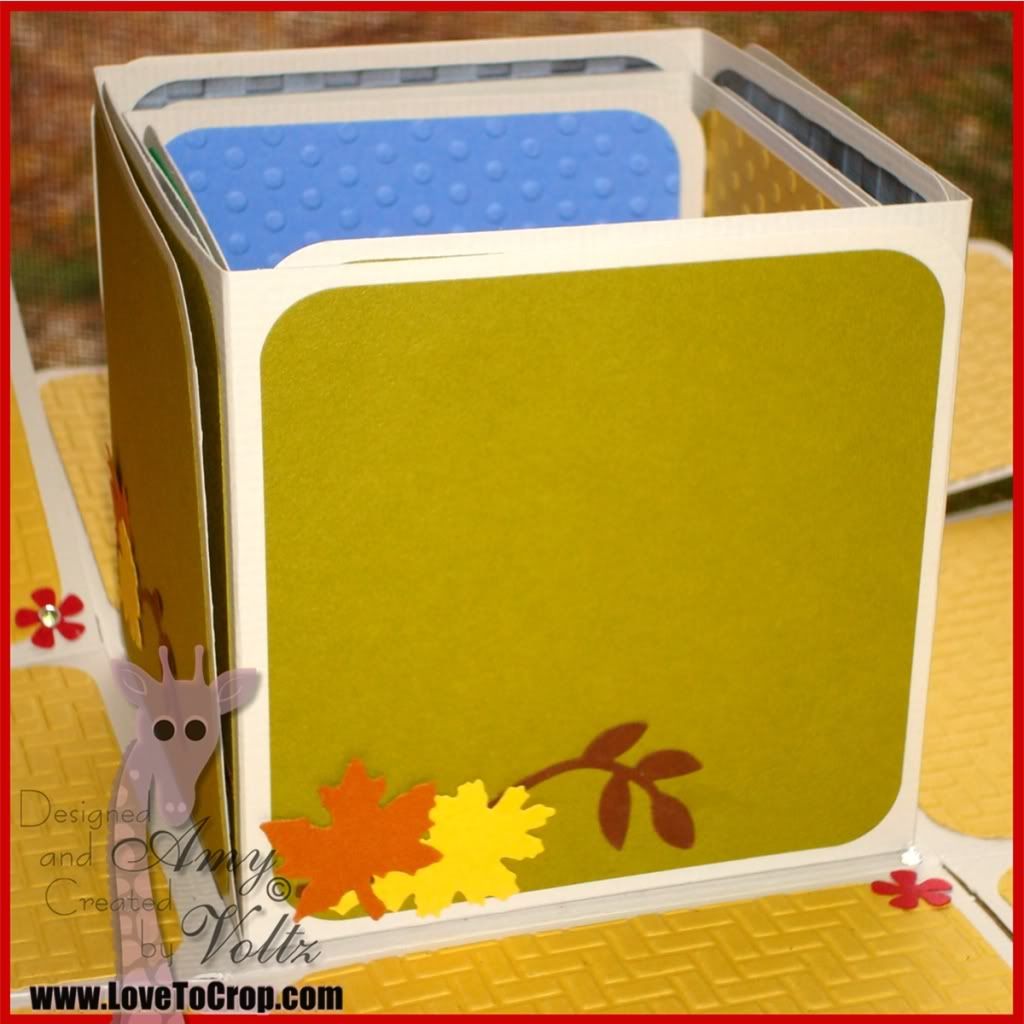 They must get through the Enchanted Forest... So the next layer represents the trees, leaves, and whomping branches!!
"I'm melting!!" (those of you who have seen the musical "Wicked" know this scene is forever changed... At least, it's not as scary for me now as it was when I first saw it many, many, many years ago!!)... The background is meant to represent the castle...
I'll bet you can guess that the EMERALD GREEN layer is meant to represent.... The Emerald City... TA-DA!! :)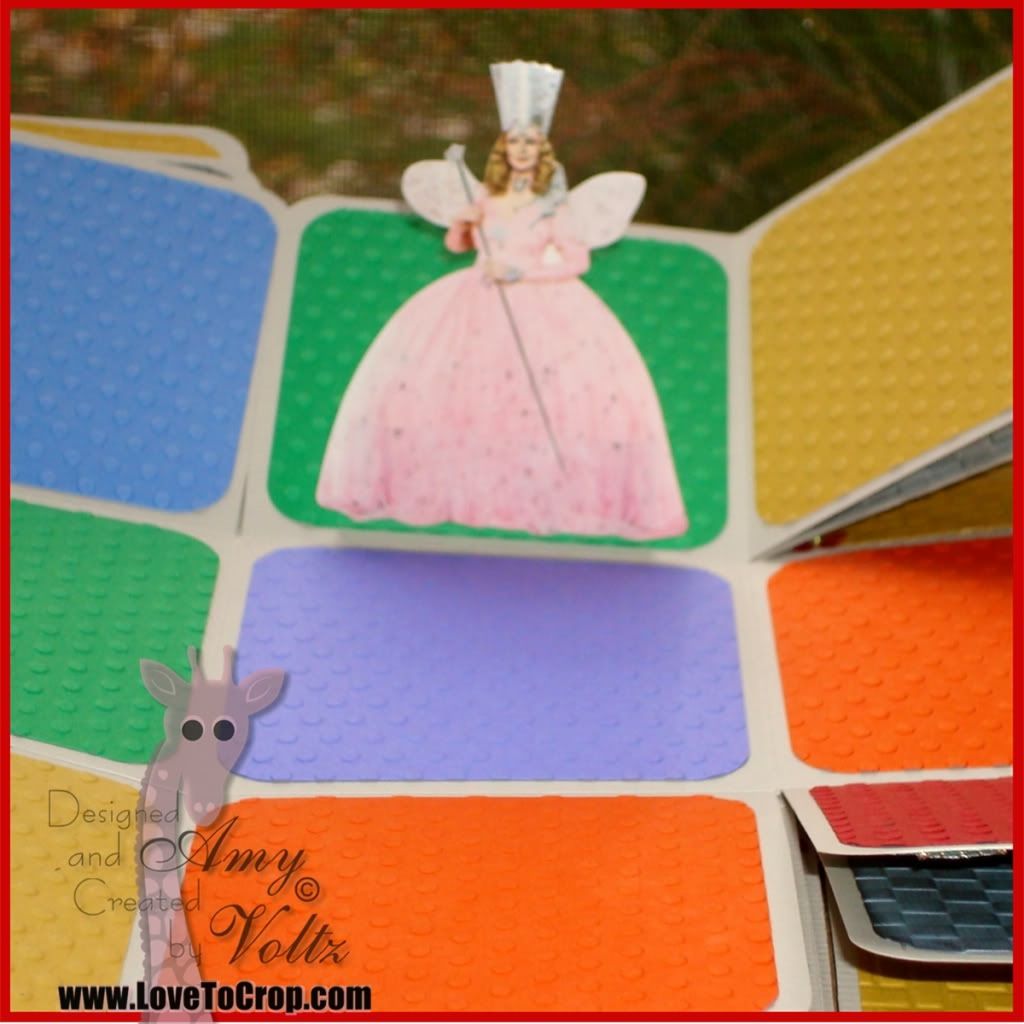 And there's Rhonda, ahem, I mean, GLENDA amidst a myriad of RAINBOW colors to lead Dorothy home....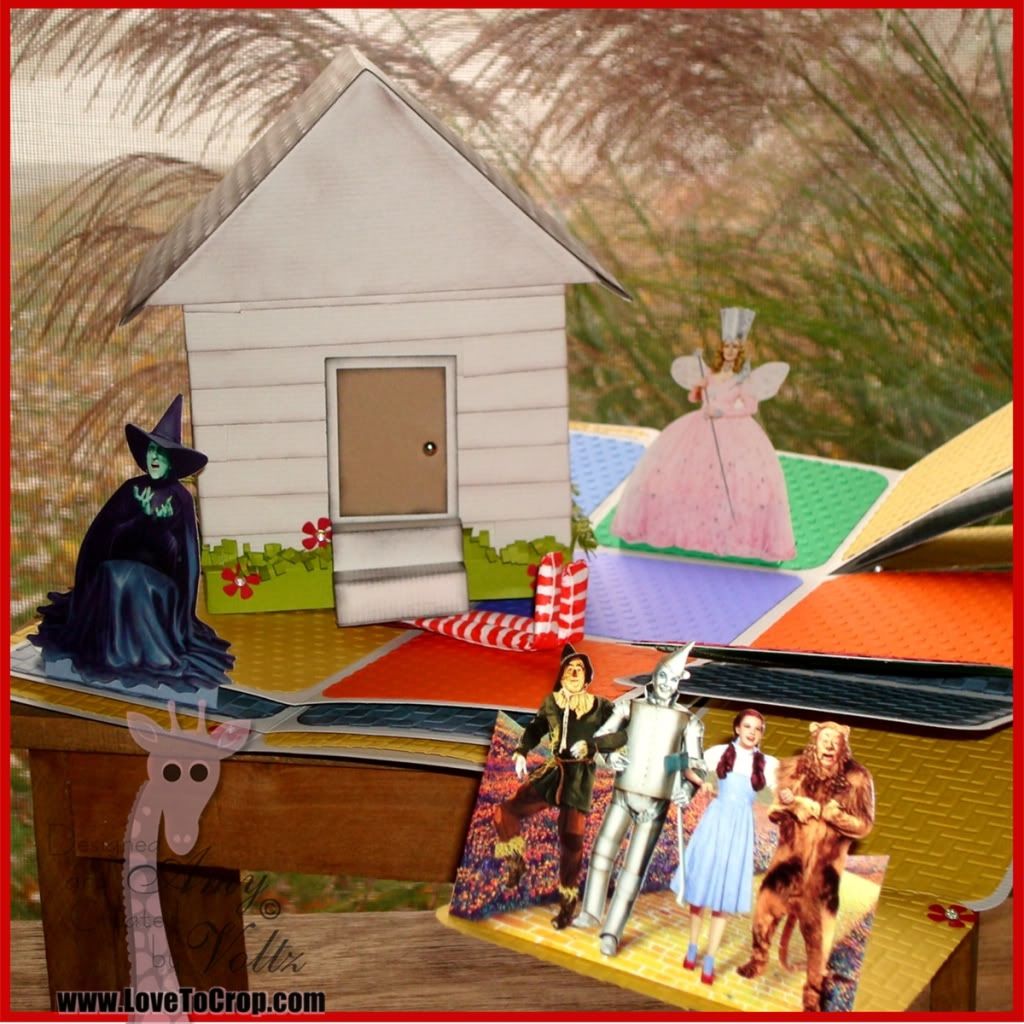 I really wanted to make Rhonda one of my "transformer" explosion boxes... I had to think long and hard about what kind I would make -- I think it's PERFECT for Rhonda!! Can't you just imagine Rhonda all dressed up in a pink "Glenda" gown waving her magic wand to create all those fabulous minis that she loves to make???
And now... I have a little blog candy for you!! I will be sending a pack of 6x6 paper and embellishments to one fabulous

winner

!! :)
To be eligible for my blog candy:
Please

become a follower

of my blog and leave me a comment answering this FUN question: "

What theme would YOU pick for YOUR Birthday Party? (mine would be GIRAFFES!!)

"!!
If you leave your email address (please leave it in SAFE scrapbookingwithamy at gmail dot com form), I will be happy to contact you if you are the winner; otherwise, you will need to check back to see if you are a winner. No captcha here, so commenting is quick and easy!! :)
Thanks for checking out my project, your next stop will be...
Decorate To Celebrate!
; however, before you go, be sure to leave a comment on this post so that you'll be entered to WIN the GRAND PRIZE!!
Here's the entire line-up!! You'll finish up at
Decorate To Celebrate!
where you'll be able to start entering YOUR Birthday Party projects for a chance at some Birthday Prizes tomorrow!! This challenge will last ALL month long, so we hope you'll join us for the CELEBRATION!! **Please note that the following links will take you DIRECTLY to each project (in case you're joining us later in the week or month)...
Until next time,