Welcome to the Thankful Hearts Blog Hop!!
We want to share "what makes our heart happy" and thankful today. It is time to reflect and remember that the first Thanksgiving was celebrated to give thanks to God for a bountiful Harvest. Our Harvest is our lives. We are expressing our Thanks from our hearts to God and the people who have come into our lives whether they be family or friends...
If you've hopped over from
Susan
, then you are in the PERFECT spot!! If you've just joined me from your dashboard or are reading this via email, please be sure to
CLICK HERE
and start at the beginning of the hop!!
For my project, I've altered a small candle to be given as a gift for a friend that I'm very thankful for!! :)
I used the Tim Holtz Fall embossing folder to emboss the "Thankful" on the goldenrod cardstock and then inked it with chocolate chip ink... I distressed and inked the edges and added the tag to the top as well...
The flower was made with a stack of THREE flowers from Creative Memories... I simply LOVE these flowers!! The tag has a stamped sentiment from the K Andrew Designs Fall-O-Ween set... Love that phrase!! :)
This yummy candle is sure to be enjoyed by my friend who really does far more than should be expected of her... She's got such a great attitude about everything she's asked to do -- I think she should know how THANKFUL all of our friends are for the many things she has helped with. :)
I have a touch of Blog Candy for one lucky WINNER today -- Simply leave a comment on this post
telling me what YOU are thankful for
to be entered to win a 6x6 paper pack and some embellishments!! :)
Thank again for joining me today -- It means so much to me that you have stopped by!! :) Your next HOP STOP is:
Shawnee
-- so head on over there and ENJOY!! :)
Here's a list of the entire hop, in case you get lost or want to revisit someone....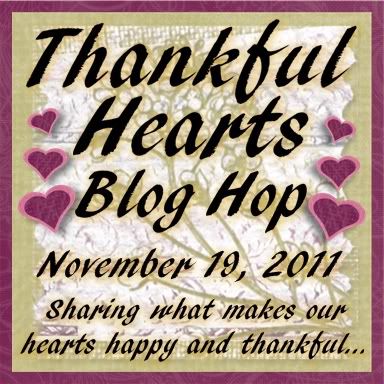 Until next time,