Welcome to the "All About the 70's" Blog Hop!!
We're so happy you could join us for this super-fun hop showcasing cards, layouts and projects that feature anything and everything related to the 70's!! So pull out your bell-bottoms and peace signs, and join us for the FUN... You'll find an array of ideas throughout this hop -- From decorations to gift ideas and more, we hope you'll enjoy each and every GROOVY project along the way!! This is a TWO-DAY hop, so be sure to check it all out (besides, we have a FAR OUT prize for a random someone who visits and comments on each stop for each day!!)...
We can guarantee some psychedelic excitement for this event... So let's get hopping!! If you've hopped over from
my cool friend, Jamie
, then you are in the right spot!! If you've just popped in to visit my blog or are reading this via email and you'd like to join our FUN, then please
CLICK HERE
to start at the beginning with
Lynda's blog
...
For the hop today, I have TWO Dy-No-Mite cards for ya to check out!! Ya see, I meant to show you one of them yesterday, but I was draggin' and fell behind... So kick back and chill... And I'll show ya what I've got!! :)
Now, back in the days of The Brady Bunch and Bell Bottoms, the cool thing my big brother would do on Friday nights is go to the Roller Rink... I was an awkward kid and perms were all the rage, but on the days I got to ride to the rink with my brother, I thought I was really something special!! Of course, he didn't pay much attention to me when we got inside, but decked out in my favorite light blue bell bottoms and sporting some roller skates with homemade pom-poms, I was in my own little world of JOY!! :) And when they played that Alicia Bridges song, despite the fact that I had NO idea what it meant, I sure liked doing my Boogie-Roller-Skating around the rink... Now, come on... Who doesn't dance in their seat when they hear this song:
(If you can't see the video above, or prefer to watch it on YouTube, please
CLICK HERE
)
I can assure you that I thought "ACK-SHON" had something to do with showing off your ability to hold hands with a friend and spin-spin-spin in the center of the skate floor... What a fun memory... Yeah, it was an interesting decade for a child with a perm and a lack of fashion sense... :)
Anywhooooo... What better representation of the 70's than a giraffe (my favorite animal, betcha didn't guess) wearing roller skates and touting "I love the Night Life"??? So my first card is just that!! This A2 card base (5.5"x4.25") was jazzed up with a rainbow of ink colors that I sponged around the edges... My raspberry background cardstock is embossed with the "Entangled" embossing folder from Couture Creations (a lovely gift from one of my Awesome Aussie friends)...
The giraffe can be found on the Birthday Bash Cricut Cartridge and is a "modified" cut at almost 4" (I used the "hide contour" feature to hide some of the "guide" cuts for the dots and face... Since there was NO WAY I was going to use a mouth cut that was thinner than string -- those are some itty-bitty pieces!!). My tie-dye ribbon was tucked away in a "special" spot reserved for The-Girl-Child... I bet she'll be okay with a bit of it missing from the spool when she receives the card, right??? :)
Since this is a SUPER FUN giraffe on skates, I decided to put him on a "Wiggle-Wire"... Wiggle-Wires are similar to "Action Wobbles" except I make them myself (and have been making them myself since before I ever heard of Action Wobbles -- Actually, I'm pretty sure I was making wiggly cards way back in the 70s!! I also made postage stamps, envelopes, and notebooks for my Barbies, but that's a story for another day!!)... Anywhoooo... If you don't know how to make Wiggle-Wires yourself, there are plenty of videos out there now OR the Action Wobbles work quite well, so I won't bore you with those details unless you request a tutorial in the comments section... Moving on... This giraffe is a HOOT when he's wiggling away... The-Girl-Child is going to get a kick out of this card!! :)
Now how about that sentiment??? Could it BE any more PERFECT??? hee hee... This GROOVY mix-n-match sentiment can be found on the
Owly Hoo Stamp Art Sentiment Set
... Which, incidentally, is the set I'll be featuring ALL week long for the Getting Cricky Preview Week (Did you miss
yesterday's snowman card
? I hope you'll
check it out
)!! If you find you can't go on without this set (how did you make it this long???), you can make this set YOURS by
clicking here
OR by clicking on the image below...
(BIG NEWS!! To qualify for FREE SHIPPING on your purchase, be sure to enter
amyfreeship

at check out!! WOWZERS!! Gotta love a deal like that!! :)
Remember I promised you a SECOND card??? Well, here it is....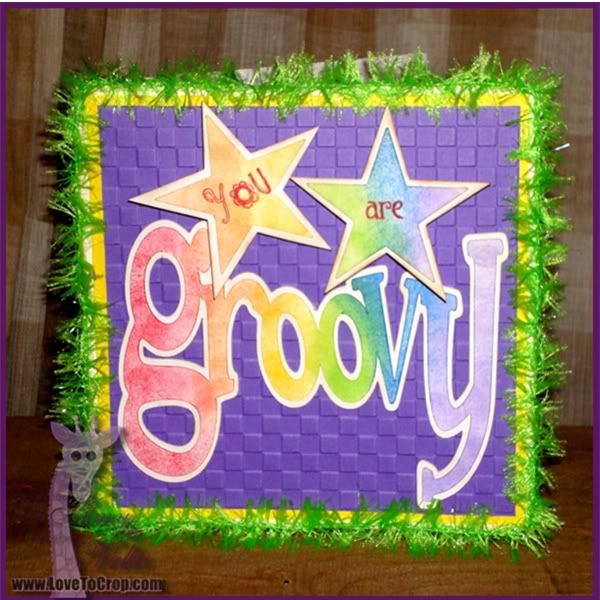 How totally AWESOME is that??? (Sorry, I know that phrase is from the 80s, but I'm a little stuck in that decade too!!)... This 5.5" square card was one of those happy "accidents" I sometimes have... Basically, it just turned out too fun not to share it with ya...
You see, The-Girl-Child is obsessed with rainbows and peace signs... She would have enjoyed the 70s (and probably would have been much more fashionable than I was!!)... That green, wired "ribbon" around the edges reminds me of all the shag pillows that were so popular... Are those making a comeback too???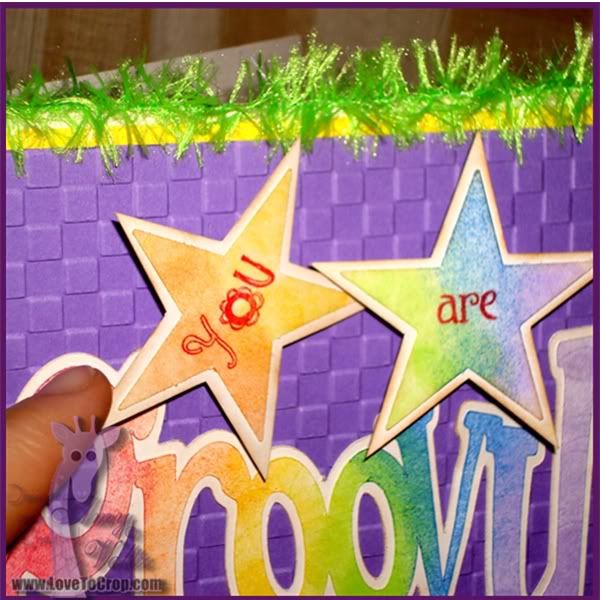 The stars on this card were again attached with some Wiggle-Wires... It makes the card just a little more... um... GROOVY!! :) I cut the "groovy" from the Feeling Groovy Cricut Lite Cartridge... I used my Gypsy to adjust the size since I wanted it to fill up the front of the card. I also cut both the base layer and shadow layer from white cardstock so that I could sponge the rainbow effect with ink... Since the white cardstock was shockingly stark against the rainbow and purple, I inked the edges with some SU! Creamy Caramel...
Once again, this PSYCHEDELIC mix-n-match sentiment can be found on the
Owly Hoo Stamp Art Sentiment Set
(are ya seeing how VERSATILE this set is??? I haven't used an OWL yet!!)... So if you're ready to make this Stamp Set YOURS now... REMEMBER....
CLICK HERE TO ORDER
and...
To qualify for FREE SHIPPING on your purchase, be sure to enter
amyfreeship

at check out!! :)
Thank you again for checking out my projects... Now follow the links below and remember to visit all the stops for MAXIMUM ideas and LOTS OF FUN!! Can ya dig it???
70'S HOP DAY TWO (January 16):
If you missed Day ONE of the 70's Hop, be sure to check those posts out too!! Visitors who comment on BOTH days of the hop will receive BONUS CHANCES in this month's Memories In Tyme Blog Hop Candy Giveaway!! :)
It's time for.... "All Skate".... :)
And one last thing before you go.... My incredible Getting Cricky DT Sisters are previewing the fabulous K Andrew Designs Stamp Art sets all week long (leading up to the much-anticipated Getting Cricky Blog Hop this Friday evening)... If you have a few moments, please stop by and check out these creative ideas from the Getting Cricky team...